Conchiglie Al Forno Recipe with Carrots and Basil
Shell shaped pasta recipe with carrots and basil leavess

Archana Doshi
On

Wednesday, 18 June 2014 10:27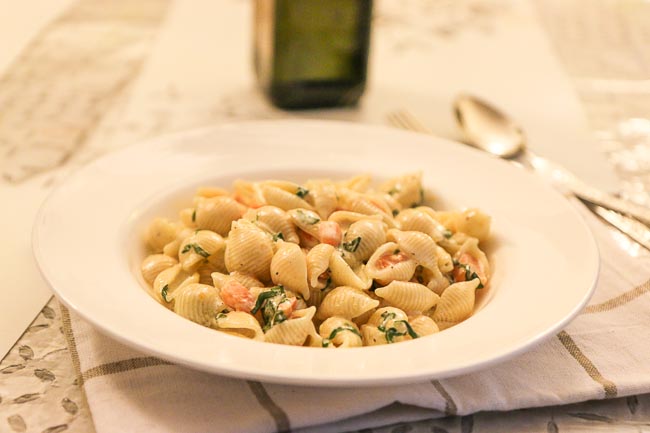 Conchiglie, commonly known as "shells" or "seashells" is a type of pasta made from durum wheat and Al Forno is an Italian word that means "food that is baked in the oven". The Conchiglie Al Forno Recipe with Carrots and Basil is a fairly simple and quick recipe to make that I learnt from one of my recent trips to Italy. I was fascinated with the amount of cream and cheese that went into making this dish. Although we don't get many of the cheeses in India, I have made of of ingredients that are available locally.
The best part of the Conchiglie Al Forno is that it makes a Chilled Spinach And Cucumber Soup Recipe for a weeknight dinner with family.
If you like this recipe, try more recipes like
Ingredients
450 grams

Conchiglie Pasta

4 tablespoons

Butter (Unsalted)

3 cloves

Garlic

, grated
3

Carrots (Gajjar)

, diced small and steamed al dente
2 cups

Fresh cream

, (I used amul cream) 
1/2 cup

Parmigiano reggiano cheese

, freshly grated
1/2 cup

Cheddar cheese

, shredded
200 grams

Ricotta Cheese

, or paneer cut into cubes

Basil leaves

, small bunch, roughly chopped
How to make Conchiglie Al Forno Recipe with Carrots and Basil
Preheat the oven to 200 C.

To begin making the Conchiglie Al Forno Recipe with Carrots and Basil, we will first cook the pasta as per the package instruction until al dente. Once cooked, drain the pasta from the water and drizzle some olive oil and keep aside.

In a heavy bottomed pan; add in 2 tablespoons of olive oil, the grated garlic and saute for a few seconds.

As soon as the aromas from the garlic start coming through, add in the cream and the parmesan cheese and give the cheese a quick boil. Stir in the chopped basil leaves.

Next stir in the steamed carrots and the cooked pasta and give the Conchiglie pasta a good boil. once you notice the pasta bubbling in the creamy cheese sauce, transfer the pasta into a baking dish, stir in the riccotta cheese and finally top the sharp cheddar cheese on the top.

Place the Conchiglie pasta in the oven and bake for about 7 to 8 minutes until you notice the pasta bubbling and the the top has turned golden brown.

Remove the pasta from the oven and stir.

Serve the Conchiglie Al Forno with Carrots and Basil for a quick weeknight dinner with Chilled Spinach And Cucumber Soup Recipe or even for parties with friends and family.

Note: When I make it for lunch box, I dont bake the Conchiglie pasta, I simply stir fry it in the sauce and once the pasta is well coated I serve it. Infact this can be done for busy weeknight dinners too.