Dark Chocolate and Star Anise Biscotti Recipe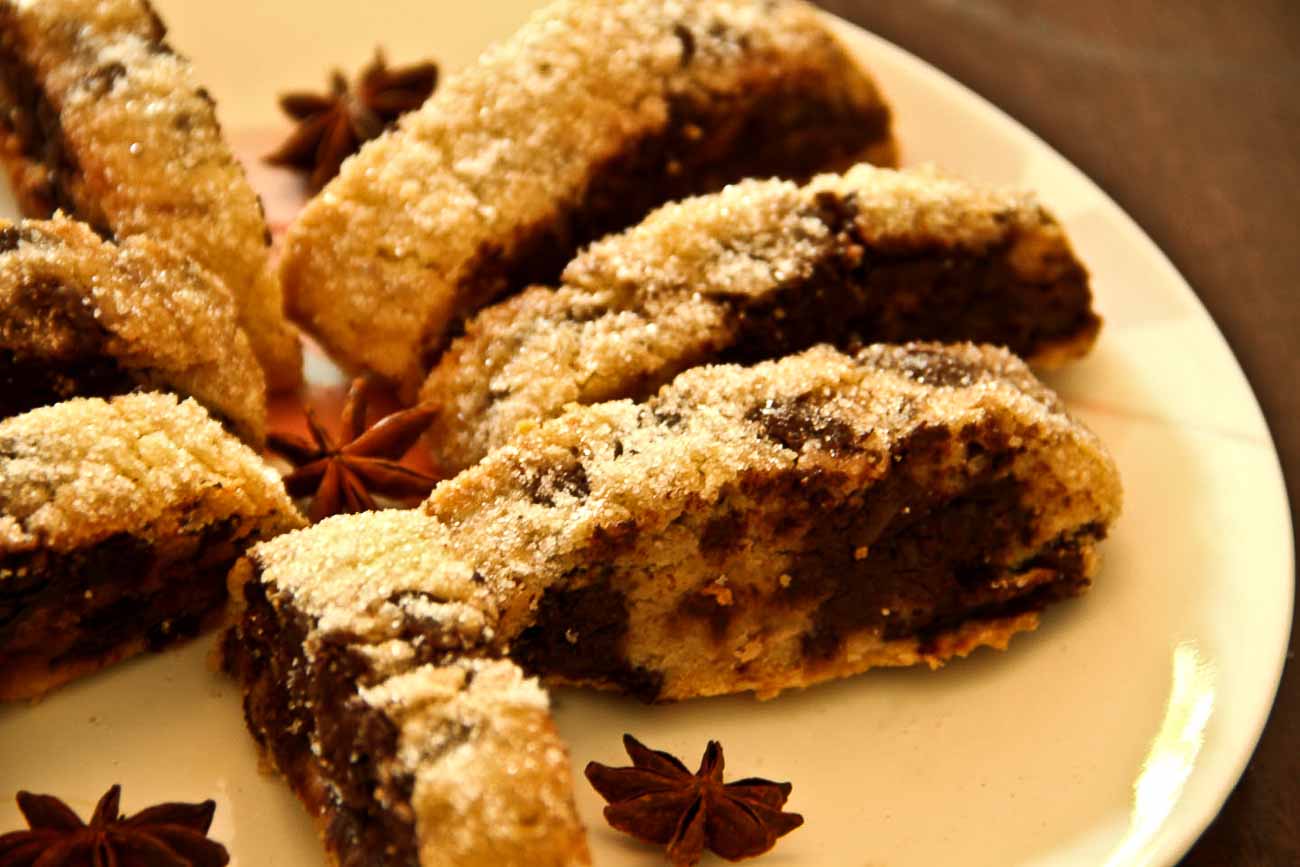 Dark Chocolate and Star Anise Biscotti recipe was handed down to me by my Aunt from Rome, Italy. Over the years I have adapted it to suit my taste buds. When baked just right, these Biscotti's are crisp and delicious. Perfect for gifting options as they keep fresh for a fortnight and look festive when packed in a mason jar.
I had served this to some guests at home for Diwali. They mentioned that these tasted better than the biscotti they have back in the States from what is touted to be the best Italian styled bakery in their part of town!!
Ingredients
2 cups

All Purpose Flour (Maida)

3 teaspoons

Star anise

, slightly crushed in a food processor or chopper
1 teaspoon

Baking powder

85 grams

Butter (Salted)

, softened
3/4 cup

Caster Sugar

, plus more for sprinkling
2

Whole Eggs

1

Egg yolks

3/4 cup

Dark Chocolate Chips
How to make Dark Chocolate and Star Anise Biscotti Recipe
To begin making the Dark Chocolate and Star Anise Biscotti Recipe, place a rack in the centre of the oven and preheat the oven to 160°C. Prepare a cookie sheet with baking parchment and set aside.

In a medium bowl, whisk together flour, star anise, baking powder and chocolate chips. Set aside.In another bowl, using an electric handheld beater, cream together the butter and sugar on medium speed until light and fluffy, 3-4 minutes.

Reduce mixer to low, and add 1 of the eggs and egg yolk and beat until combined well, about 2 minutes.

Add the flour mixture (dry ingredients) all at once, to the butter mixture, and beat together with a wooden spoon until well combined. Mixture may be dry and crumbly. Knead by hand until the mixture is blended thoroughly to form the biscotti dough.

Divide the dough to form 2 logs roughly in the shape of 7-8 inches long and 1 ½ inches wide. Transfer this to the parchment lined cookie sheet; spaced at least 5 inches apart. Beat the reserved egg, brush over each log and sprinkle with a generous amount of sugar to cover each log.

Bake the biscotti logs for 20 - 25 minutes or until golden brown and baked through. Let biscotti rest for 20 minutes until cool.

Using a serrated knife, gently slice the biscotti slice into 1-inch thick slices. Keeping cut side up on the cookie sheet, bake for another 10 - 12 minutes. Let baked biscotti cool completely.

Enjoy the Dark Chocolate and Star Anise Biscotti with a hot cup of tea or coffee.

Note: The Dark Chocolate and Star Anise Biscotti will last, in an airtight container, at room temperature for up to 2-3 weeks.