Delicious & Cheesy Spaghetti Sandwich Recipe
You must try this Spaghetti Sandwich Recipe which has a delicious stuffing of spaghetti pasta that is tossed in a tomato basil sauce. It makes a great dish for parties when you have a small set of guests over.

Archana's Kitchen
On

Sunday, 08 April 2018 09:00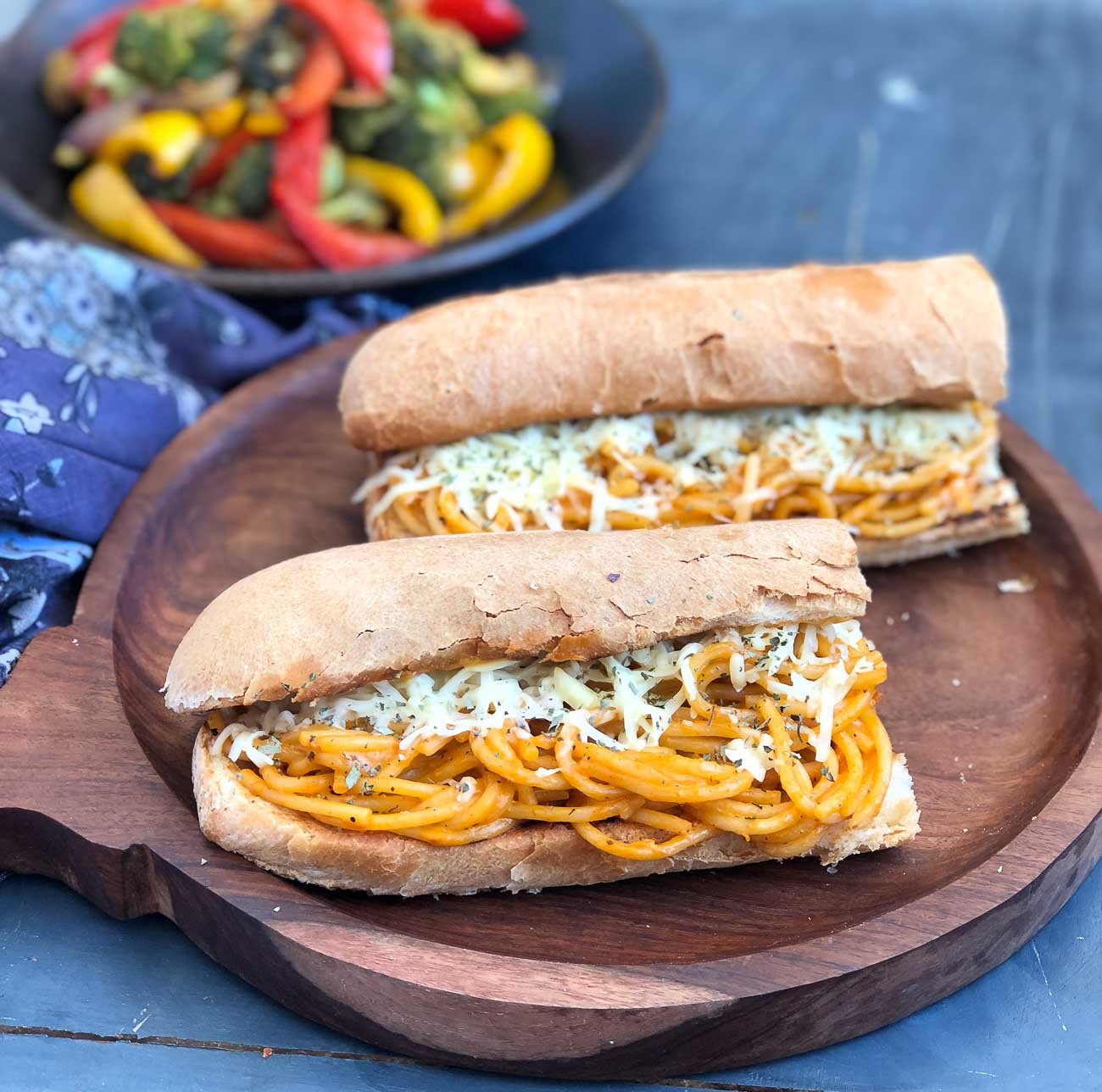 Cheesy Spaghetti Sandwich Recipe is an interesting sandwich of smooth slippery spaghetti pasta tossed in a lip smacking homemade tomato basil sauce along with stringy melted cheese filled in a crispy baguette with garlic butter.
Serve this Cheesy Spaghetti Sandwich Recipe along with French Onion Soup Recipe for a special weekend dinner along with Rich Dark Chocolate Mousse as a dessert
Take a look at some more Sandwich Recipes which you can make in your kitchen :
Ingredients
4

Hot Dog Bread

, or Bagutte
1/2 cup

Tomato Basil Pasta Sauce

1/4 cup

Mozzarella cheese

1/4 cup

Cheddar cheese

Garlic Butter

, to spread
2 cloves

Garlic

, grated

Extra Virgin Olive Oil

, as required

Salt

, to taste
How to make Delicious & Cheesy Spaghetti Sandwich Recipe
To begin making the Cheesy Spaghetti Sandwich Recipe, first you will need to keep the get the tomato basil pasta sauce ready.

You can either use store bought sauce or make the sauce at home using this recipe - Tomato Basil Pasta Sauce and Pizza Sauce Recipe.

We will then cook the spaghetti pasta along with salt in boiling water until al dente.

Once the pasta is cooked, drain it from the hot water and run it under cold water immediately to stop the process of cooking.

Drain the pasta from its water and drizzle a bit of olive oil to prevent it from sticking to each other. Keep the pasta aside.

In a heavy bottomed pan, add in a tablespoon of olive oil and the grated garlic. Saute for a few seconds and

Now add the cooked spaghetti to this pan along with the tomato basil pasta sauce and stir well

Once the pasta is well coated with the sauce, turn off the heat.

Next, slit the submarine bread horizontally. Apply butter on both the halves of the bread. Toast both halves of the bread on a griddle over medium heat until slightly golden brown and crisp. Once the bread is toasted, remove from the heat.

In a mixing bowl, combine the cheddar cheese and mozzarella cheese and set aside.

Place the toasted subway bread on a flat surface. Place some tomato basil spaghetti on lower half of the bread and top it generously with cheese on the top. Cover the sandwich with the other half of the bread

To lightly met the cheese, place this Cheesy Spaghetti Sandwich in the microwave for 1 minute on high heat.

Serve this Cheesy Spaghetti Sandwich Recipe along with French Onion Soup Recipe for a special weekend dinner along with Rich Dark Chocolate Mousse as a dessert