We all love having a delicious and hot breakfast that goes well along with our coffee in the morning before heading to work. Many of us love the idea of easy breakfast that we can create in a jiffy, especially when we are running on a tight schedule or are away from home and miss the traditional and homemade food to start our day.
Traditional Upma or Poha is one of the most favourite breakfasts in India. We have all grown up with having similar breakfasts that make a good start to our day. There is a lot of effort that goes into making this upma or poha.
To make Vegetable Upma, first we need to roast the semolina until aromatic. But you will also have to multitask with chopping vegetables and chillies when the semolina is roasted. Or to prepare poha recipe, you will have to chop all veggies and sauté them to perfection while the poha is soaking in water.
How about we say that now you can make your breakfast in 3 minutes?
To save time during your hustling mornings, MTR has come up with a range of 3-minute breakfasts that will make your daybreaks completely hassle-free. We got intrigued with this and we tried their 3 minutes breakfast Vegetable Upma cup and Khatta Meetha Poha cup and found that it is so authentic and delicious, just like you would make upma from scratch at home.
Here is what we did to make the Khatta Meetha Poha & Vegetable Upma
Remove the pouch and the spoon from the cup & add boiling water till the watermark mentioned in the cup
Empty the contents of the pouch into the cup, mix well with spoon and keep it closed for exactly 3 minutes (we set a timer to ensure it was 3 minutes)
Open, mix well once again and we enjoyed the quick and easy delicious breakfast
What do we think of the 3 Minute Vegetable Upma?
We spooned in the Vegetable Upma and enjoyed delicious homemade taste, which had the taste of crackled mustard, dal and curry leaves. With all the essential ingredients in place the experience was moist-hot and perfectly cooked veggie filled upma making it a perfect 3-minute breakfast. Must try!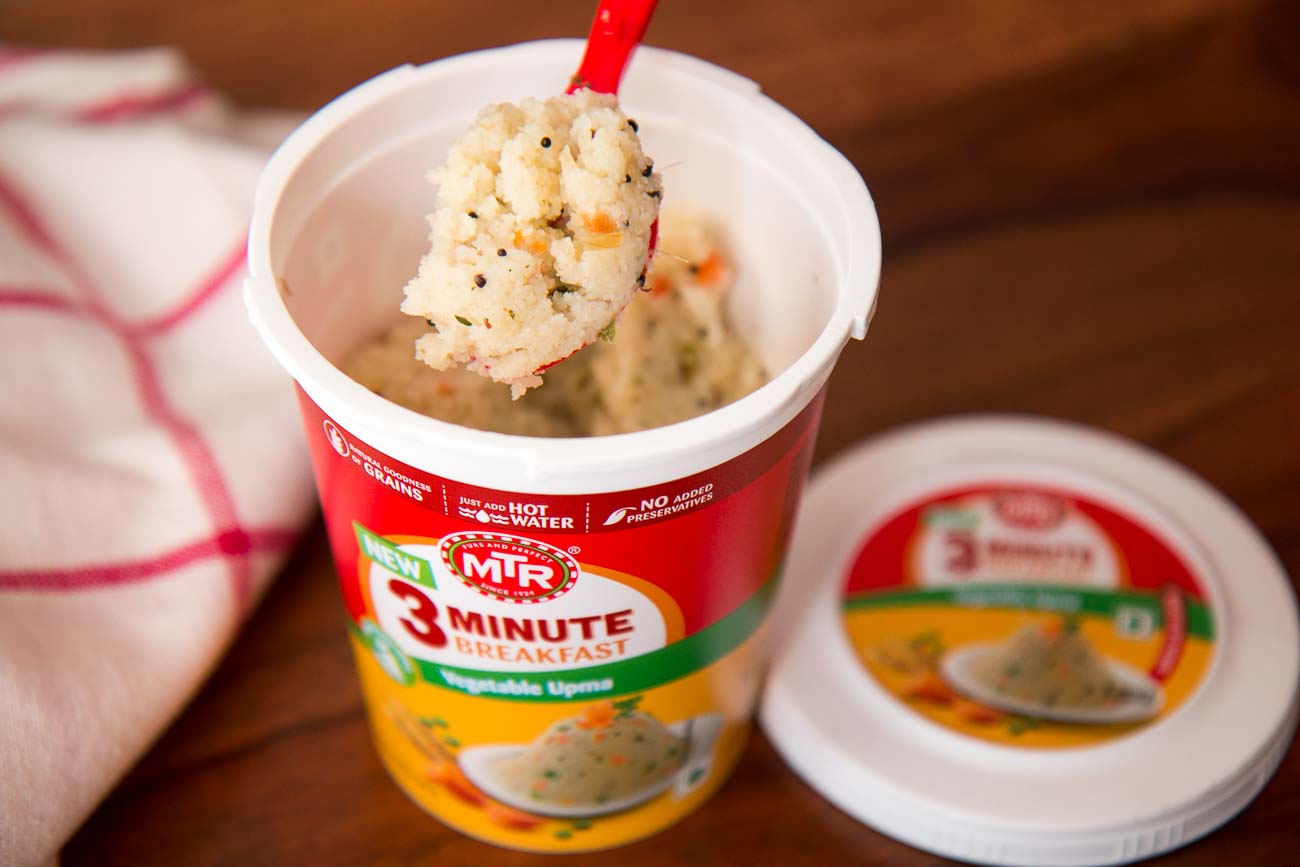 What do we think of the 3 Minute Khatta Meetha Poha?
We simply loved the sweet and sour taste of the Khatta Meetha Poha. It tingled our taste buds and went perfectly along with the Adrak chai. The Poha fluffed up perfectly after exactly 3 minutes. The addition of roasted peanuts and the raisins made it feel as if mom had made it with love. If you are travelling on work or simply reminded of mom, make this breakfast and serve it along with chai.
There are a lot more products in the same range of MTR, like Kesari Halwa, Magic Masala Upma, Homestyle Masala Oats, Poha. You should keep this range of Indian breakfasts that has brought much-needed quick solution for busy weekday mornings.
It has the perfect consistency and the right quantity with great taste every single time. Let us know when you try it.