Double Chocolate Brownie Bars Recipe
Delicious Chocolate Brownies

Vanitha
On

Friday, 10 March 2017 00:00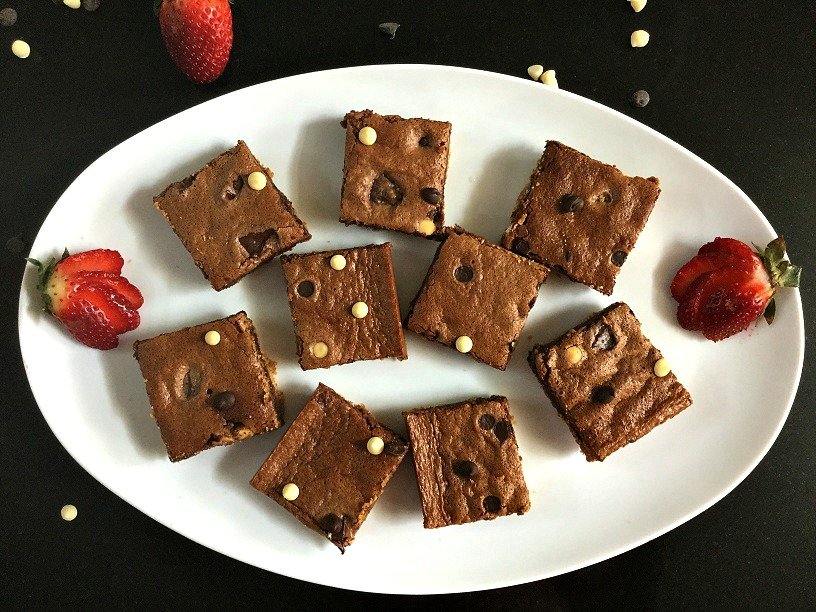 Double Chocolate Brownie Bars Recipe is a simple dessert recipe which you can bake easily when you are not able to control your sugar cravings. It is fudgy and chocolaty with a buttery biscuit/cookie crust, studded with more chocolate chips in every bite.
Serve these Double Chocolate Brownie Bars as a tea time snack or as a dinner party dessert.
Other similar recipes that you can try are:
Ingredients
For the biscuit crust:
1 3/4 cups

Marie Biscuit

, (or any other biscuit of your choice) made into crumbs
1/2 cup

Butter (Salted)

, melted (measure after melting)
2 tablespoons

Caster Sugar

For the brownie layer:
400 grams

Condensed Milk

1/4 cup

All Purpose Flour (Maida)

, or you can also use whole wheat flour
1/4 cup

Cocoa Powder

1/2 teaspoon

Baking powder

1

Whole Egg

1 teaspoon

Vanilla Extract

3/4-1 cup

Chocolate Bar

, chopped (use any chocolate bar flavor you like)
Toppings:
1/4 cup

Chocolate chips

, white and dark
How to make Double Chocolate Brownie Bars Recipe
To begin making the Double Chocolate Brownie Bars, preheat oven to 350 degrees fahrenheit or 180 degrees centigrade.

Line a baking pan with foil (grease the bottom of the pan lightly to prevent the foil from moving) with some overhang to have ease in removing the brownie from the pan and grease the foil again. Keep aside.

For the cookie crust crush the cookies or biscuits in a food processor or blender to fine crumbs. You can crush them by placing them in a large Ziploc bag, closing the Ziploc and pressing a rolling pin over it to crush the cookies fully. You should get about 1 3/4 cups of crumbs.

In a large mixing bowl, add the cookie crumbs, melted butter (just melted, not hot) and powdered sugar and mix well with your finger tips to form evenly moist crumbs.

Pour the moistened crumbs into the prepared pan and with the back of a spoon or your hands, gently press the crumbs evenly and firmly to form a tight base.

Bake in the preheated oven for about 10 to 12 minutes to set the base. Remove from oven.

Leave the oven on.

Now, to make the brownies combine condensed milk, flour, cocoa, egg, baking powder and vanilla in a medium bowl using a hand mixer or with a whisk to a smooth batter.

Stir in the chocolate chunks and nuts (if you are adding) and gently mix.

Pour the batter into the prepared crust and spread evenly. Smooth the top.

Bake again for about 20 to 25 minutes, until the brownie is set.

Remove from oven and set on cooling rack. Cool completely before cutting with a sharp knife into desired shapes.

Serve the Double Chocolate Brownie Bars as a tea time snack or as a dessert.
You can use any type of biscuit like digestive biscuit, graham crackers etc.
For a thicker crust, use 2 cups of biscuit crumbs.
You can substitute chocolate chips for the chocolate chunks.
Stir in your favorite chopped nuts for additional crunch.
You an halve the recipe and make these in a smaller pan.