Egg Bhurji Stuffed Pita Pockets Recipe
Whole Wheat Pita Pockets stuffed with sizzling, spicy street-style Indian scrambled eggs makes for a delicious snack or mid morning meal or a one dish dinner. Serve them for breakfast along with a smoothie or fresh fruit juice of your choice.

Madhuli Ajay
On

Thursday, 26 November 2015 00:14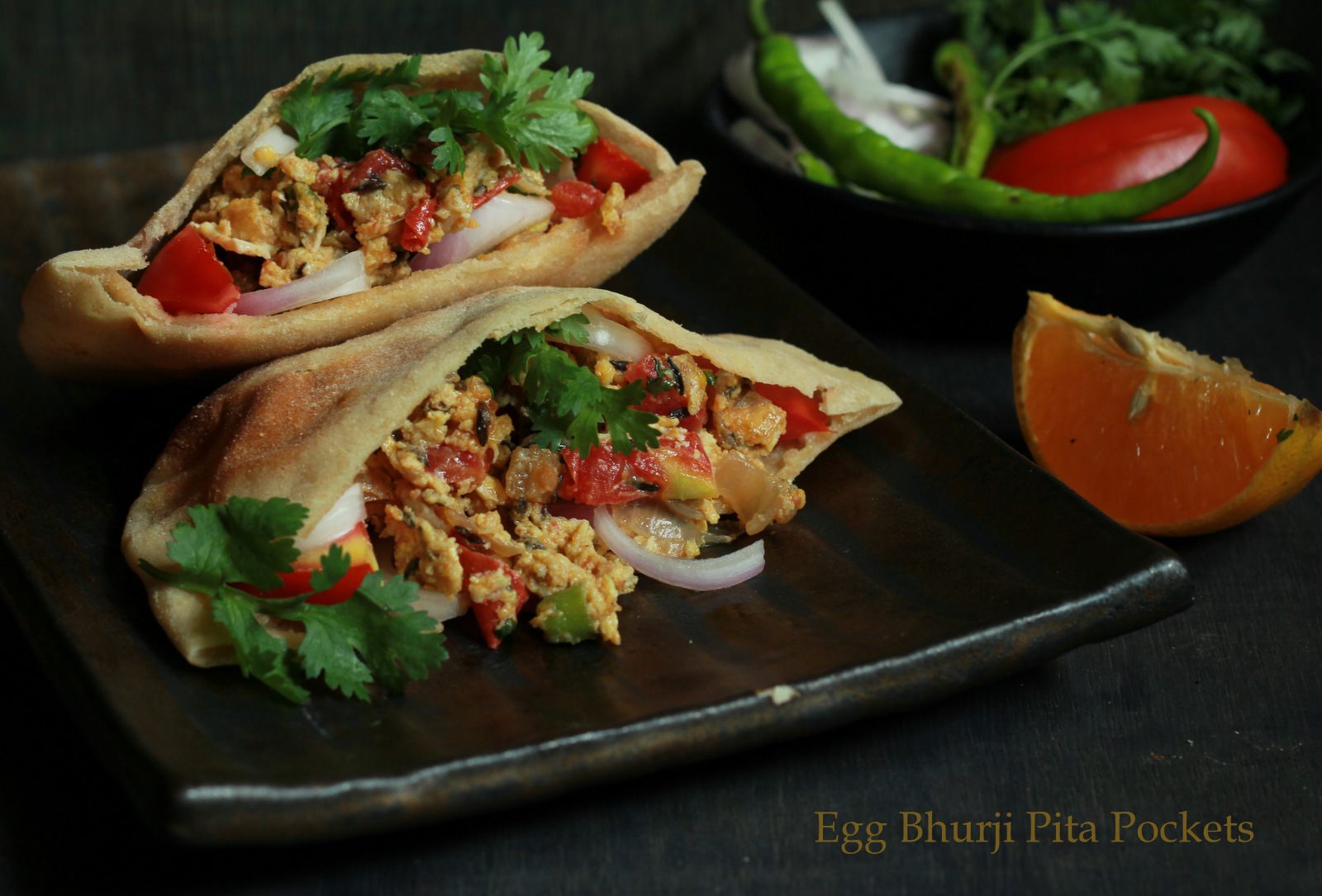 Egg Bhurji Stuffed Pita Pockets Recipe is made using a spicy, sizzling street-style Desi scrambled eggs, stuffed in whole wheat pita pockets. It makes for a great snack box option, brunch recipe or even a breakfast for a weekend.
It is a healthier variation of the popular Mumbai street food - Bhurji Pav - where the bhurji is sandwiched between buttery, toasted pav. These Bhurji stuffed Pita Pockets on the other hand are wholesome and are quite handy as a quick 'on-the-go' meal when you need to eat a filling breakfast.
These Egg Bhurji Stuffed Pita Pockets are also convenient for kids lunch or snack boxes. If you have a batch of whole wheat pita bread handy then this is one of the quickest ways to serve a wholesome, scrumptious meal. It also makes a great one dish dinner.
Serve Egg Bhurji Stuffed Pita Pockets Recipe with Apple, Kiwi, Pineapple Juice Recipe for a wholesome Sunday Brunch.
Some other popular street-food style meal options are
Ingredients
For the Egg Bhurji
5

Whole Eggs

1

Onion

, finely chopped
1

Tomato

, finely chopped
1

Green capsicum

, finely chopped
4-5

Green Chillies

, chopped
1 teaspoon

Red chilli paste (or red chilli powder)

1 inch

Ginger

, finely chopped
2 cloves

Garlic

, finely chopped
1 teaspoon

Cumene seeds (Jeera)

1 teaspoon

Pav bhaji masala

1/2 teaspoon

Turmeric powder (Haldi)

1 teaspoon

Ghee

2 teaspoon

Cooking oil

Salt

, Salt to taste

Coriander (Dhania) Leaves

, A handful of fresh coriander leaves, chopped
For the Pita Pockets
4

Whole Wheat Pita Bread

, 4 whole wheat pita bread (4-5 inch)
2

Onions

, sliced
2

Tomatoes

, cut lengthwise

Lemon

, Lime wedges to serve
1 teaspoon

Chaat Masala Powder

, for sprinkling
How to make Egg Bhurji Stuffed Pita Pockets Recipe
To begin making the Egg Bhurji Stuffed Pita Pockets Recipe we will first make the the spicy egg bhurji. For this, first break the eggs into a mixing bowl and whisk together thoroughly, along with ½ teaspoon salt.

Then, warm the ghee and oil together in a preheated pan. Add the cumin seeds and allow them to sizzle. To it, add the onions and saute for 2-3 minutes till lightly browned.

At this stage, add the turmeric powder, ginger, garlic, green chilies and the red chilli paste. Sauté for a few seconds until fragrant.

Next, add the tomatoes and cook for 1-2 minutes till they become slightly soft.

Once the tomatoes are soft add the capsicum, pav bhaji masala and salt taking care only to add just enough salt for the masala as salt is separately added to the eggs too.

Mix and cook for 1-2 minutes more till everything is sizzling. Pour in the whisked eggs and stir continuously, with the heat on low-medium, until the eggs are scrambled and well combined with the masala.

Cook till the scramble is well done, all the time mixing thoroughly. Sprinkle the chopped coriander leaves on the prepared Egg Bhurji, turn off the heat and set the bhurji aside till ready to assemble the pita pockets.
To assemble the Pita Pockets
Warm the Pita breads in an oven/microwave or directly on a skillet. Slice through them to open up the pockets and make room for the stuffing.

In the cavity, place a few slices of the onion, tomato and 1-2 sprigs of fresh coriander. Then, fill the pockets with the Egg Bhurji, sprinkle chaat masala and serve with a wedge of lime/lemon.

Serve Egg Bhurji Stuffed Pita Pockets Recipe with Apple, Kiwi, Pineapple Juice Recipe for a wholesome Sunday Brunch.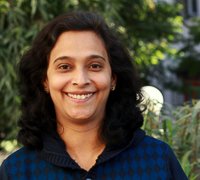 Giving up a lucrative career tinkering with Analytical equipments, Madhuli Ajay chose to tinker in her Food lab- developing new recipes & satisfying her culinary travel cravings. She has been sharing heirloom recipes on her blog 'My Foodcourt' for the past 9 yrs. Madhuli bakes to feed her soul. Testing recipes & photographing food for a cookbook, has fuelled her food photography passion. Based in the gorgeous 'Wine Capital' of India Nashik, Madhuli also loves spending time in her little kitchen garden.