Egg In A Biscuit Recipe
An deliciously innovative way to serve egg

Maria George
On

Wednesday, 07 October 2015 00:08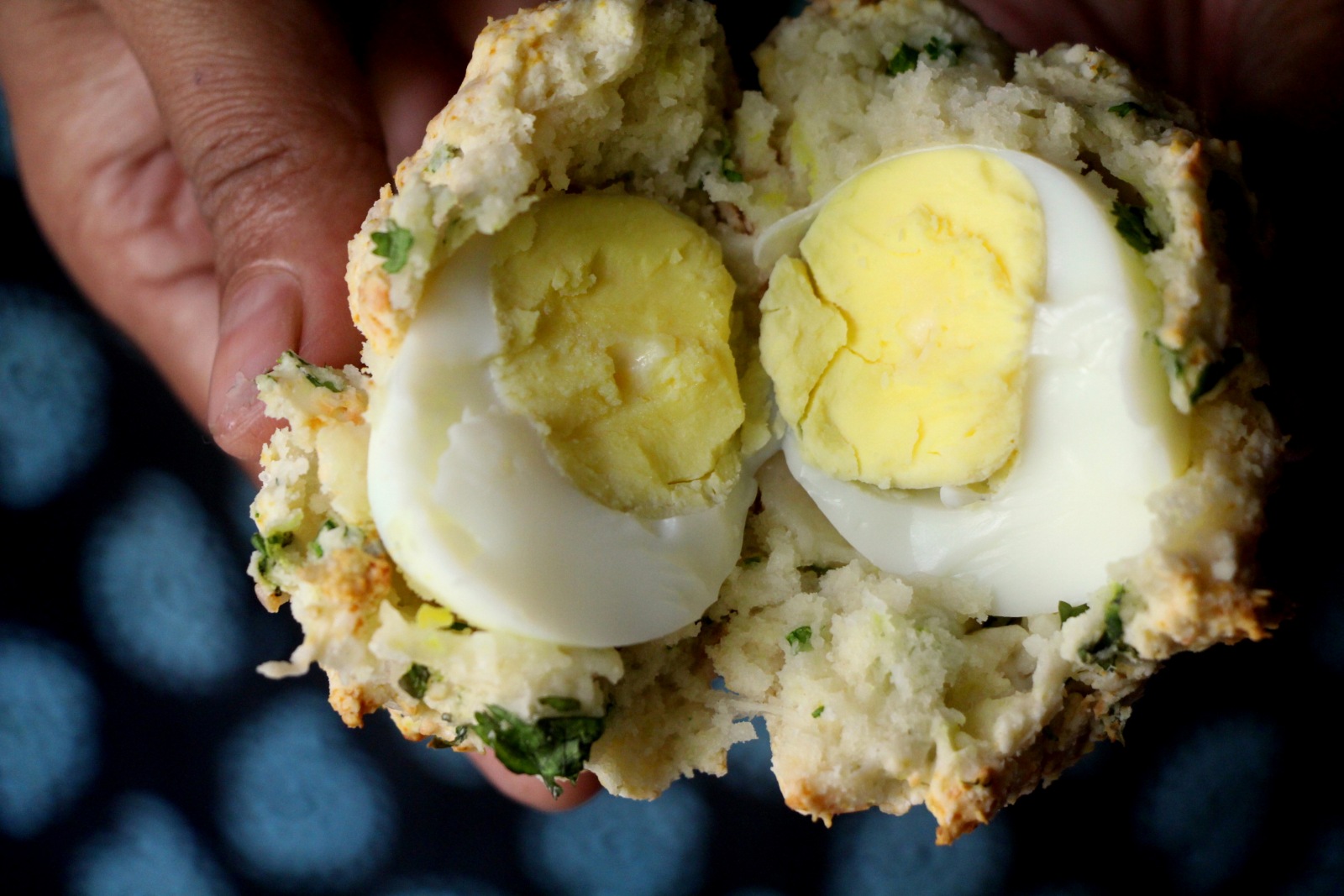 Egg In A Biscuit Recipe is a fun breakfast dish that doesn't require too much prep time, but produces delicious results. They're great for children, providing much excitement, but adults can enjoy them just the same. The idea is to have a soft or a hard boiled egg encased in a fluffy biscuit.
Serve Egg In A Biscuit along with Banana Almond & Prunes Smoothie for a filling breakfast or as a snack box recipe.
Other recipes that you can try are:
Ingredients
1 cup

All Purpose Flour (Maida)

1 tablespoon

Sugar

1-1/2 teaspoons

Baking powder

1 teaspoon

Baking soda

30 grams

Butter (Salted)

, chilled and diced fine
40 grams

Cheese

, grated
2 tablespoons

Coriander (Dhania) Leaves

, finely chopped
1/2 cup

Curd (Dahi / Yogurt)

4

Whole Eggs

, boiled
How to make Egg In A Biscuit Recipe
To begin making the Egg In A Biscuit, first set your oven to preheat at 250 C. Line a baking sheet with parchment paper and set it aside to be used later.

Mix all the dry ingredients like flour, sugar, baking powder, baking soda in a bowl.

Then, put the chilled and cubed butter into the flour and work quickly with your finger to rub the butter into the dry mix till it resembles coarse crumbles.

Grate the cheese and add the chopped coriander leaves to the mix and combine together.

Mix in the yogurt and stir till the biscuit batter just comes together. Take care not over mix. The mix should just barely hold together and not be runny at all. Over mixing makes the biscuit tough.

Now prepare the biscuits by dropping 4 spoonfuls of batter onto the prepared baking tray.

Place an egg on top of each spoonful of batter. Then, encase the egg by spooning more batter over it so it is covered on all sides.

Place the biscuits batter along with the egg in the preheated oven to bake at 250 C for 5 mins, then reduce temp to 200 degrees C and bake for another 10-15 mins or till the crust of the biscuit is golden brown.

Serve Egg In A Biscuit along with Banana Almond & Prunes Smoothie for a filling breakfast or as a snack box recipe.
Note: Make sure you use soft-boiled eggs if you like a runny yolk.
Remember that the eggs continue to cook even in the oven, which sometimes makes the yolks change colour, so using soft boiled eggs is advisable.
When making the biscuits, mix all the dry ingredients, cheese and coriander; add the yogurt right at the end just before baking, taking care not to over mix.