Eggless Chocolate Pistachio Biscotti Recipe

Sasmita Sahoo
On

Thursday, 22 December 2016 00:18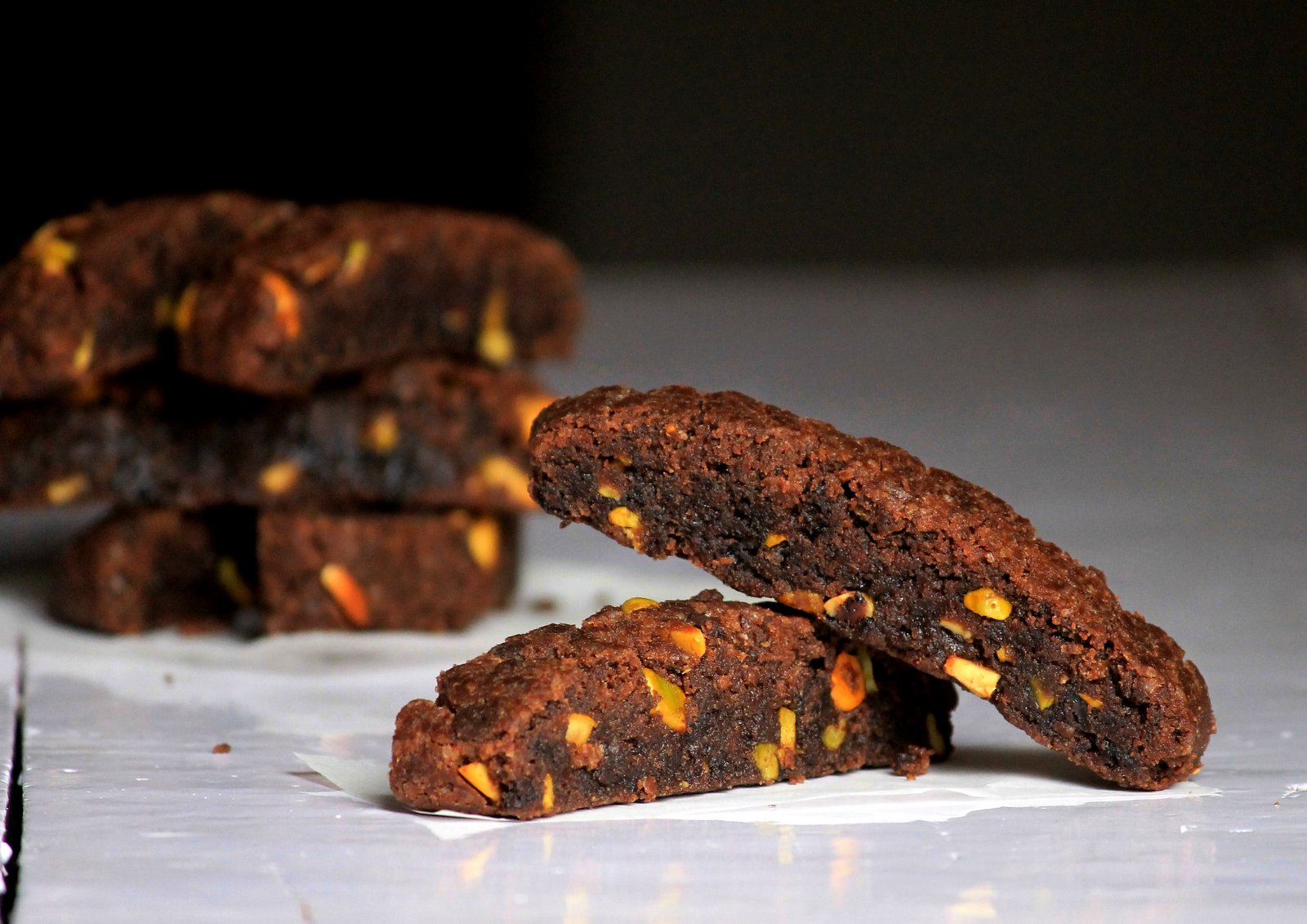 Biscotti also known as 'cantuccini' are the authentic Italian biscuits. The word 'biscotti' means twice-baked, and these type of biscuits are baked twice in oven. Basically, these are oblong shaped as well as dry and crunchy in texture. Since these Eggless Chocolate Pistachio Biscotti are baked twice, these are very dry and hence can be stored for longer periods. Serve Eggless Chocolate Pistachio Biscotti recipe during tea time with tea or coffee. It is popularly consumed after dunking in hot beverages.
Serve these crunchy Eggless Chocolate Pistachio Biscotti Recipe as an accompaniment with Arabic Coffee or Adrak Chai
Here are more similar recipes for you to try
Note: While slicing the baked log, keep patience and slowly slice out because it tends to break.
Ingredients
3/4 cup

All Purpose Flour (Maida)

, (more for dusting)
2 tablespoons

Cocoa Powder

1 teaspoon

Baking powder

5 tablespoons

Caster Sugar

, powdered
1 tablespoon

Milk

5 tablespoons

Oil

, (or melted butter)
2 teaspoons

Vanilla Extract

1/4 cup

Pistachios

, coarsely chopped
1/4 cup

Chocolate chips
How to make Eggless Chocolate Pistachio Biscotti Recipe
To prepare Eggless Chocolate Pistachio Biscotti Recipe, whisk oil and powdered caster sugar in a bowl until a smooth texture.

Then add vanilla essence, milk and whisk a bit more.

Now add all purpose flour, cocoa powder, baking powder, coarsely chopped pistachios and chocolate chips. Mix everything well to get a sticky dough.

Preheat the oven at 180 degrees.

Place the whole dough on baking sheet and shape into approximate 6 cm wide and 20 cm long log. Bake for 25-30 minutes or until firm to the touch.

Remove from the oven and allow it to cool at least 15-20 minutes. Using a serrated knife, cut the log into 1 inch thick slices. Place the slices on their sides on the baking sheet.

Bake for 10 minutes and take out. Flip them and bake for 10 more minutes.

Remove from oven and transfer to a wire rack to cool completely. It will become even more hard after cooling.

Serve these crunchy Eggless Chocolate Pistachio Biscotti Recipe as an accompaniment with Arabic Coffee or Adrak Chai