Eggless Peanut Butter Cookies Recipe

Rekha Shivakumar
On

Wednesday, 09 March 2016 00:09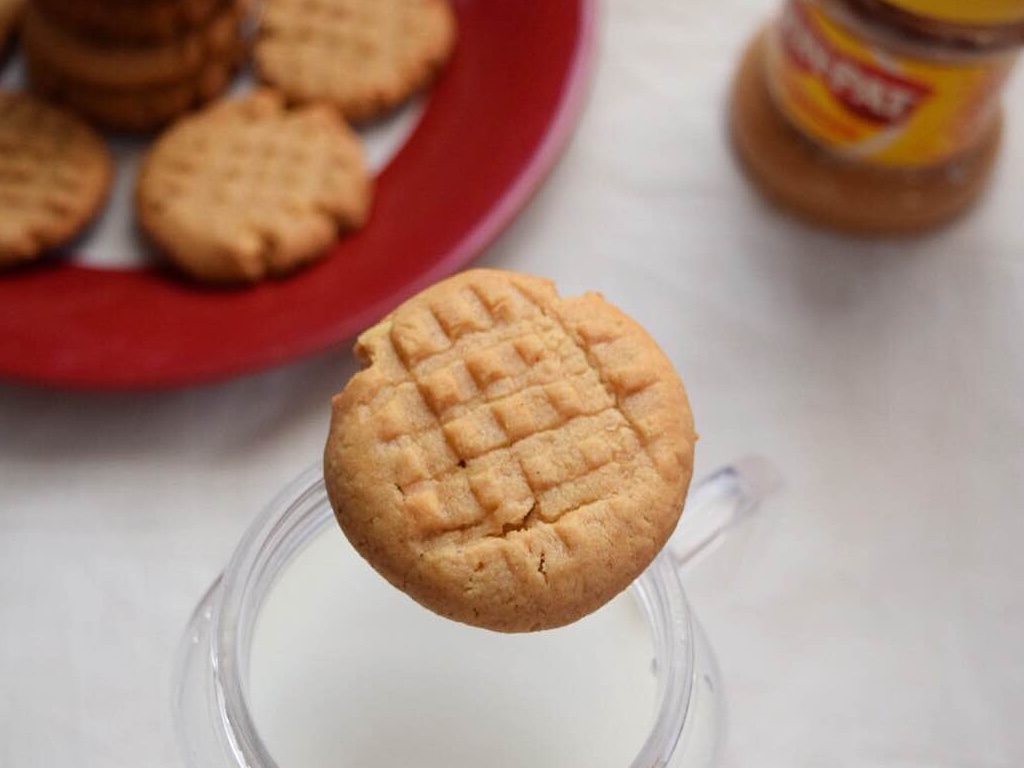 Eggless Peanut Butter Cookies are perfect little treats for your kids school snack box or you can also serve them in evenings, along with a plain glass of milk. You can make this vegan-friendly, by substituting plain milk with dairy-free nut milk, soy milk or coconut milk. The texture of these cookies are a bit crunchy yet melt in mouth. However if you prefer a chewy texture then reduce the baking time by 3 or 4 minutes lesser than the time mentioned below in recipe.
Serve Eggless Peanut Butter Cookies with Masala Chai or a cup of coffee during your evening work-time.
If you like this recipe, you can also try Quinoa Chocolate Cookies and Eggless Wholewheat and Custard Powder Coconut Cookies.
Ingredients
1 cup

Peanut Butter

, 1/2 cup smooth peanut butter & 1/2 cup crunchy peanut butter
1 cup

All Purpose Flour (Maida)

1/2 cup

Sugar

, powdered
1/4 teaspoon

Baking powder

1/4 teaspoon

Baking soda

4 tablespoon

Milk
How to make Eggless Peanut Butter Cookies Recipe
To begin with Eggless Peanut Butter Cookies, sift together flour, salt, baking soda and baking powder in a mixing bowl. Keep this flour mixture aside.

In a wide bowl, cream peanut butter for 3-4 minutes at minimum speed using a hand mixer. Add in the powdered sugar, 2 tablespoon milk and cream the mixture again for 3 minutes.

At this stage, add flour mixture to the bowl and gradually mix at a very low speed until they are all well blended. Use hands and gently form a dough.

If the dough is too thick, add a tablespoon of milk and refrigerate the dough for 20 minutes.

Divide the dough into medium lemon sized balls and place them on a baking sheet

Using a fork, you can make a criss-cross pattern to achieve the classic look of peanut butter cookies.

Make sure to leave enough space between them. Since the cookies tend to expand when they start baking in the oven.

Preheat oven to 180 C and bake until the edges turn into slightly golden brown colour. It takes approximately 13-14 minutes.

Once the cookies are cooled down, they become crunchy. You can store these baked goodies in an air tight container and they stay good for up to 5 days.

Serve Eggless Peanut Butter Cookies with Masala Chai or a cup of coffee during your evening work-time.