Eggless Spooky Witch Finger Cookie Recipe (Perfect Halloween Cookies)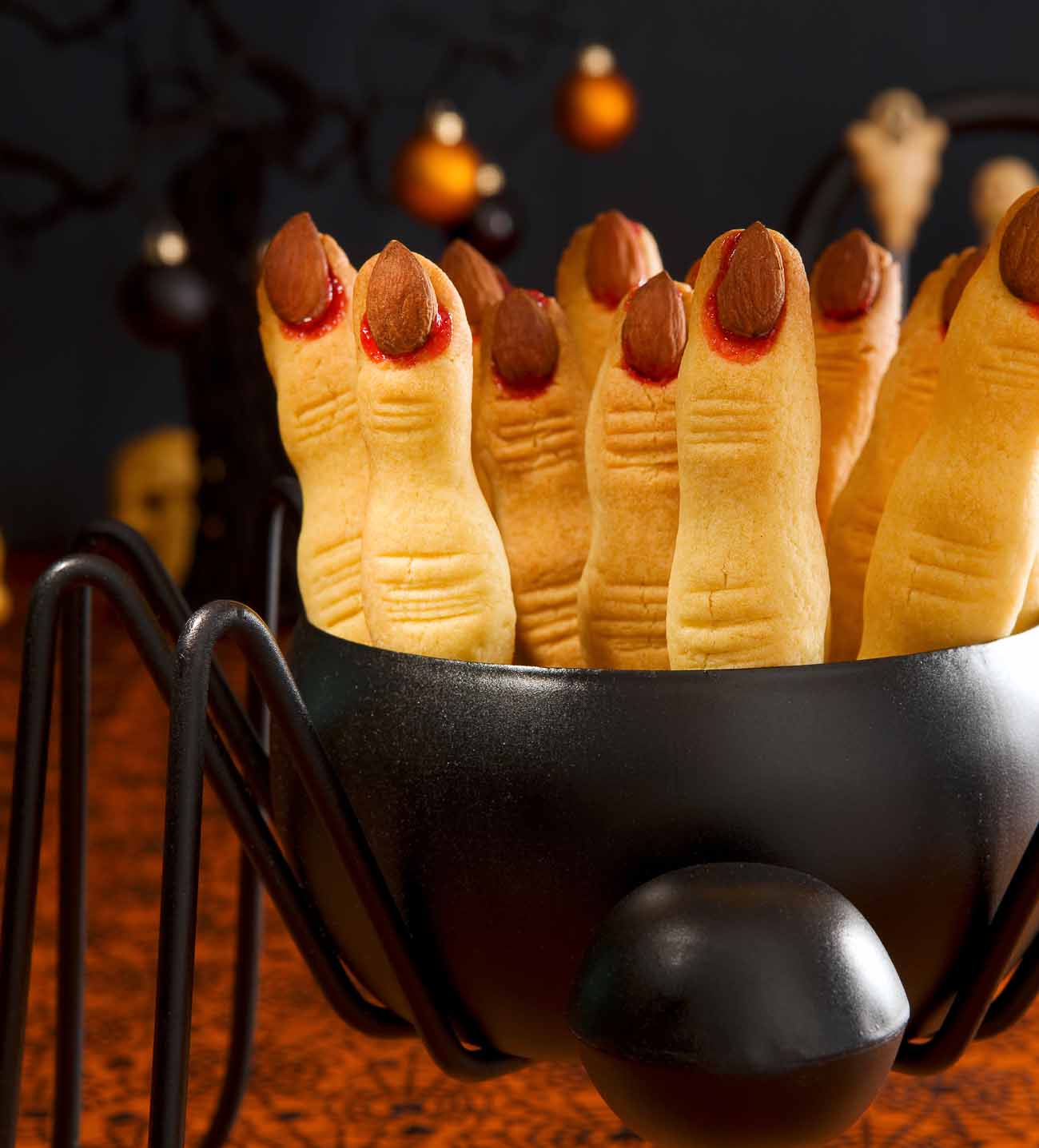 Quick and easy to make and absolutely spooky to look at, these Eggless Spooky Witch Finger Cookies will give your little one the nutrition he needs and scare his friends while doing so. They taste yummy and delicious and make a wonderful after-school snack option for the kids. These cookies also make a perfect Halloween treat
Ingredients
3 cups

Whole Wheat Flour

1 cup

Butter (Salted)

, soft or at room temperature
1 teaspoon

Vanilla Extract

1 cup

Sugar

, (add more if required)
2 tablespoons

Flax seed powder (flax meal)

1 teaspoon

Baking powder

1 teaspoon

Salt

3/4 cup

Whole Almonds (Badam)
How to make Eggless Spooky Witch Finger Cookie Recipe (Perfect Halloween Cookies)
To begin making the Eggless Spooky Witch Finger Cookie Recipe, preheat the oven to 180 C and grease a baking sheet with butter.

Combine the butter, sugar and vanilla extract in a large bowl, and beat them well until they turn nice and fluffy.

In another wide bowl, sieve the flour and add in the baking powder, salt and mix them well.

Mix the dry ingredients along with the wet ingredients in the bowl and knead everything into soft pliable dough. If the dough seems a little hard, soften it by adding a little amount of milk. Once done, cover it with a plastic wrap, and refrigerate for about 30 minutes.

Take a portion of the dough, divide it into small balls and shape them into thin long cylindrical strips. With a sharp knife, mark thin lines at different places to form finger knuckles and place an almond towards one end of the strips, to denote finger nails.

Arrange these dough witch fingers on the baking sheet and bake them for about 15 to 20 minutes until they turn golden brown. When done, remove from the oven and allow them to cool completely.

The Eggless Spooky Witch Finger Cookies are now ready. Watch them scare the wits out of their little friends!

Note: These Eggless Witch fingers can be made a batch at a time. The dough can always be stored in the fridge to be used later.