Eggless Tutti Frutti Cake Recipe
Eggless tutti Frutti cake is a simple and easy to bake one which uses whole wheat flour and semolina that gives it a different texture to the whole cake. Tutti frutti gives it a vibrant color and flavour to the cake and you serve it warm with hot cup of chai.

Roop
On

Saturday, 04 June 2016 00:51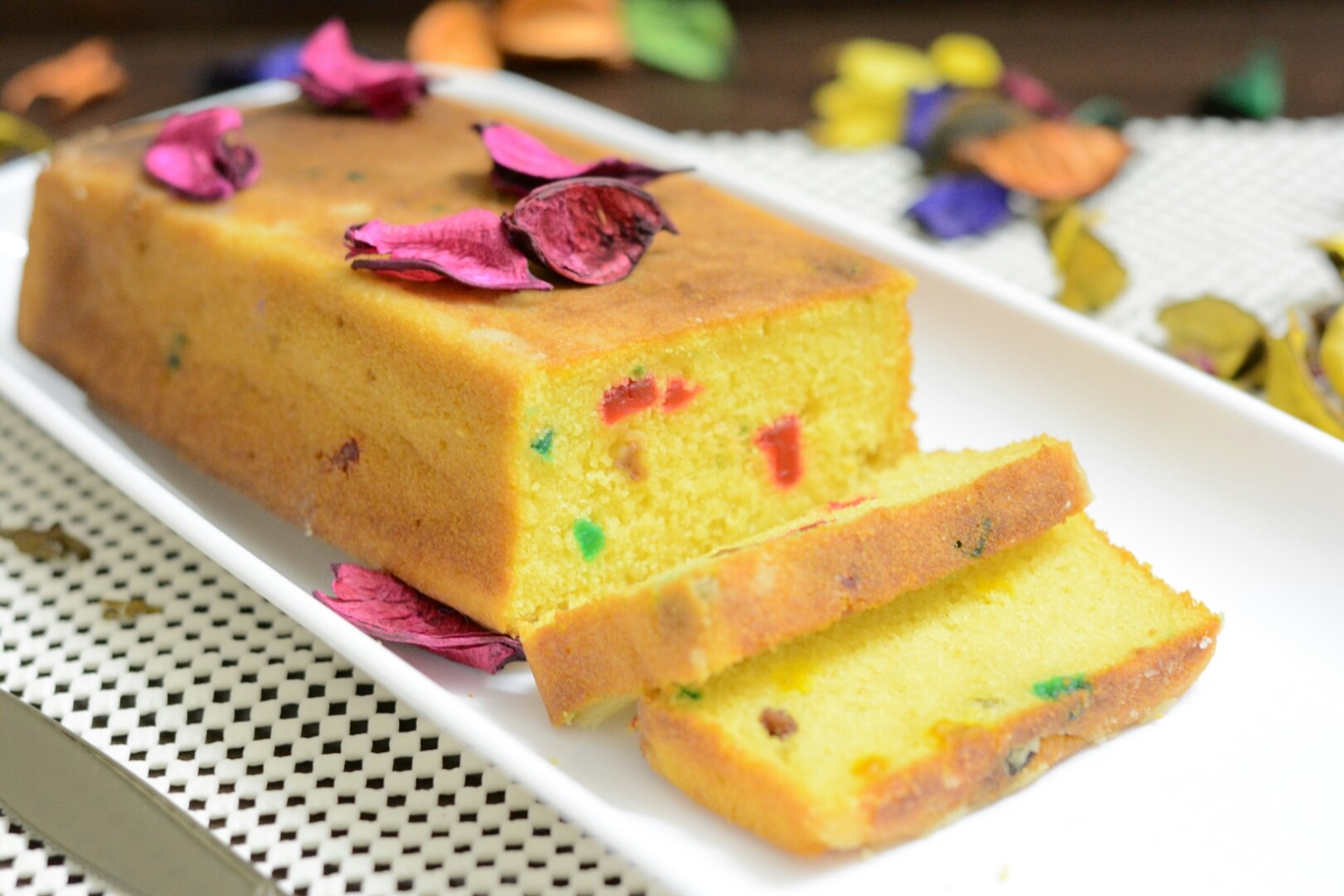 Eggless tutti frutti cake is soft rich, buttery, moist and fragrant cake recipe which will turn as one of your favourite desserts. Freshly baked tutti frutti cake is easy to prepare and a delight to eat. It goes well for a tea party recipe too.
Serve the slices of the tutti frutti cake loaf with a hot cup of Masala Chai or Filter Coffee.
Explore more of our tea time cake recipe here:
Ingredients
1 cup

All Purpose Flour (Maida)

2 tablespoons

Whole Wheat Flour

1 teaspoon

Sooji (Semolina/ Rava)

2 tablespoon

Milk Powder

1 teaspoon

Corn flour

1/3 cup

Sugar

80 grams

Butter (Salted)

, at room temperature

Milk

, milk as required
1/2 cup

Curd (Dahi / Yogurt)

, whisked
1/2 cup

Condensed Milk

1 teaspoon

Baking powder

1/2 teaspoon

Baking soda

1/2 cup

Tutti frutti

2 tablespoons

Sultana Raisins

pinch

Food Color

, pinch of yellow food colour (optional)
1 teaspoon

Vanilla Extract

1 teaspoon

Cardamom (Elaichi) Pods/Seeds

, crushed (optional)
1 tablespoon

White vinegar

pinch

Salt

, pinch of salt
1 tablespoon

All Purpose Flour (Maida)

, for dusting
How to make Eggless Tutti Frutti Cake Recipe
To prepare Eggless Tutti frutti cake, prep up all the ingredients and preheat oven to 180 degrees Celsius. Prepare a loaf tin by applying oil on it and dusting with flour.

Sift together the dry ingredients- all-purpose flour, wheat flour, semolina, cornstarch, baking powder, baking soda and a pinch of salt. Mix well.

Take a big mixing bowl and add butter, condensed milk, sugar, yogurt, vanilla essence and mix it well until it forms a creamy texture.

Now sprinkle some plain flour over the tutti frutti and spread it well (Dusting the tutti frutti with some flour before incorporating them into the batter helps in even distribution preventing them from sinking to the bottom of the cake).

Now add the dry ingredients to the wet mixture. Mix very well. For the right consistency, add milk if needed. Add tutti frutti and raisins and at last add white vinegar and then mix it well.

Pour the batter into the prepared loaf tin and tap well. Sprinkle some crushed cardamom if using.

Bake in the preheated oven for 30 to 35 minutes at the same temperature.

The top needs to turn golden brown and a tester (toothpick) should come out clean.

Allow the Eggless Tutti Frutti Cake to cool for 1 hour. Then slice and enjoy with Masala Chai or Filter Coffee.