Eggless Tutti Frutti Cookie Recipe

Sasmita Sahoo
On

Monday, 24 October 2016 00:00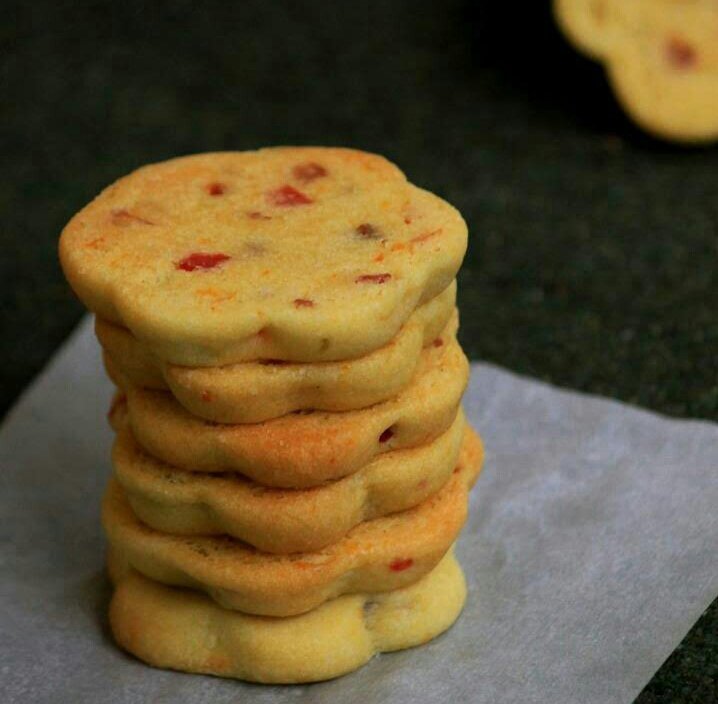 Eggless Tutti Frutti Cookie don't only look delicious but taste amazing as well. Here, I have added orange flavor to the cookies. Tutti Frutti & orange flavor go very well with each other. These cookies will be a hit with the kids, and will have them asking for more.
Serve these Eggless Tutti Frutti Cookies at your next tea party.
Other cookie recipes that you can try are:
Ingredients
1/2 cup

All Purpose Flour (Maida)

1/8 teaspoon

Baking powder

1/8 cup

Tutti frutti

3 tablespoons

Sugar

4 tablespoons

Butter (Salted)

1 teaspoon

Orange Zest (Rind)

1/2 teaspoon

Vanilla Extract

1 pinch

Salt
How to make Eggless Tutti Frutti Cookie Recipe
To begin the preparation of Eggless Tutti Frutti Cookies, first in a mixing bowl, whisk butter and sugar until you get a creamy texture.

Then add orange zest, vanilla essence, salt and mix very well.

Add the flour along with baking powder. Mix well. It results in a non-sticky dough.

Next add tutti frutti and mix.

Keep the dough in refrigerator at least for 1 hour.

After 1 hour, take out the dough from refrigerator. Divide the dough into desired number of balls. Give any shape or just flatten each one.

Preheat the oven at 180 deg C.

Transfer the cookies to a baking sheet leaving 1 inch space between each cookie as these tend to expand. Bake for 15 minutes.

Cool down completely and store in airtight jars.

Serve the Eggless Tutti Frutti Cookies to your kids or at your tea parties.