Eggplant Rolls Recipe
Eggplant Rolls Recipe is an delicious appetizer recipe that has beautiful flavors of Italy. Stuffed with paneer these taste heavenly. Serve them for your next party.

Aarti Sharma
On

Friday, 27 May 2016 00:14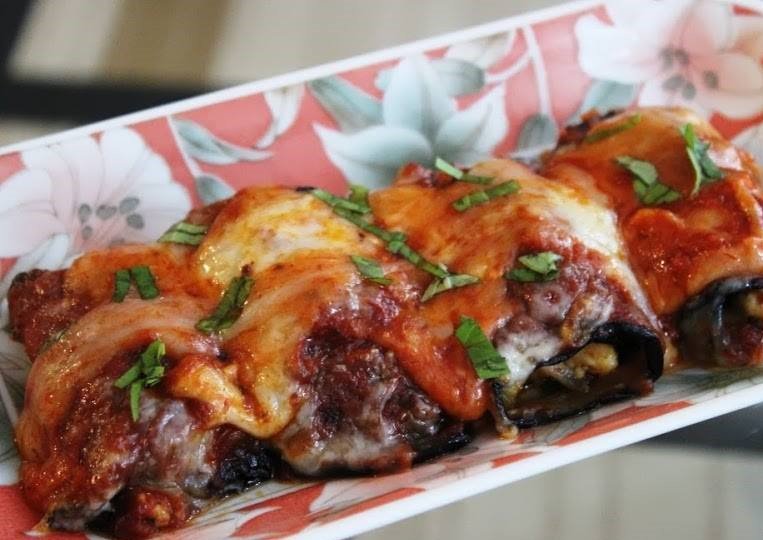 Eggplant rolls is an amazing main course recipe that has beautiful flavors of Italy. Eggplant is the finest source of fiber, potassium, vitamin C, vitamin B-6. It also helps in Blood cholesterol, cancer, and weight management. The cheese in the Eggplant rolls will make kids love them and enjoy every bite of it.
Eggplant rolls can be served for parties or for a weekend dinner.
Serve Eggplant rolls with Spinach Corn Pasta and garlic bread for your weekday dinner.
You may also like to check other eggplant recipes, try them and enjoy with your family.
Ingredients
1

Brinjal (Baingan / Eggplant)

, (cut into lengthwise thin slices)
1 cup

Paneer (Homemade Cottage Cheese)

, grated
1

Green Bell Pepper (Capsicum)

, chopped
1

Carrot (Gajjar)

, chopped
1

Onion

, chopped
2

Green Chillies

, finely chopped
3 cloves

Garlic

, minced

Basil leaves

, few leaves (chopped)

Parsley leaves

, few leaves (chopped)

Extra Virgin Olive Oil

Black pepper powder

Salt

, to taste
1/4 teaspoon

Dried oregano

1/2 cup

Mozzarella cheese

, grated

Tomato Basil Pasta Sauce

, as required (or Del Monte Sauce)
How to make Eggplant Rolls Recipe
To begin with the Eggplant rolls first, arrange the eggplants slices on a colander and sprinkle some salt on them, keep them aside for 30 minutes.

Meanwhile heat oil in a pan. Add chopped onion and minced garlic and sauté it till onion turn translucent.

Now add carrot, green bell pepper, and green chillies and stir it for 2-3 minutes. Add paneer, salt, black pepper, oregano, basil parsley and cook it for another 3 minutes.

Now rinse off salt from the eggplant and squeeze the water out. Heat a little oil in a skillet and cook eggplant slices till they turn lightly brown on both the sides.

Remove them from the skillet and allow them to cool down.

Lay the eggplant slices flat on a cutting board. Place a teaspoon of the paneer and vegetable mixture on the center, repeat the same with all the slices of eggplant.

After adding the mixture, carefully fold the eggplant ends.

Now place the rolled eggplants in a lightly oiled baking dish. Spread 2 tablespoons of pasta sauce (you can add more as per your taste) on each eggplant roll and sprinkle mozzarella cheese on top of the sauce.

Preheat oven to 425 F and bake the eggplant rolls for 10-15 mins.

Remove the eggplant rolls from the tray and plate them on a serving plate.

Garnish Eggplant rolls with some parsley and serve it with spinach corn pasta and garlic bread for your weeknight dinner.