Having chocolates is an exciting affaire at our home and are always in the look out for the finest chocolate which has the rich taste and the melt in the mouth texture. Having travelled around the world and live in european countries, I have had the privilege to taste some of the best chocolates in the world and among them is a classic favorite Amedei which is a Venezuelan sourced Porcelana bar. It was not until recently, that I had to break that note on my mind when I taste Fabelle Chocolates.
June 11th, 2016 is when I was invited to Fabelle Chocolate Boutique in at the ITC Gardenia Hotel, Bangalore. The experience was one of a kind. Chef Harpawan Singh and Chef Ruby were there to take me around the Boutique and spent a lot of time explaining the history, making of the chocolate and the efforts that have gone into making Fabelle the finest chocolate in the world.
From what I gathered is that Fabelle has been in the making for almost a decade with extensive research and innumerable trials in the company's pursuit to craft the finest luxury chocolates in India that rival the best in the world. Fabelle is first of its kind luxury chocolate boutiques in India. What is interesting to note is their boxed chocolates have premium packaging which is handmade, making it look rich and royal.
They have sources the finest cocoa from 7 countries and are using some of the finest ingredients from around the world to create the luscious and finest chocolate. Cocoas are sourced from the finest cocoa growing countries of Africa and Latin America. These are then conched for hours - a process of slow churning of chocolate to bring out the most sensational flavours and exquisite aromas. The chocolate is then tempered to perfection resulting in the unique, velvety mouth-feel of Fabelle. Their master chocolatiers then combine this fine chocolate with exotic ingredients to create a symphony of exquisite tastes, textures and aromas for the unique Fabelle experience.
What Fabelle offers at their boutique is a very unique chocolate experience that very few places around the world have. It is undoubtedly an ultimate luxury experience of handcrafted chocolate creations that activates your senses like never before.
Below are some of the Chocolates and Desserts I had. Each one brought out such a fabulous taste and an aftertaste that lead us to wanting more of it.
1. Ganache
These came in two different variations Dark and Milk Chocolate and my favorite was undoubtedly the Dark Ganache. The Ganache was exquisitely smooth, and silky made from from, the Fine Ghana and Ivory Coast chocolate, fresh cream and butter that are matured to perfection to create a velvety soft blend. Each delectable Ganache cube was sprinkled with fine cocoa for an experience that left me salivating for more. When I go back to visit ITC Gardenia, the Dark Ganache box is something I will pick up. It's a fantastic pick me up chocolate that you cannot stop with just one!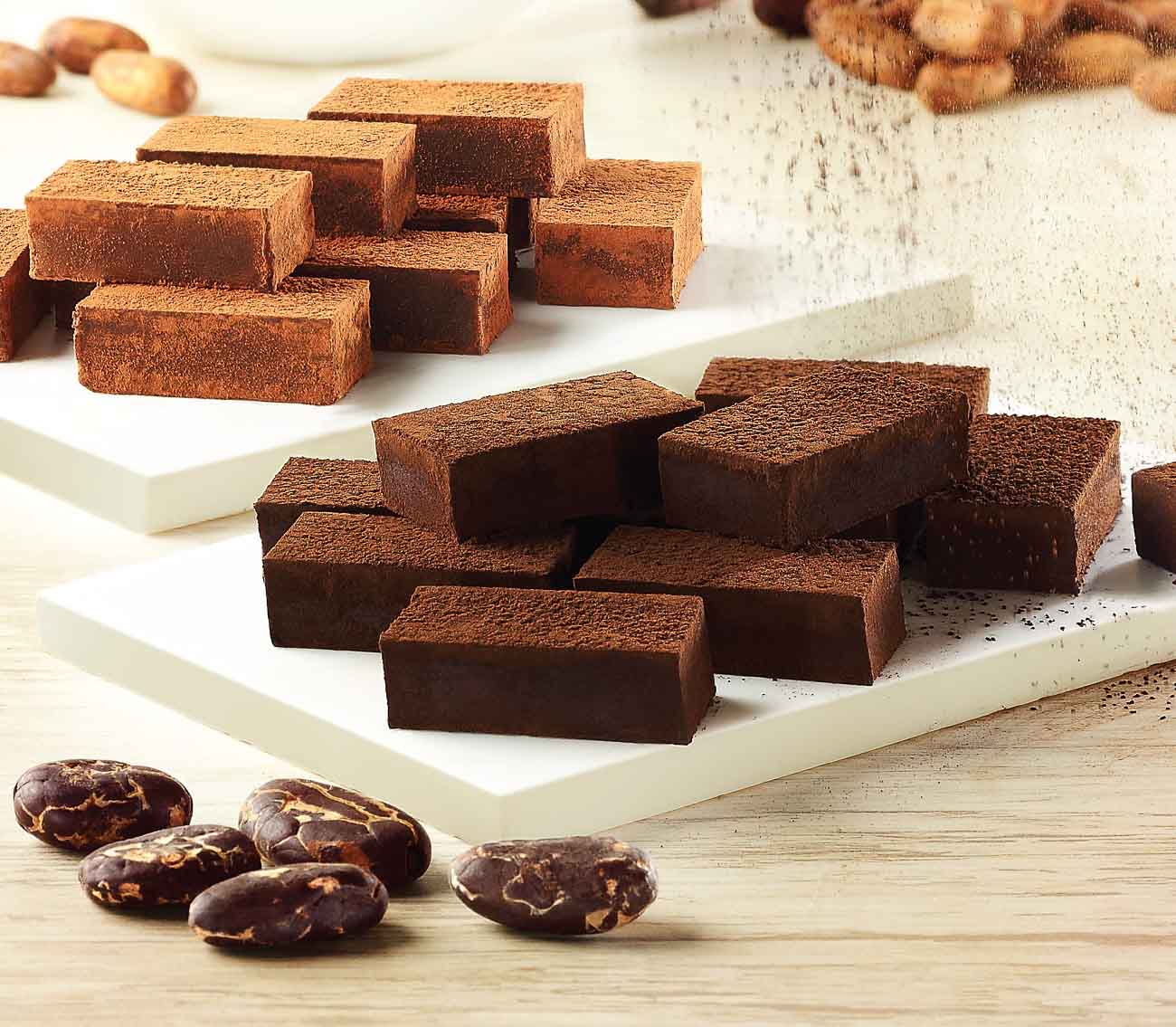 2. Elements - The Hand Crafted Chocolates
Each one of the chocolate is an exquisite experience of sensations that have those exact same qualities that are listed in the box. My favorite is the Fire and Air! The fire has the perfect blend of the chili and the candied mango inside that leaves a fantastic aftertaste.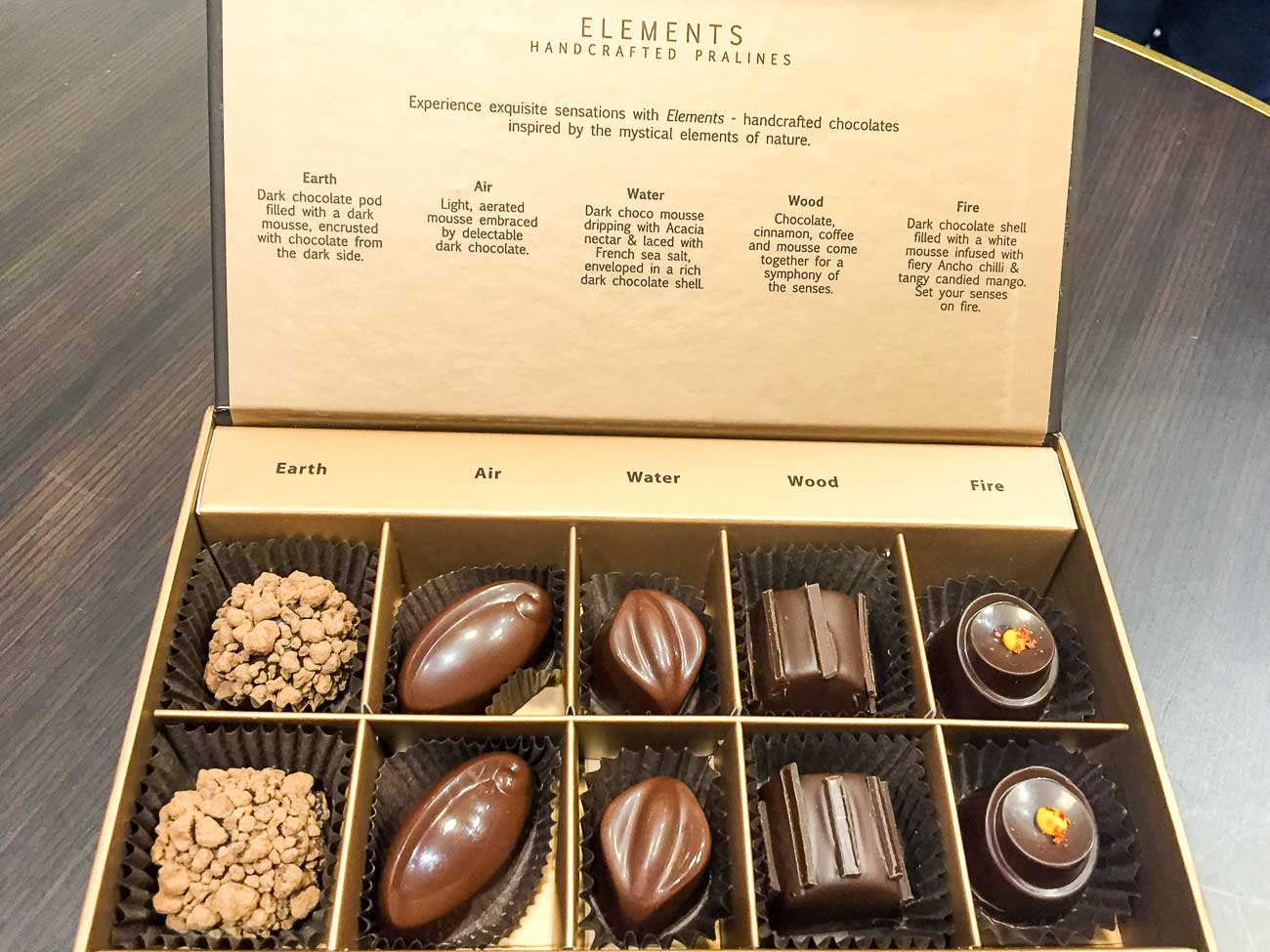 3. Personalized Chocolate Cups
Have you tried making your personalised chocolate? This experience of making a chocolate was one to remember. At Fabelle, you can create your own personalized chocolate, add your filling, berries and nuts. Its a great way to customise the taste of your chocolate. My favorite addition into the chocolate is berries.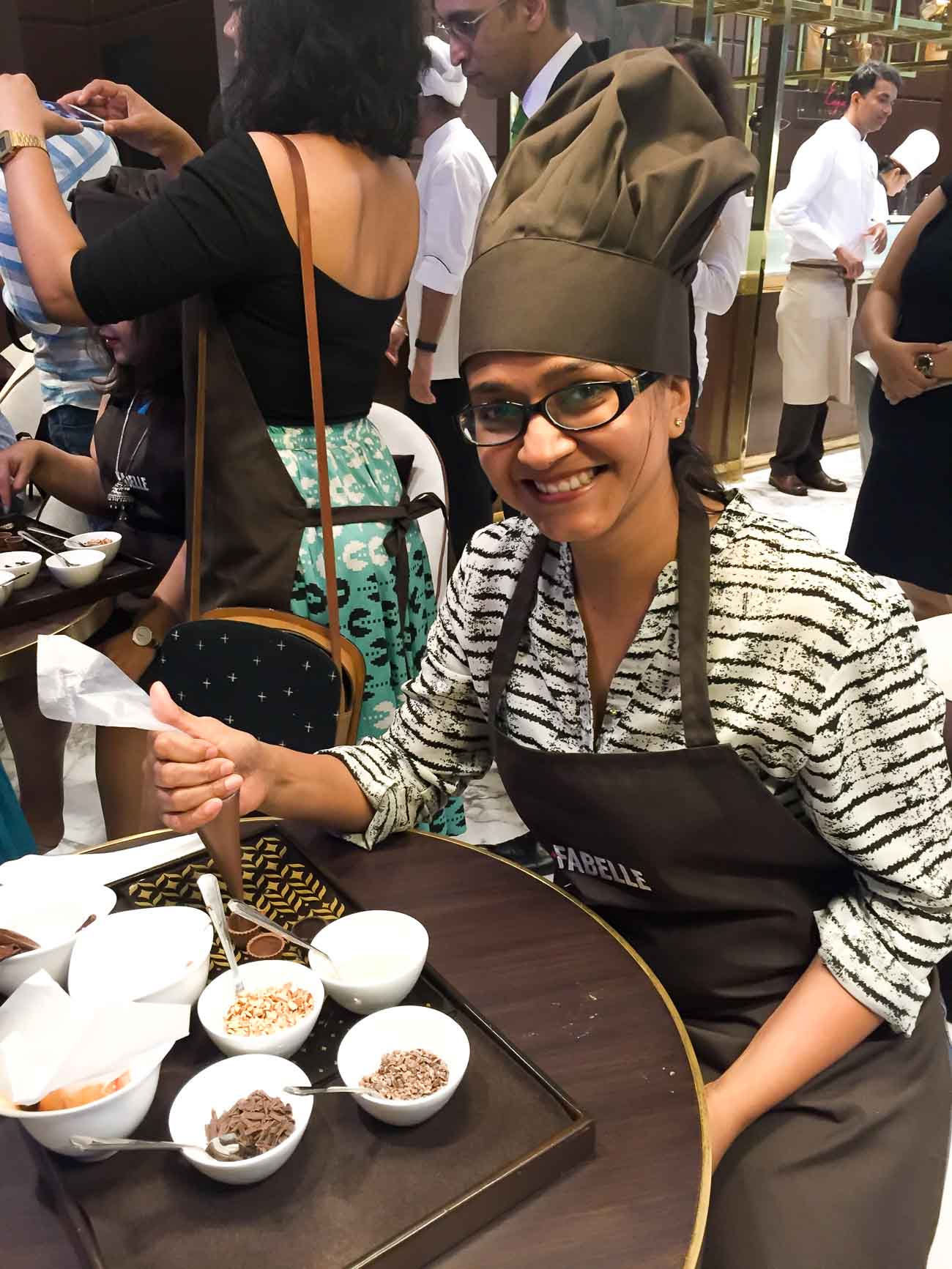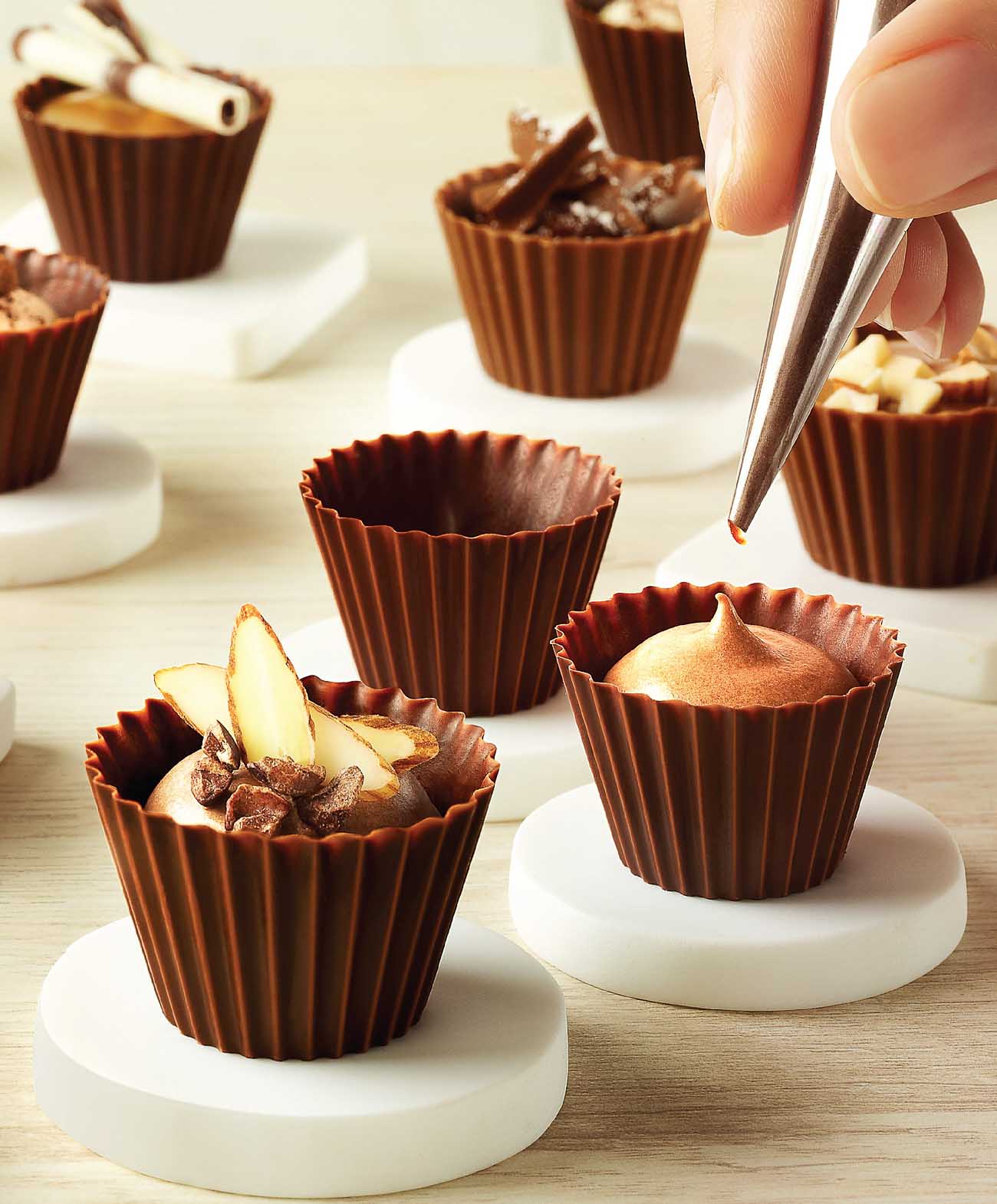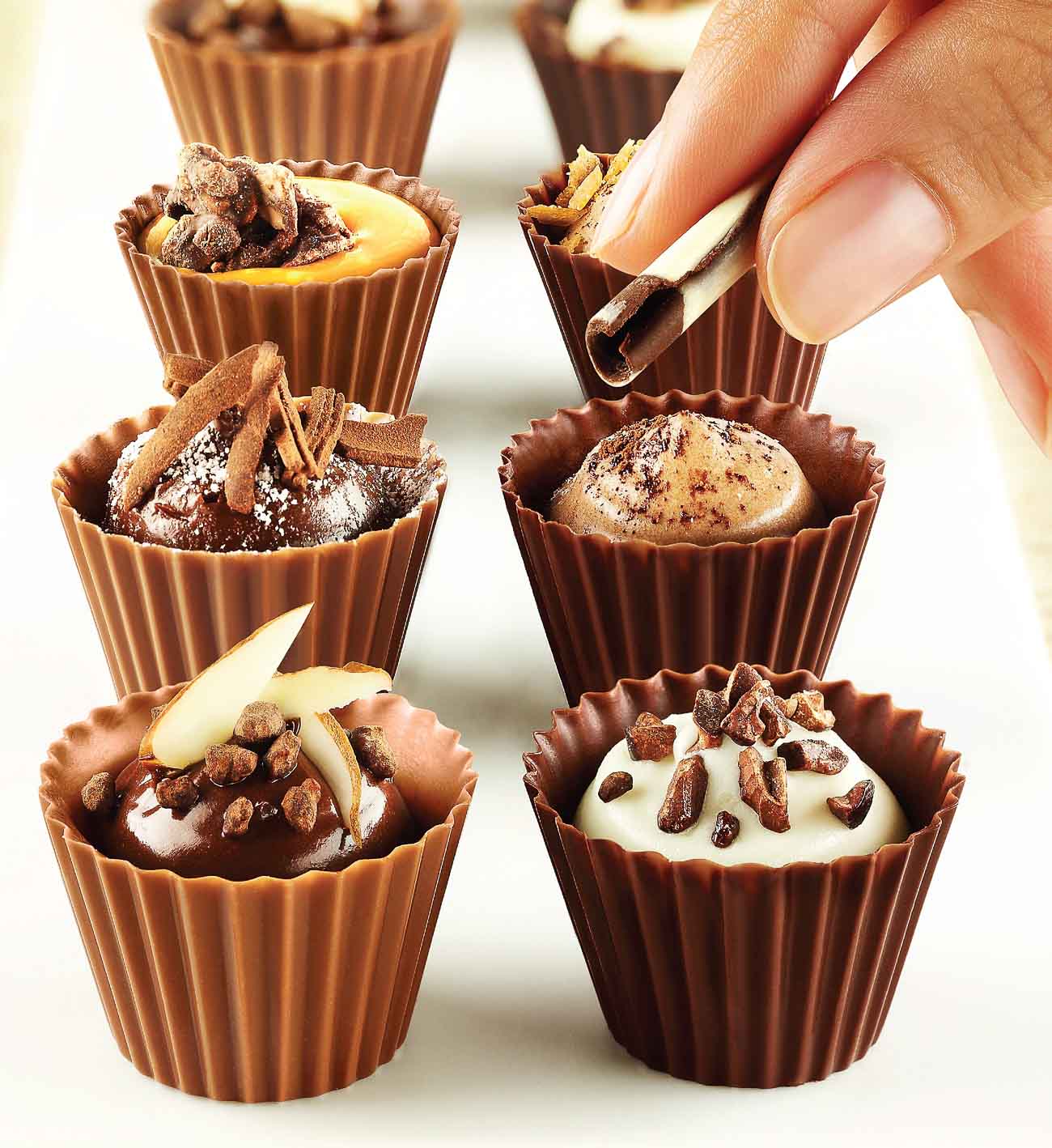 4. Fabelle's Signature Chocolate Dessert Collection
The evening experience was a complete treat. The chefs went out of their way to share some of the most delicious signature desserts made from the world's finest Chocolate.
1- The Chocolate Flower was an absolutely favorite, which had a rich chocolate mousse of single origin Saint Domingue 70% dark chocolate enriched with Turkish pistachio cream, balanced with raspberry confit, in a dramatic setting of a chocolate flower which they will unfold set to unfold at your table. This is something I will go back for, then next time I visit - an absolute killer signature dessert.
2 - The Tiramisu inspired chocolate entremet was fantastic blend of coffee and chocolate. The Espresso Ganache was made from the best of the kind Madagascar chocolate tiered with savoiardi and rolled in a smooth and silky mascarpone cream.
3 - Ever tasted a dessert with hints of coriander? Well if you would like to dare then this almond and coriander praline tartine had perfect and just the right blend of coriander paired with a light cremeux which had hints of Mandarin orange.
4- Eclairs have always been a childhood favorite and this one took a rich and beautiful form at Fabelle. The Éclair was made from a single origin 72% Venezuelan chocolate, that can notes of dulcey cream and garnished with gold pepin.
5- Love Cheesecakes, then the White chocolate cheesecake jars are a must try. It had the goodness of Philadelphia cream cheese and white chocolate topped with berries and and a berry coulis. If you like cheesecake and berries, then go for this splendid and yet smooth dessert. The addition of berries complement the richness of cream cheese and white chocolate add to the heightened taste.