Fattoush With Za'atar, Sumac and Pomegranate Molasses Recipe - Traditional Lebanese Salad
A wholesome, hearty and delicious Mediterranean salad with classic flavours from sumac, za'atar and pomegranate molasses is a must try recipe. Serve along with a Mediterranean or Middle Eastern themes meal and enjoy.

Sujata Shukla
On

Friday, 13 November 2015 00:10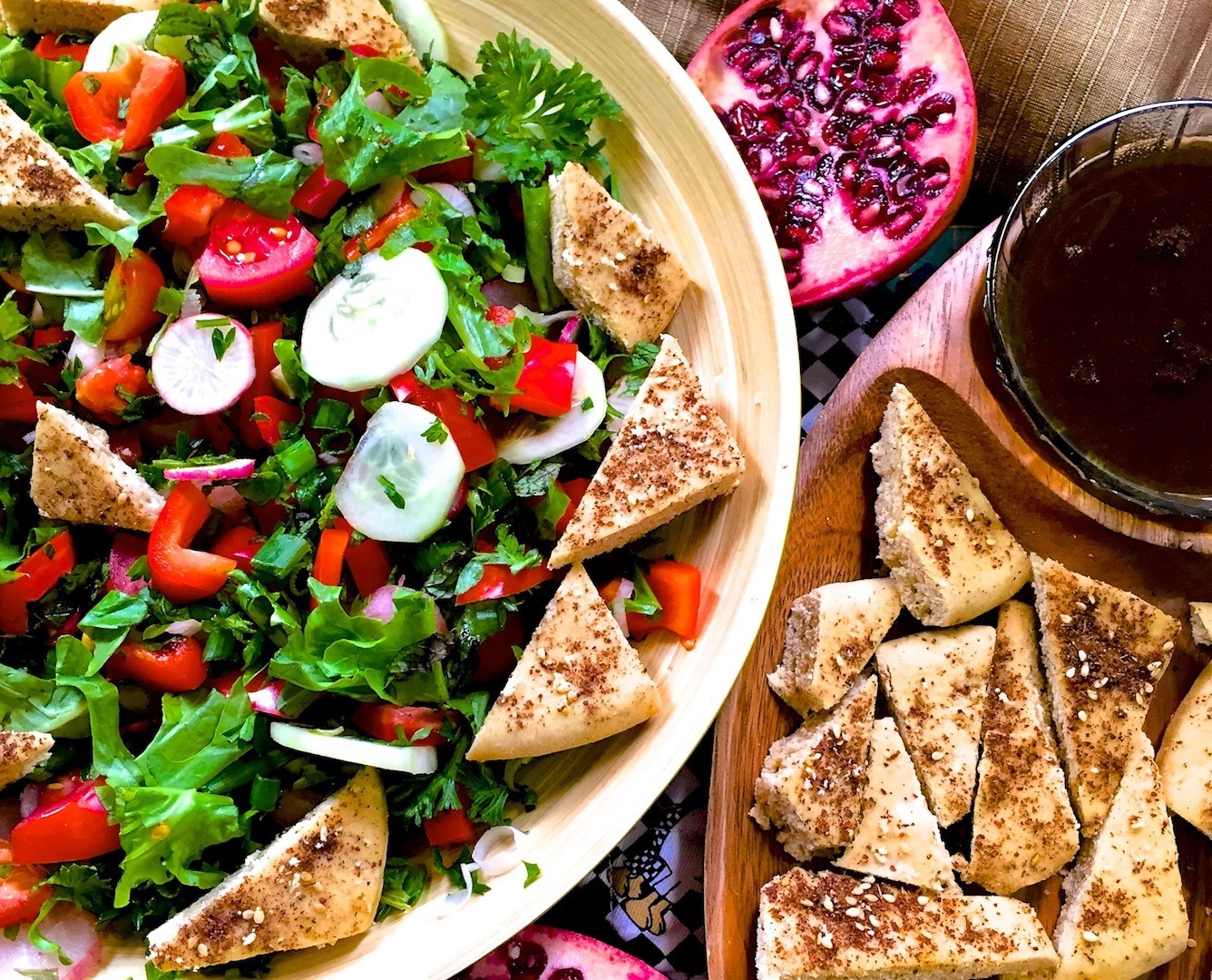 Fattoush is a classic Mediterranean/Middle Eastern salad, with a distinct characteristic lent by herbs that are used not just as garnish or dressing, but the main ingredients making up the salad. This Fattoush also uses other classic Mediterranean ingredients like za'atar, and pomegranate molasses to lift the flavours and give them a typically Mediterranean punch.
Fattoush usually also features shredded bread or pita bread as an ingredient in the salad and this recipe uses za'atar sprinkled on the pita bread (or any other flatbread) before grilling it. This classic Middle Eastern salad makes a crunchy light side dish For a Lebanese/Mediterranean/Middle Eastern themes meal, or can be served in larger quantities to make a sumptuous lunch box item.
Serve Fattoush With Za'atar, Sumac and Pomegranate Molasses Recipe along with Khoresht Fesenjan (a hearty Persian stew) and Saffron Pilaf.
You may also enjoy some other typically salads from various parts of the world, like
Ingredients
For the Salad
4

Red Radish

, baby ones,thinly sliced into rounds
3

Tomatoes

, medium ripe, thinly sliced
4

Cherry tomatoes

, halved
1

Cucumber

, thinly sliced
1

Mooli/ Mullangi (Radish)

, thinly sliced
2 tablespoons

Spring Onion Bulbs

, chopped
1/2 cup

Spring Onion Greens

, chopped)
1 1/2 cups

Parsley leaves

, chopped
1/2 cup

Salad leaves

, torn into pieces
1/2 cup

Mint Leaves (Pudina)

, torn into pieces
3 tablespoons

Fresh Pomegranate Fruit Kernels

For the Dressing
2 tablespoons

Lemon juice

4 tablespoons

Extra Virgin Olive Oil

3 teaspoons

Sumac

2 tablespoons

White wine vinegar

, optional
3 teaspoons

Water

, warm
2 cloves

Garlic

, crushed
For the bread
1 tablespoon

Extra Virgin Olive Oil

For the Pomegranate molasses
8 tablespoons

Pomegranate juice

1 tablespoon

Sugar

4

Mini Pita Breads

For Garnish
1 tablespoon

Sumac

, powder
How to make Fattoush With Za'atar, Sumac and Pomegranate Molasses Recipe - Traditional Lebanese Salad
To begin making the Fattoush Recipe, we will first prepare the dressing and chop up all he ingredients for the salad.

First add the sumac to the warm water, stir to dissolve and set the mixture aside for at least 15 minutes. Meanwhile slice and chop all the salad ingredients.

Next, squeeze fresh lemon juice into the water into which you mixed the sumac. Add vinegar, crushed garlic, salt and whisk it together. I used white wine vinegar, but red wine vinegar could be substituted, or you could skip the vinegar altogether, since there is also lemon juice.

At this stage, add the olive oil in a slow steady stream to the dressing, while whisking continuously. This will help the oil mix with the other ingredients and create a translucent emulsion that is smooth and uniform in flavour. Place the dressing in a glass bottle or jar and allow it to chill while you put together the salad. This will help the flavours get more pronounced and blend well.

To make the salad, first wash all the salad greens and the parsley, mint, chopped spring onion greens. Dry them all in a salad spinner or by gently dabbing them between kitchen napkins. I used red veined sorrel, however you could use romaine lettuce or gem lettuce or any other salad greens that are easily available to you, instead. Set the greens aside.

Cut the pita bread into small triangular shaped pieces (chips) and place them in a bowl. Drizzle some olive oil and sprinkle za'atar generously all over the pita bread. Toss the chips around in the bowl so they are well coated. Spread them out on a Baking Sheet and place them in a preheated oven to bake at 160 degrees C (320 degrees F) for 10 minutes to crisp. Take them out and set them aside to cool.

Next, chop up the tomatoes into uneven chunks.

Take a large salad bowl and mix all the salad ingredients together: first the salad greens, followed by the thinly sliced red and white radishes, tomatoes, scallion bulbs, cucumber slices.

Then, sprinkle some salt over it and mix gently. Add the pita chips to the salad too and drizzle the pomegranate pods over the salad.

The next step is to prepare the Pomegranate Molasses. It is important to ensure that this is the last step, shortly before serving the fattoush. To make the molasses, use a ratio of 8:1 for the pomegranate juice and sugar.

In a saucepan, add the sugar, pomegranate juice and lemon juice and cook on high heat for about 2 minutes (or less), swirling it together, till the sugar dissolves.

At this stage, reduce the heat and continue to cook the syrup for about 5 minutes till the liquid is syrupy and begins to thicken, becoming jelly like. It will be very, very, hot at this stage so take care while stirring.

When the molasses begins to look thick, you need to quickly turn off the heat. At this stage you must keep the molasses moderately warm as it tends to thicken and solidify as it cools. To do this, place the saucepan in a wide bowl or warm water.

The next step is to serve the salad. It is best to serve individual servings, to keep the entire salad from going soggy. To do this, portion out individual servings of the chopped vegetables. Drizzle each serving with 1 tablespoon of the lemon-olive oil dressing and 2 teaspoons of pomegranate molasses. Sprinkle a little sumac and serve.

This salad would make a delightful accompaniment toKhoresht Fesenjan (a hearty Persian stew) and Saffron Pilaf.
It is best to follow the order/sequence of steps in preparing the salad, as mentioned in the procedure in this recipe, i.e.: first make the lemon olive oil dressing, second prepare the salad and finally make the pomegranate molasses just before serving, as it hardens when cooled and becomes difficult to use.
The tomatoes should be red and firm but not overripe, as any juice running out could make the salad soggy.
A salad spinner would be helpful in drying the washed salad greens.
The white wine vinegar is optional, though it does add its unique flavour to the Fattoush.
Serve Fattoush With Za'atar, Sumac and Pomegranate Molasses Recipe along with Khoresht Fesenjan (a hearty Persian stew) and Saffron Pilaf.