Finger Millet Crepe Recipe with Fruits

Archana's Kitchen
On

Tuesday, 05 November 2013 14:13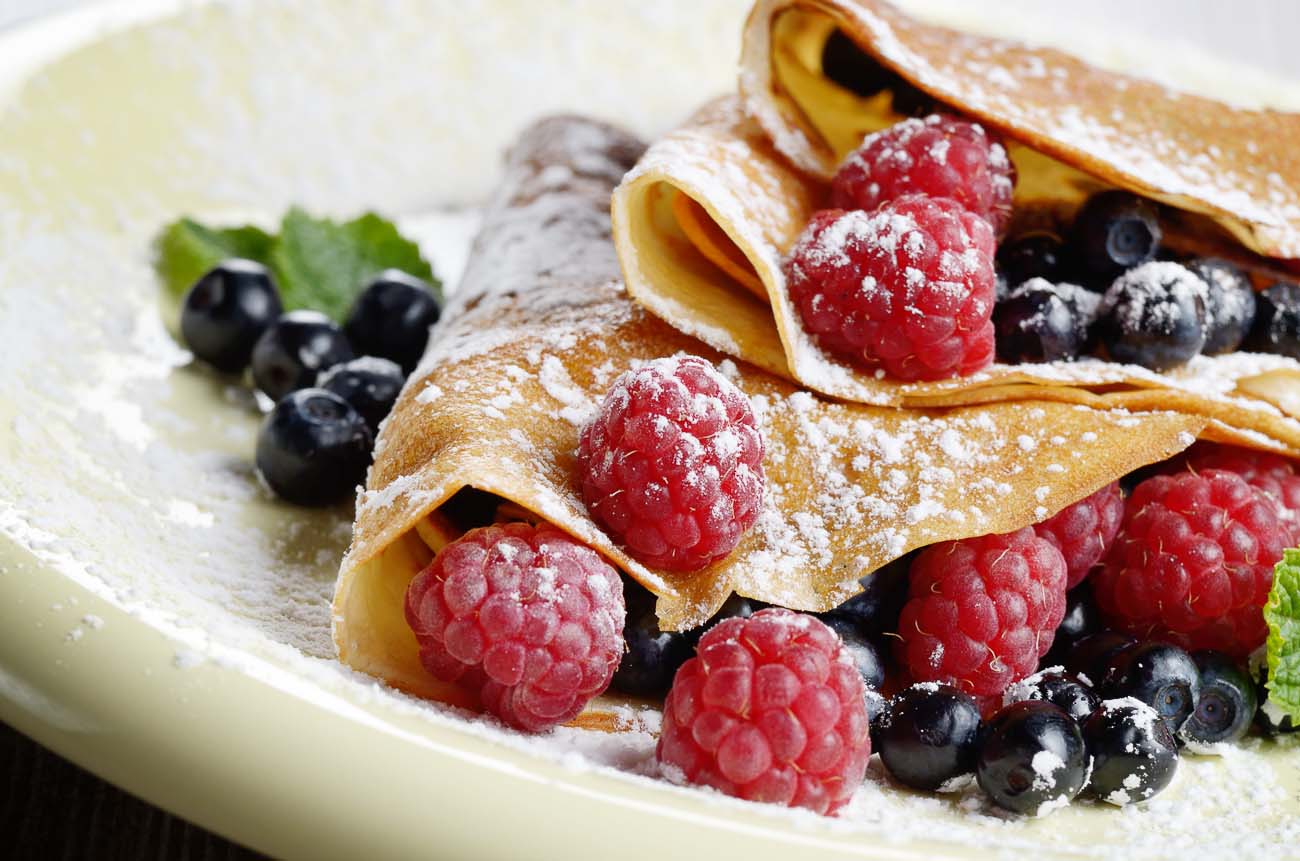 Finger Millet Fruit Filled Crepes made from Ragi or Finger Millet Crepes is a nutritious dish that is very quick to prepare. Loaded with essential vitamins and minerals, the crepe dessert can be put together quickly and is a blessing on especially hurried weekday mornings or when you have unexpected guests.
Some more crepe recipes that you can try are:
Ingredients
Ingredients for the Finger Millet/ Ragi Crepes
1/2 cup

Ragi Flour (Finger Millet/ Nagli)

1/2 cup

Whole Wheat Flour

2

Whole Eggs

1/2 cup

Milk

2 tablespoons

Oil

pinch

Salt

Ingredients for the filling of the crepes
1/4 cup

Sugar

250 grams

Strawberries

, or cherries or raspberries (you can also use any other seasonal fruits)
1/4 teaspoon

Cinnamon Powder (Dalchini)

1

Lemon juice

, (juice from one lemon)
How to make Finger Millet Crepe Recipe with Fruits
Begin preparation of Finger Millet Crepe Recipe With Fruits by pouring the ragi flour, banana and milk into a large bowl and mixing everything together till no lumps remain.

To begin making the Finger Millet Crepe; we will first make the crepe batter.

In a large mixing bowl whisk together the flour, eggs, salt, oil and milk adding about 1/2 cup of water to make a smooth pouring batter. Make sure the crepe batter has no lumps. It is a good idea to run the batter through s sieve to remove any excess lumps.

Next is to spread the batter onto the crepe pan to make the crepes.

Place 1 teaspoon of vegetable oil in a nonstick pan and rub it over the bottom and sides with a paper towel. Heat the pan over medium heat and add a ladleful of the batter to the centre of the pan.

Quickly lift the pan from the heat, tilting and rotating until the batter coats it completely in a thin circle. As soon as the crêpe appears be cooked from the top in about 30 seconds, flip it over and cook for about 10 more seconds.

Once the crepe is cooked transfer to a plate and repeat the same process with the remaining batter. Stack the cooked crêpes on a plate. Keep this aside.

For the filling; toss all the filling ingredients together. I like to keep the fruits fresh and season it with sugar and lemon. You can optionally lightly cook the fruits to make it a warm crepe roll.

Now take a cooked crepe and place the fruit filling into it as required and fold into a triangle or a roll.

Do this for the remaining crepes as well and serve the Finger Millet Crepe with Fruits along with some whipped cream as a dessert for holiday parties.