Flourless Orange Cake With Cream Cheese Frosting Recipe

Farrukh Aziz Ansari
On

Wednesday, 23 December 2015 00:41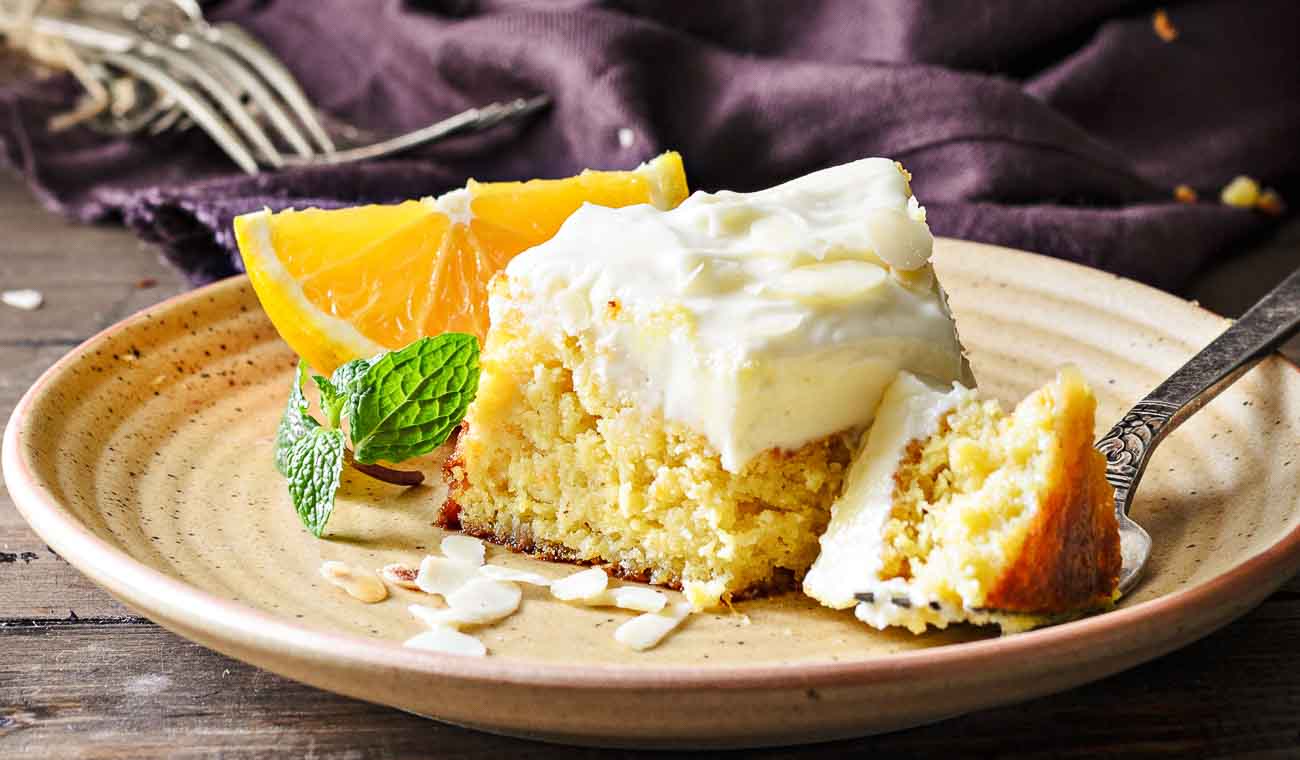 Flourless Orange Cake With Cream Cheese Frosting Recipe, as the name suggests, is free of flour. It gets its body and bite from almond meal and hazelnut meal, rather than flour that is typically used to make cakes. In the absence of gluten, the flours are held together by the eggs, with a generous and full-bodied flavour lent by the oranges and nuts. The texture of this cake is soft and moist with a divine nutty flavour. Topped with cream cheese frosting that provides balance the taste with a slight sourness, this cake is festive and can make a great celebratory dessert for a birthday or any other party. This flourless Orange Cake is perfect of you're planning a Christmas or a New Years Party and want a new dessert option!
Try some of the other celebratory cakes to dress up your party menus such as
Ingredients
For Orange Puree
3

Oranges

, peeled, deseeded and chunked
2 tablespoons

Orange Zest (Rind)

3 tablespoons

Sugar

For Cake
6

Whole Eggs

175 grams

Caster Sugar

150 grams

Almond Meal (Badam Powder)

100 grams

Hazelnut Meal (Powder)

1 teaspoon

Baking powder

For Cream Cheese Frosting
200 grams

Britannia Cream Cheese

3 tablespoons

Heavy whipping cream

3 tablespoons

Fresh orange juice

75 grams

Icing Sugar
How to make Flourless Orange Cake With Cream Cheese Frosting Recipe
To begin making the Flourless Orange Cake With Cream Cheese Frosting Recipe first prepare the orange puree

To do this, combine the zest, sugar and orange chunks in a pan. Place the pan over a medium heat and cook, covered, for 6 to 8 mins or until the sugar is dissolved well and oranges have turned very soft and pulpy.

Mix and take the mixture off the heat. Cool it completely and then add it to a blender and blend it to a fine puree. Set it aside for later use.

Proceed to make the flourless cake, next. To do that, first set the oven to pre heat at 170 degrees C. Grease and line a 9 inch spring-form pan and set it aside.

In a large mixing bowl, add sugar and eggs and using a stand mixer or hand mixer, beat well on a high speed until the eggs are pale and fluffy. This will take approximately 5 to 6 minutes.

Next, add in the baking powder and stir to combine.

Gently fold in the measured out almond meal, hazelnut meal and orange puree. Do this gently, by folding it in with a spatula rather than thoroughly mixing it with a whisk or spoon, taking care not to deflate the egg and sugar mixture.

Pour the batter in the lined cake pan and bake it in the preheated oven for about 25 minutes until the top looks set and gets a golden brown hue.

If you feel the top is cooking too fast, place a sheet of aluminium foil over it to avoid burning.

Bake it for another 25 minutes. As the baking continues, the sides of the cake will start leaving the pan and will shrink a bit.

After about 40-50 minutes of baking, insert a skewer into the centre of the cake and if it comes out free of batter, the cake is done.

Remove it from the oven and set it on a cooling rack to cool completely, while you prepare the cream cheese frosting.

To prepare the frosting, beat together all the ingredients mentioned for frosting until soft and smooth.

When the Orange cake has cooled completely, release it from the springform tin and place it on a cake plate or tray.

Frost the cake as you wish by slathering the cream cheese topping on it. Then, place it in the refrigerator for a few hours before serving.

You can garnish the Flourless Orange Cake with almond flakes, orange slices and mint leaves.

Serve the Flourless Orange Cake chilled or at room temperature.