French Crullers Recipe
Very light dough that consists of butter, sugar, flour, water and shaped into doughnuts.

Jyothi Rajesh
On

Monday, 24 October 2016 00:51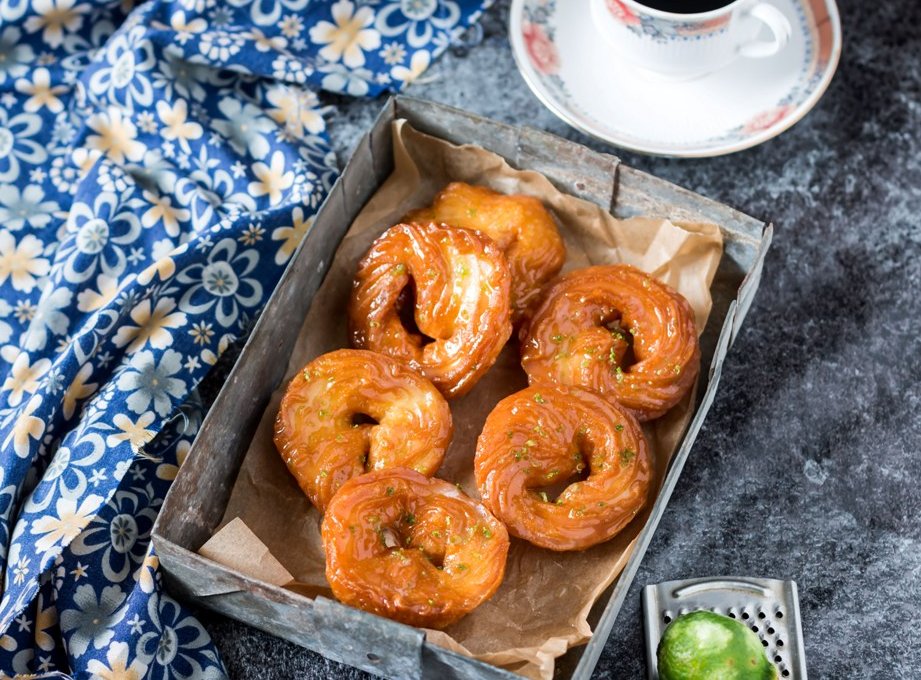 French crullers Light, airy, fried little sweet cakes recipe. Crullers word is derived from the Dutch word 'kruller'(a small fried cake made of rich dough). Crullers are made from pate a choux – very light dough that consists of butter, sugar, flour, water. Unlike the regular donut, crullers don't need yeast! Once you make pate a choux beat in eggs and egg whites, your dough is ready.
You need to transfer it into piping bags and squeeze small circles out of it. You can make any shape actually, and use any type of nozzle to pipe the sticky dough, but I liked the rose shape nozzle. Since the dough is sticky, and to get perfect shape, we will first pipe the crullers onto little square parchment papers into round shape using rose shaped nozzles and then carefully dip them in hot oil will till the dough cooks and releases the parchment paper by itself. That way we get perfect shaped crullers that are cooked to golden brown on low flame. Finally, dip the French Crullers in glaze made of icing sugar and honey.
Serve Crullers recipe as a breakfast or snack along with coffee to enjoy the crispy donuts.
If you like this recipe, here are a few more breakfast ideas to try:
Ingredients
1/2 cup

All Purpose Flour (Maida)

2

Whole Eggs

2

Egg whites

3 tablespoon

Butter (Salted)

1/8 teaspoon

Salt

1/2 cup

Lukewarm Water

Oil

, to frying
For Glaze
1 tablespoon

Honey

1 cup

Icing Sugar

1 to 2 tablespoon

Milk
How to make French Crullers Recipe
To prepare French crullers recipe, add water, sugar, butter and salt into a Saucepan, and bring it to boil.

Once all butter is melted, add flour all at once and start stirring continuously, breaking all the lumps, until the dough comes together. You will start seeing a thin coating of the dough on the pan. Reduce heat and continue to cook with constant stirring for another 2 to 3 minutes. We are trying to remove the moisture from the dough as much possible.

Remove the dough from heat, let it cool down for about 10 minutes. Once dough is cooled a bit, add 1 egg at a time and keep beating with hand beater or stand mixer. Beat until the egg is completely incorporated into the dough. Then add the next egg and beat until incorporated well.

Now add 1 egg white at a time and beat well. Add the next egg white, beat again. Beat well until you see smooth, shiny, sticky dough.

Put the dough in a piping bag attached to rose (star nozzle).

Heat oil for deep frying in a Pan.

Cut a couple of 4 x 4 inch square shaped parchment papers. Grease it with oil.

Squeeze the dough onto to parchment papers. You can pipe about size 3-inch crullers onto the paper.

Once oil is hot (about 370 degree Fahrenheit), you can start frying crullers on medium heat.

Lift the parchment paper and drop it into hot oil with dough side down. Wait for a couple of seconds or a minute when the dough leaves the parchment paper. Using tongs to lift the paper out of oil. You can add a few crullers at a time depending on the size of the pan you use to fry.

Make sure to fry crullers in low flame, flipping it side to side until it's fried to golden brown. Remove from oil and place the fried crullers on kitchen towel. Repeat this for rest of the dough.

Place all the crullers on wire mesh to cool completely.

Now whisk together icing sugar, honey and milk into smooth glaze.

Dip a cruller fully into the glaze using a fork and remove it and place it on wire mesh to rest for 1 to 2 hours.

That's it crullers are ready. I wanted to add a little zing, so I grated a little bit of lime zest on top. You can even go ahead with orange zest, grate it on top or mix it in glaze.

Serve Crullers recipe as a breakfast or snack along with coffee to enjoy the crispy donuts.