Fresh Ginger Lemonade Recipe

Praerna Kartha
On

Thursday, 06 August 2015 08:59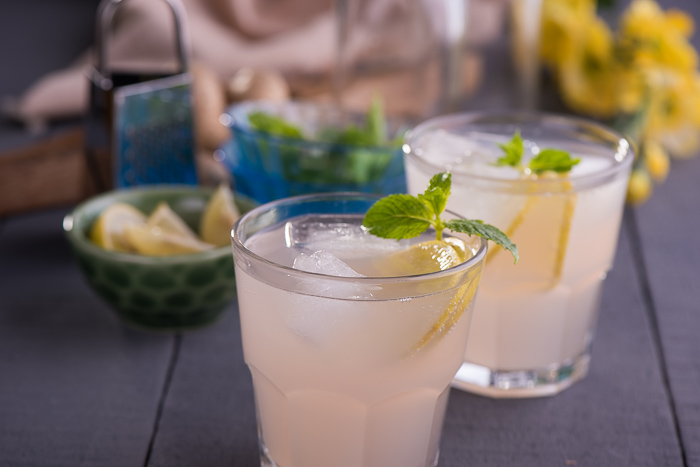 Fresh Ginger Lemonade is a quick and easy to make refreshing beverage that uses very few ingredients but the result is pretty in pink! Drink it as is or spike it with some vodka or gin, it's perfect for a lazy afternoon. Weather turning cold? Replace the ice and soda with hot water and add a spoon of honey for a delicious tonic that keeps colds and sniffles away. It is a great way to add fresh ginger to your diet. Since it takes no more than 15 minutes to make, it can be prepared fresh or you can even make a concentrate to store in the fridge so you can easily serve a larger number of guests. Fresh Ginger Lemonade is a really refreshing post-school drink, and also perfect for high-tea or dinner parties.
Serve the Fresh Ginger Lemonade on a hot summer afternoon as a refreshing drink.
Other recipes that you can try are:
Ingredients
2 teaspoons

Ginger

, grated
8 tablespoons

Lemon juice

, from 4 lemons
4 teaspoons

Sugar

Ice cubes

500 ml

Aerated water (soda water)

Mint Leaves (Pudina)

, or lemon slices for garnish
How to make Fresh Ginger Lemonade Recipe
To make the Fresh Ginger Lemonade, first place the grated ginger and lemon juice in a small saucepan and let it sit for 2-3 minutes to allow the mixture to turn pink.

Next, add the sugar and ¼ cup water to the saucepan, place it on high heat and bring the mixture to a boil.

Lower the heat and simmer for 2-3 minutes, stirring to ensure the sugar has dissolved.

Take the saucepan off the heat and give it allow it to return to room temperature.

If you're in a hurry, you can add 2-3 cubes of ice to it and give it a good shake in a shaker.

Divide the cooled ginger-lemon concentrate into 4 glasses, add a few cubes of ice and top with club soda.

Garnish with a slice of lemon and/or a sprig of mint.

Serve the Fresh Ginger Lemonade on a hot summer afternoon as a refreshing drink.
If possible, use fresh (young) and slightly pink ginger as this is softer and has more juice than fibre.
Feel free to substitute the sugar with your preferred sweetener or use honey/jaggery/maple syrup.
A few other ingredients that go really well with the lemon-ginger combination are green apple and/or cucumber. You can add slices of either of these to your drink to make it look prettier and taste better too.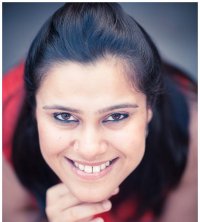 Praerna is an ex-advertising and communication professional with an all-compelling obsession with all things to do with food. Along with her commercial photographer husband, she runs a boutique photography studio called Thoda Strong in the vibrant community of Shahpur Jat in New Delhi. Praerna is a professional food stylist and part time food blogger – and works in collaboration with food photographers and brands to create stunning, marketable and compelling images of food. When she's not up to her elbows in a shoot, she enjoys creating step-by-step recipes, documenting her adventures in food and checking out new places around town in her food blog (http://food-dee-dum.com).