Gluten-Free Mango and Coconut Milk Ice-Cream Recipe

Archana's Kitchen
On

Sunday, 03 May 2015 00:35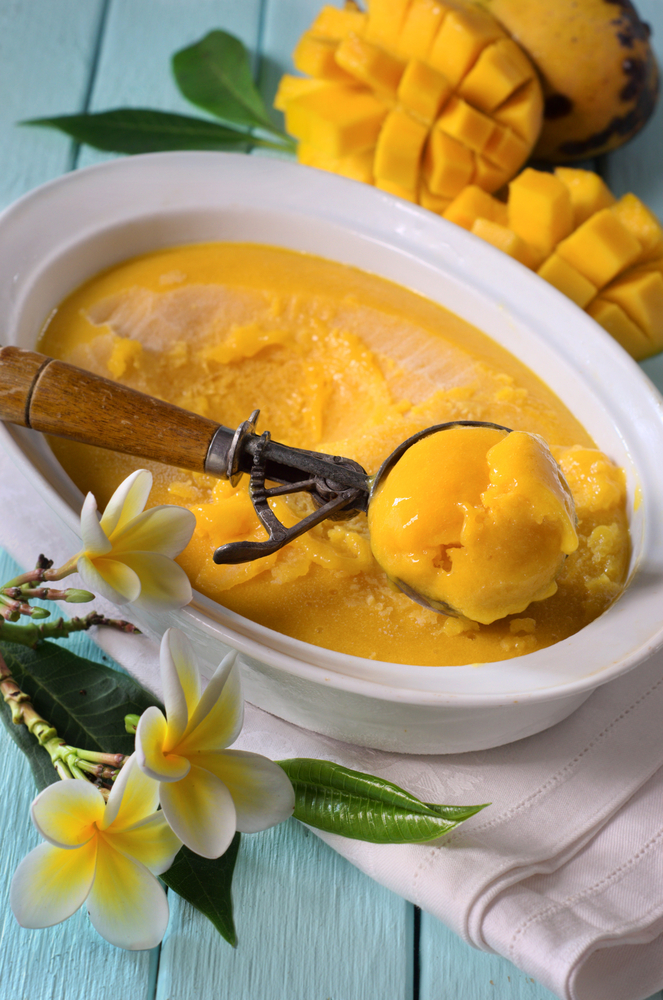 Mango and Coconut Milk Ice-Cream is a gluten free easy to make delicious ice cream recipe. Mango is a sweet and juicy tropical fruit when combined with creamy coconut milk it creates unique and delectable flavours. With mangoes in season, it is the perfect treat for a summer afternoon for your kids or as a summer party dessert.
Did you know: Mango fruit is an excellent source of Vitamin-A and flavonoids, one Mango provides the daily requirement of Vitamin A to the human body. It is rich in pro-biotic dietary fibre, vitamins and minerals as well. Mangoes are very low in saturated fat, cholesterol, and sodium. Know more
Here are more ice cream recipes to try
Ingredients
500 grams

Mango (Ripe)

200 grams

Condensed Milk

200 ml

Coconut milk

Mint Leaves (Pudina)

, Few sprigs to garnish 
How to make Gluten-Free Mango and Coconut Milk Ice-Cream Recipe
To prepare the Mango and Coconut Milk Ice Cream, first keep all the ingredients in the fridge to chill for few hours.

Next add the chopped mangoes into a food processor and blend to the smooth puree. Transfer the mango puree into a mixing bowl.

Next combine the pureed mango, condensed milk and coconut milk. Whisk using a hand blender at medium speed for few minutes or till light and creamy in texture.

Now pour the ice-cream mixture into a freezer safe bowl, cover the bowl with the lid or cling foil and freeze until set. Once the ice cream is almost frozen approximately after 4 - 5 hours, bring it out of the freezer and blend in a food processor to break down the ice crystals. Pour again into the container and keep it back in the freezer.

Doing the freeze and re-beating process, helps the ice cream to have a creamy texture. The more we beat, the more creamy it gets. Once you have freeze and beat process 3 times over, then your Mango and Coconut Milk Ice Cream will be ready to be served.

Before serving garnish Mango and Coconut Milk Ice Cream with mint leaves and serve chilled as a dessert for parties. You can also optionally add freshly chopped mangoes and nut to add to the flavour, texture and crunch.