Goan Sweet Churmo Recipe
Sweet snack recipe with deep fried rotis and jaggery lined with a bit oof chilli powder

Pooja Nadkarni
On

Thursday, 21 September 2017 10:10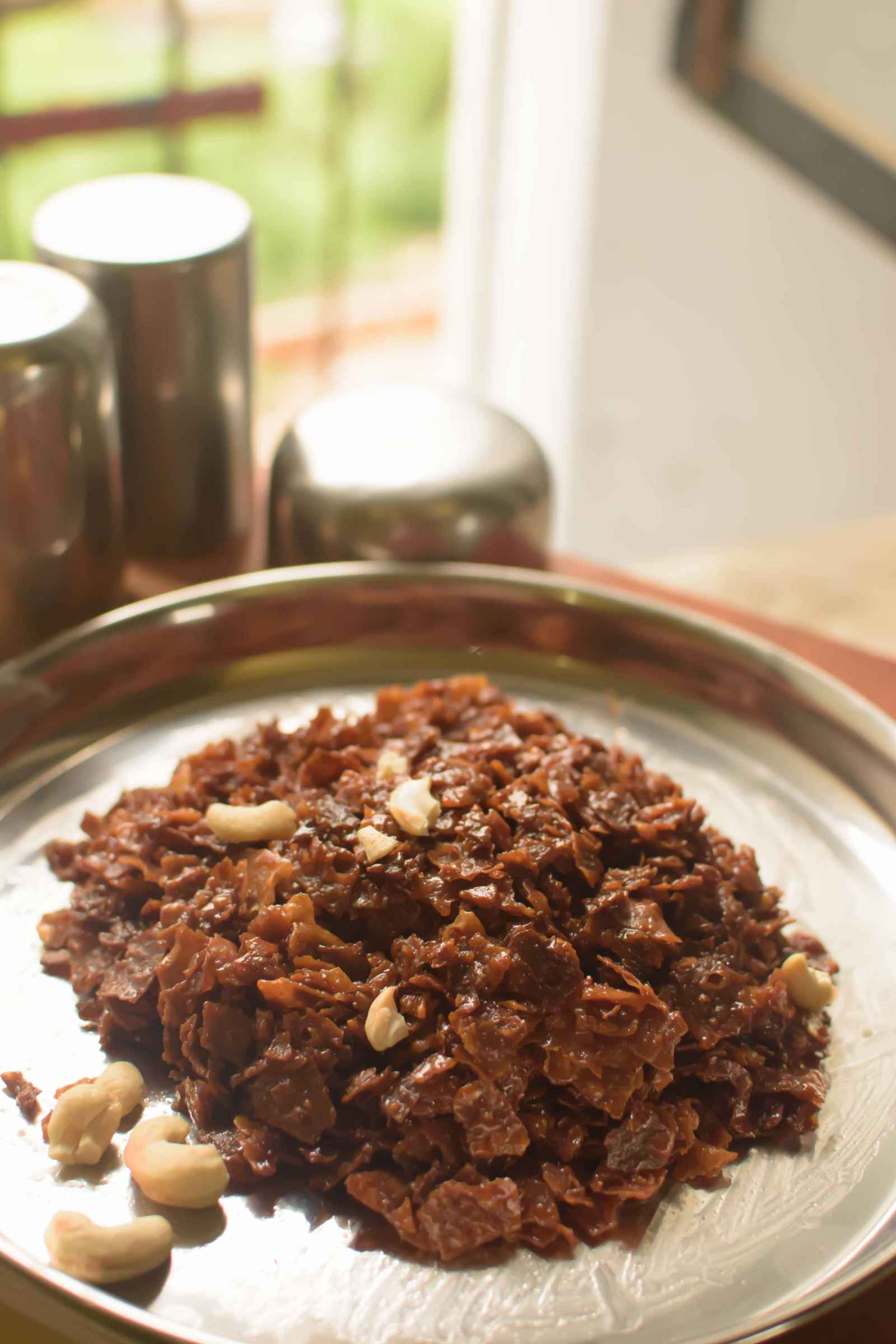 Churmo is one of the Goan Sweet where thin crispy rotis are prepared out of whole wheat dough and then deep fried. These rotis are then crushed and mixed with jaggery syrup that is prepared separately. This is a nice and traditional Goan Recipe that the whole family will cherish. Prepare this Goan Sweet Churmo Recipe and serve it as a crunchy addition with Masala Chai Recipe for evening.
If you like this recipe, take a look at more recipes like
Ingredients
150 grams

Whole Wheat Flour

Water

, as required
1/2 Cup

Whole Wheat Flour

, for dusting
1-1/2 Cups

Oil

, to deep fry
150 grams

Jaggery

90 Ml

Water

2 teaspoons

Red Chilli powder

1 Tablespoon

Ghee

, to grease the plate
How to make Goan Sweet Churmo Recipe
To begin making Goan Sweet Churmo Recipe knead enough whole wheat flour with water and bit of oil. Pinch out balls to make small and thin rotis and roll with the help of rolling pin.

Lightly dust each and keep piling up rotis one on another, after rolling. Try to make these disks as thin as possible for crunchiness after frying.

Take oil in a kadai (deep frying pan) and keep it on high heat till the oil temperature reaches the proper point.

While the oil is heating up, dust each ball of dough in dry flour and roll thin rotis(disks) out of them using rolling pin. Check the oil temperature by just dropping in tiny dough in it. If the dough fries and floats up instantly, that means the oil is ready for frying the rotis .

Gently place the rolled roti in the hot oil on medium heat. hot oil tends to splutter and we need to be cautious while handling hot oil.

With slotted ladle, press the roti so that it gets fried in the center too. Then turn and fry on the other side. Take care not to burn the rotis, but make them crisp.

When the roti looks crisp and not soggy, remove and place it on a plate lined with paper napkin to absorb extra oil and repeat for the rest of dough balls.

Grease a plate using ghee and keep it ready for spreading churmo once done. Now that all the crispy rotis are ready, allow them to cool and go for jaggery syrup.

For jaggery syrup, take jaggery and water in a thick bottomed saucepan kept on heat and allow jaggery to melt well.

Let it boil and allow it to boil on medium heat for 7-8 minutes or until jaggery syrup becomes thick and sticky.

To test, take little syrup on ladle and quickly dip forefinger and press the forefinger and thumb. If it feels sticky , then the syrup is ready.

Add red chilli powder and mix and switch off the stove.

Now your rotis must have cooled down. Just crush them with hands. Add them to jaggery syrup.

Mix well and remove churmo on the greased plate and allow to cool.

After cooling, it will be very sticky. Store in airtight container and enjoy it anytime.

Serve Goan Sweet Churmo Recipe as a crunchy addition with Masala Chai Recipe for evening.