Green Spinach & Oats Cutlet Recipe
Simple but special shallow fried cutlet recipe

Monika Manchanda
On

Sunday, 20 September 2015 00:25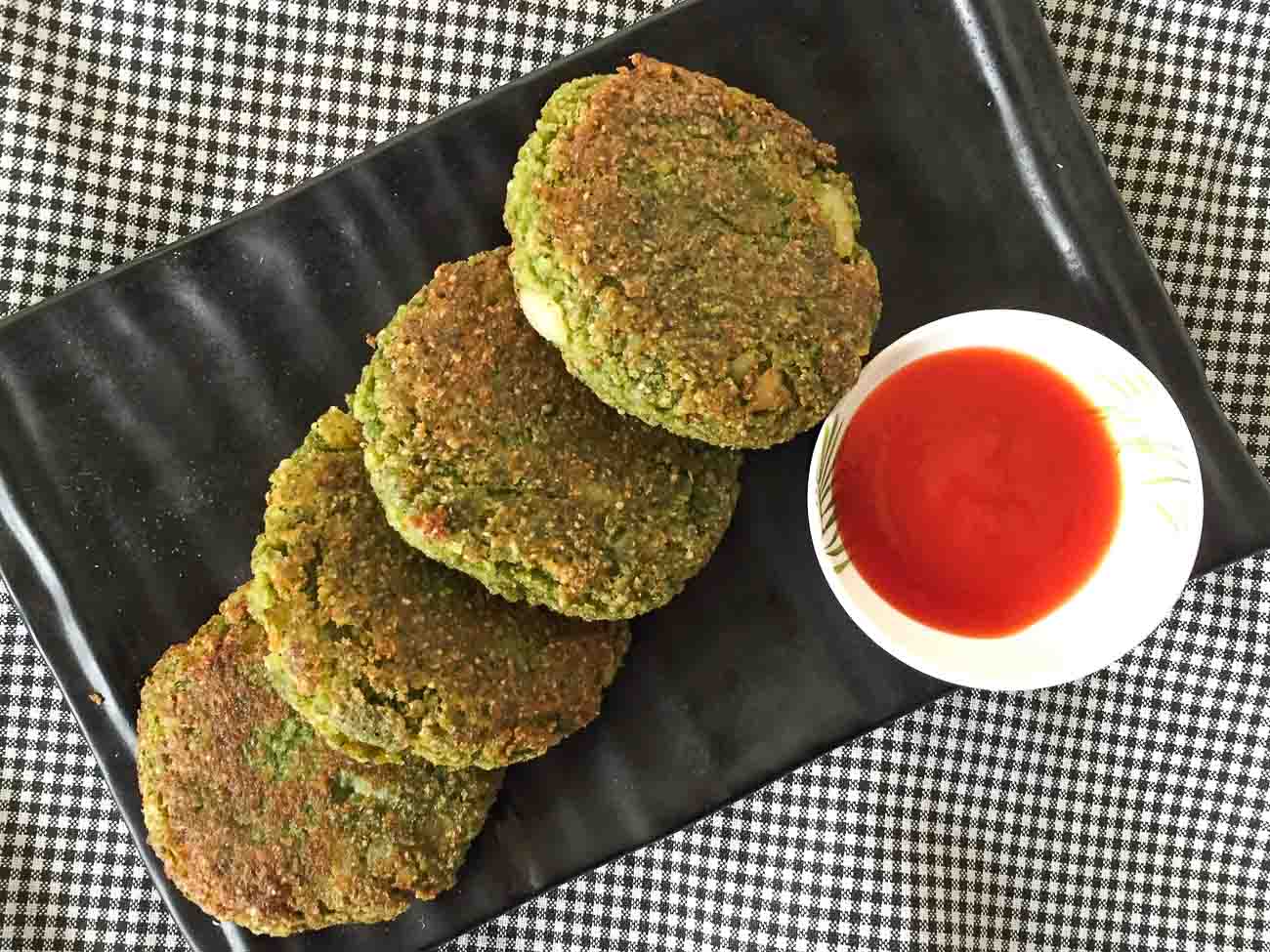 The Green Spinach & Oats Cutlet Recipe is a simple, easy to make cutlet, that is packed with nutrition from oats, spinach and peas and flavored with green chillies, ginger and oregano. If you have all the ingredients handy, these cutlets will take you less than 30 minutes to make and serve. The Green Spinach & Oats Cutlet can be served along with a evening snacks.
Did you know: Spinach improving blood glucose control in diabetics, lowering the risk of cancer, lowering blood pressure, improving bone health, lowering the risk of developing asthma and more. Spinach is an excellent source of vitamin K, vitamin A (in the form of carotenoids), folate, iron, copper, vitamin B2, vitamin B6, vitamin E, calcium, potassium, and vitamin C. Excellent source of dietary fiber too, it also additionally provides phosphorus, vitamin B1, zinc, protein, and choline.
If you like this recipe, here are a few more snack recipes to try
Ingredients
1 cup

Instant Oats (Oatmeal)

1/2 cup

Green peas (Matar)

, steamed
1 cup

Spinach

, chopped
1

Green Chilli

, chopped
1/2 cup

Coriander (Dhania) Leaves

, finely chopped
1 inch

Ginger

, grated

Salt

, to taste
1/2 teaspoon

Whole Black Peppercorns

, pounded
1 teaspoon

Dried oregano

1

Lemon

, juiced

Oil

, as needed
How to make Green Spinach & Oats Cutlet Recipe
To begin making the Green Spinach & Oats Cutlet Recipe, we will first get all the ingredients ready.

Heat a heavy bottomed pan and roast the oats for a few minutes, until you get a roasted aroma. Once roasted, remove from the pan and keep it aside.

In the same pan, add the chopped spinach and saute it until the spinach wilts down and the excess moisture evaporates. Once ready, remove the spinach from the heat and allow it to cool.

The next step is to make the cutlet mixture. Add the roasted oats, the cooked spinach, green peas, green chillies, coriander, salt, pepper oregano and lemon juice into a food processor and combine to make a coarse mixture.

Check the salt and spice levels and adjust to suit your taste.

Divide the Green Spinach & Oats Cutlet mixture into 8-10 portions. Grease your fingers with oil and flatten the cutlet mixture and shape them a little.

Grease and preheat a skillet on medium heat. Place the Spinach & Oats Cutlet portions onto the skillet. Drizzle a little oil and cook on both sides until lightly browned and crisp.

Serve the Green Spinach & Oats Cutlet Recipe along with a Green Chutney or plain old Tomato Ketchup for tea parties or simple as a great tea time snack along with a cup of tea.