Grilled Eggplant With Tahini & Yogurt Dip Recipe
Thi Grilled Eggplant With Tahini & Yogurt Dip Recipe will make a perfect appetizer for your parties. These can be made ahead and served chilled for the parties.

Archana's Kitchen
On

Thursday, 12 March 2015 08:17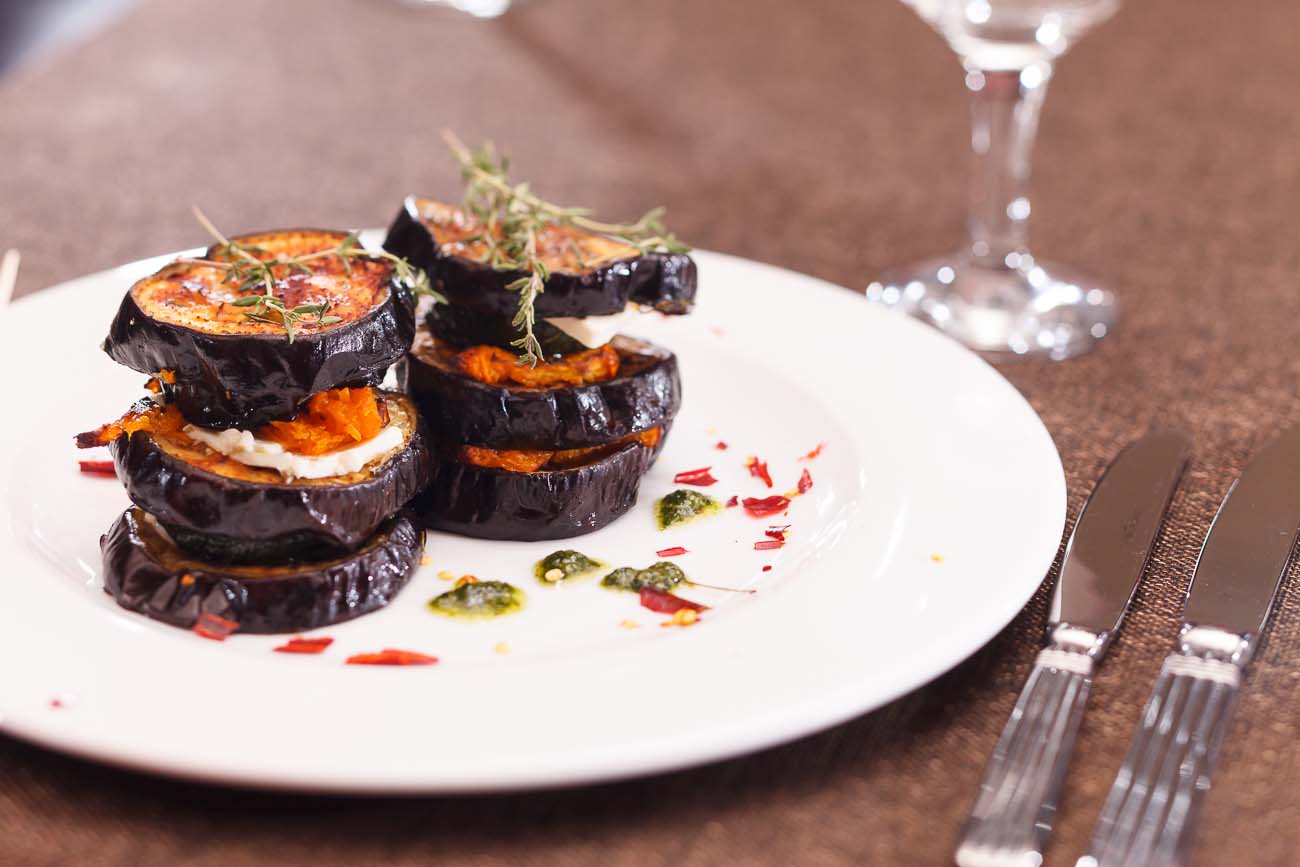 The Grilled Eggplant With Yogurt Dip Recipe is a simple and easy way of serving eggplants for parties. The addition of tahini, along with sun-dried tomatoes and the greek yogurt over the grilled eggplants bring out the different flavors and textures of this Mediterranean Flavored Dish. The Pomegranate Sauce adds to the subtle sweetness that brings out a burst of flavors to the palate. Try this for one of your parties and your guests will simple love it.
Serve the Grilled Eggplant With Yogurt Dip as a party appetizer with Roasted Vegetable Lasagna with Riccotta.
Other recipes that you can try are:
Ingredients
2

Brinjal (Baingan / Eggplant)

1/2 cup

Tzatziki

1/2 cup

Tahini

12 to 15

Sun Dried Tomatoes

, dipped in olive oil
1

Pomegranate Sauce

, recipe
1 sprig

Mint Leaves (Pudina)

Salt and Pepper

Extra Virgin Olive Oil

, for cooking
How to make Grilled Eggplant With Tahini & Yogurt Dip Recipe
To begin making the Grilled Eggplant in Tahini & Yogurt Recipe, we will first have to roast the eggplants. I personally like to roast it on the pan, but you can roast them in the oven too.

First, slice the eggplant lengthwise into 1/4-inch thick slices, sprinkle some salt and drizzle some olive oil over the eggplants and toss them well until well coated.
Roasting Eggplants in the Oven - Preheat oven to 180 C
Arrange the eggplants on a baking tray and loosely cover the tray with foil and roast the eggplants in the preheated oven roast until they are soft and pliable, about 15 to 20 minutes, turning them halfway through while it is roasting.
Roasting Eggplants on a Cast Iron Skillet
Preheat a skillet on medium heat; place the eggplant slices on the cast iron skillet and roast them until soft and cooked on both sides. Proceed the same way to roast the remaining eggplants.

Now, we will use only the eggplant that have the largest rounds, as we will be able to stuff and roll only the larger rounds. The smaller rounds you can chop them fine and use them as you wish.
Assembling the Grilled Eggplant
Once grilled place the eggplants on a serving platter. Arrange the eggplants, flat on the surface. Spread a spoon of Tahini on each of the grilled eggplants. Place the sun-dried tomatoes over the eggplant, next spoon the greek dip and finally drizzle the pomegranate sauce. Garnish with mint leaves or thyme leaves and serve.

Serve the Grilled Eggplant with Tahini & Yogurt Dip as an appetizer for parties or as a side dish for dinner.