Grilled Spicy Potato Sandwich Recipe
Spicy sandwich made with boiled and mashed potatoes and grilled to perfection. This Grilled Spicy Potato Sandwich Recipe is loved by kids and can be served for tea parties too.

Archana Doshi
On

Thursday, 12 June 2014 09:14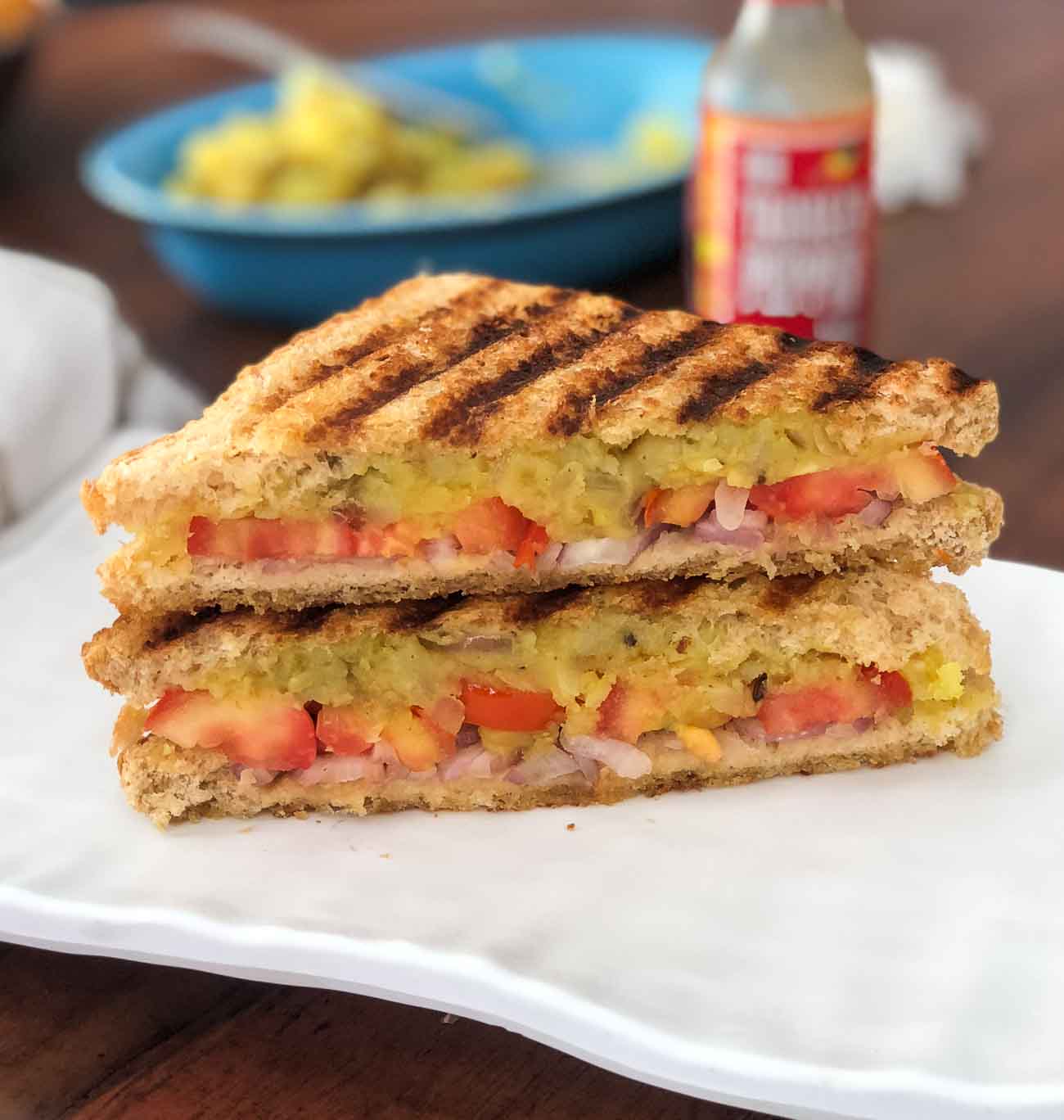 Grilled Spicy Potato Sandwich is made using the potato filling that we use for school lunch box. We prefer to grill in the sandwich maker so the filling remains intact inside the sandwich. It is also perfect to serve during your tea parties.
Did you know: Potatoes are known be to be packed with phytonutrients that include carotenoids, flavonoids and caffeic acid. These substances are known to help prevent cell damage, help in digestion, heart health, blood pressure and even cancer prevention.
Serve Grilled Spicy Potato Sandwich Recipe along with a hot cup of Adrak Chai and Fruit Bowl for your Breakfast.
If you like this recipe, try more Sandwich Recipes such as:
Note: You can optionally use a sandwich maker and grill your spiced potato sandwich and serve it for breakfast or pack it for school lunch box
Ingredients
12

Whole Wheat Bread Slices

4

Tomatoes

, thinly sliced
2

Onions

, thinly sliced into rings
Ingredients for Spicy Potato Filling
2 cups

Potatoes (Aloo)

, boiled, coarsely mashed
1

Onion

, roughly chopped
1 teaspoon

Ginger

, grated
2

Green Chillies

, finely chopped
1/4 teaspoon

Turmeric powder (Haldi)

6

Curry leaves

, small bunch, finely chopped

Coriander (Dhania) Leaves

, finely chopped

Salt

, to taste
Ingredients for the seasoning of potatoes
1 tablespoon

Cooking oil

1 teaspoon

Mustard seeds

1 teaspoon

White Urad Dal (Split)

1 teaspoon

Chana dal (Bengal Gram Dal)

1/4 teaspoon

Asafoetida (hing)
How to make Grilled Spicy Potato Sandwich Recipe
To begin making the Grilled Spicy Potato Sandwich Recipe, we aill firstly make the potato masala to fill in the Sandwiches.

To prepare the potato filling, heat the oil in a heavy bottomed pan, add mustard seeds, urad dal, channa dal and allow it to roast until light brown in color.

Next add the ginger, onions, curry leaves, green chillies and asafoetida. Saute for a few minutes until the onions turn soft. At this stage add the turmeric powder, salt and mashed potatoes. Stir well until all the ingredients are well combined.

Cover the pan with a lid, turn the heat to low and cook the potatoes for a few minutes. Once done, turn off the heat. The filling is ready. Keep aside.

To assemble the sandwich, place a slice of bread on a flat surface, spoon a small amount of potato filling on top of the slice and spread it evenly on the bread slice. Arrange one or two tomato slices and onion rings over the potato filling. Cover the filling with the another slice of bread.

Gently press the sandwich down with your palm. Keep aside while you preheat the grill pan or sandwich maker.

Lightly brush the sandwich with softened butter or little cooking oil. Arrange the sandwich in the preheated grill pan.

Using a spatula, press the sandwich down so it grills evenly. Once grilled on one side, flipped the sandwich and grill on the other side until crisp and lightly browned from both the sides.

Serve Grilled Spicy Potato Sandwich Recipe along with a hot cup of Adrak Chai and Fruit Bowl for your Breakfast.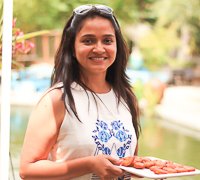 Archana Doshi is the founder of Archana's Kitchen. Archana launched Archana's Kitchen in 2007 as a way to keep track of her and family's recipes, and along the way grew it into one of the most popular cooking websites in the world. Archana is dedicated to helping home cooks be successful in the kitchen. Archana says "I hope you enjoy cooking recipes from my website where the sole effort is to make cooking simple for you. When you try out one of our recipes, we are longing to hear back from you. Do take your time to come back and share your comments, as your feedback means a lot to me"