Gujarati Kachariyu Recipe - Spiced Sesame And Coconut Ladoos
Gujarati Kachariyu, a teaditional Gujarati Ladoo which is healthy and is eaten in winters. You can also make them and store in an air tight container to eat as your evening snack.

Sheetal Bhatt
On

Friday, 11 December 2015 00:32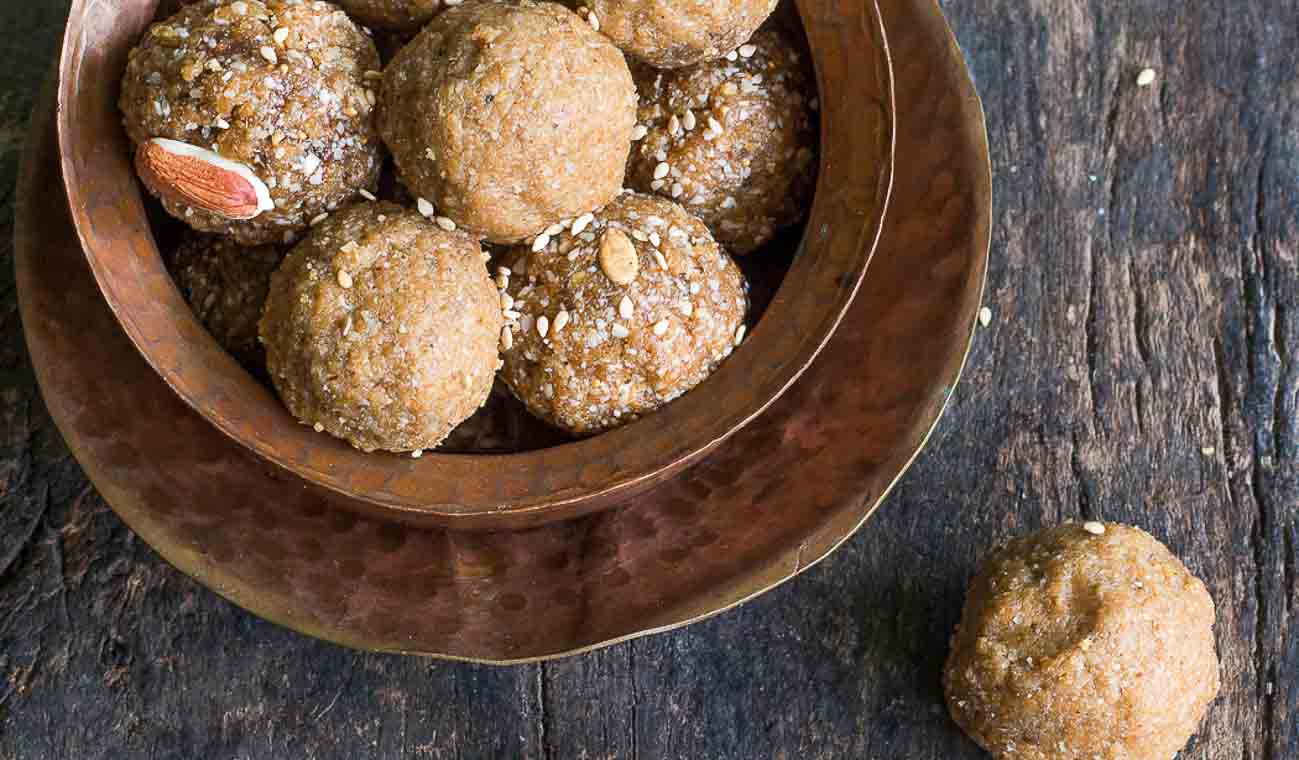 Gujarati Kachariyu Recipe is a traditional spiced sesame and coconut ladoo filled with dates and figs. Preparation of Kachariyu is a winter time tradition in Gujarati households, when they get into the rituals of preparing warm/heat-inducing foods to cope with bitter weather outdoors.
They usually incporporate various herbs and spices which are typically found in the winter, and have beneficial properties too and provide energy needed in winters, keep the body warm from inside, boosts immunity, lubricates joints, prevents body aches etc. Kachariyu is the simplest of these delicacies; it is made using sesame seeds, shredded coconut and jaggery along with add-ons like dates, dried ginger powder, almonds etc. In Gujarati 'kacharvu' means to grind and since we grind the sesame seeds in this recipe the name derived is Kachariyu.
Normally all the ingredients are ground together and spread as a fudge but I have made laddus and filled them with sautéed dates and figs mixture.
This is a desi version of energy bars and can be stored and eaten as a mid-morning pick-me-up, or even packed away for a snack box. These can be served as a gealthy festive ladoo too. Versatile and delicious!
Serve Gujarati Kachariyu as a snack along with your morning or evening cup of Masala Chai.
Try some other energy-boosting Ladoo Recipes which you can make at home:
Ingredients
For Kachariyu
1 cup

Sesame seeds (Til seeds)

3/4 cup

Dessicated Coconut

1/4 cup

Whole Almonds (Badam)

, chopped
1/4 cup

Melon seeds

1/2 cup

Jaggery

1 teaspoon

Dry ginger powder

1/2 teaspoon

Cardamom Powder (Elaichi)

For the filling

Nutmeg powder

, A generous pinch
12

Dates

, black one, pitted and chopped
5-6

Dried Figs

, chopped
2 tablespoons

Ghee
How to make Gujarati Kachariyu Recipe - Spiced Sesame And Coconut Ladoos
To begin making Gujarati Kachariyu Recipe, first we will prepare the filling.

Place a skillet or kadai on the heat. Add ghee, once melted add chopped dates and figs to it. Cook this, stirring sometimes, till they turn mushy and stewed, and start leaving sides of pan to come together as a ball.

Turn the heat off and set the pan aside to cool. Once cool make small marble sized balls of the mix and set aside.

To prepare the rest of the Kachariyu, in a pan or kadai lightly toast sesame seeds, coconut, almonds and melon seeds.

While it is still warm transfer the mixture to a grinder add jaggery and grind finely.

To this, add the dried ginger powder, cardamom powder and nutmeg powder. Pulse it again a couple of times till it mixes well.

You will notice that the sesame seeds and coconut has released its oil and the mixture gets crumbly. If held in a fist the mixture should come together lightly. If this does not happen pulse it a few more times.

Put a spoonful of Kachariyu mixture in the well of your palm, lightly press it and place the filling in the center and bring the Kachariyu together to form a small ladoo. Repeat till you have formed all the ladoos.

You can roll them in desiccated coconut or finely chopped almonds for garnish too. Store the Kachariyu in an airtight box and serve them as a festive ladoo on any occasion or enjoy them as a mid-morning pick-me-up, or snack box treat.

Serve Gujarati Kachariyu as a snack along with your morning or evening cup of Masala Chai.