Gujarati Khandvi Recipe - Savory Gram Flour Pinwheels
You must try this soft and delicious Khandvi that is packed with flavors from green chilies and ginger along with the sesame tadka. Make this for festivals and occasions and enjoy with you friends.

Archana Doshi
On

Friday, 13 March 2009 14:35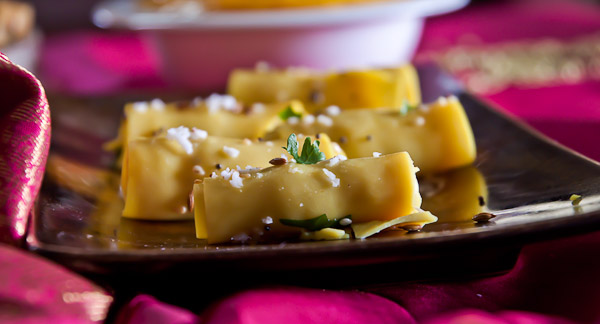 Khandvi is a savory gram flour pinwheel snack, where gram flour is combined with yogurt, ginger and green chilies to make a smooth batter, slow cooked on low flame and then cooled on a surface and shaped onto pinwheels.
It is then seasoned with mustard and sesame seeds, making it a healthy and easy evening snack or even as a starter for the indian parties.
Serve the Gujarati Khandvi Recipe as a evening tea time snack along with Green chutney and Masala chai.
If you are looking for more Tea Time Evening Snack recipes here are a few :
Ingredients
Main Ingredients
1 cup

Gram flour (besan)

1 cup

Curd (Dahi / Yogurt)

, sour
2 cups

Water

1 teaspoon

Green chilli paste

1/4 teaspoon

Asafoetida (hing)

1/4 teaspoon

Turmeric powder (Haldi)

Salt

, to taste
Ingredients for seasoning
1/2 teaspoon

Mustard seeds

1/2 teaspoon

Cumin seeds (Jeera)

1 teaspoon

Sesame seeds (Til seeds)

6

Curry leaves

2 tablespoons

Fresh coconut

, grated
2 tablespoons

Coriander (Dhania) Leaves

, chopped
2 tablespoons

Cooking oil
How to make Gujarati Khandvi Recipe - Savory Gram Flour Pinwheels
To begin making the Khandvi recipe, combine the yogurt, water and gram flour in a large bowl; whisk until smooth and no lumps remain. Whisk in the green chilli and ginger paste, asafoetida, turmeric powder and salt.

Transfer the khandvi mixture into a non stick pan and heat on low-medium heat, stirring constantly to prevent lump formation. Continue stirring the khandvi on low heat, till the mixture thickens for 15 minutes.

The khandvi mixture will begin to attain a shine. Turn off the flame and work as quickly as possible, as it will not spread when it cools down.

Spread the hot khandvi mixture onthe working counter as thinly as possible, with a flat spatula. When you have finished spreading the khandvi batter, allow it to cool a little and settle down about three minutes and not less. Repeat this process and continue to spread the entire mixture, before it cools down.

After about 10 minutes have passed begin rolling the khandvi mixture into a log starting from the top. Once the khandvi rolls have been made, cut the rolls into one inch size logs. Place the cut khandvi rolls on a serving platter.

Heat oil in a pan for seasoning; add mustard seeds, cumin seeds, sesame seeds, curry leaves allow them to crackle.

Sprinkle the seasoning over the khandvi rolls and garnish with coriander leaves and coconut. This can be made one day ahead and kept in the refrigerator and warmed up in the microwave before serving.

Serve the Gujarati Khandvi Recipe as a evening tea time snack along with Green chutney and Masala chai.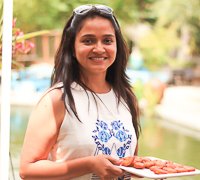 Archana Doshi is the founder of Archana's Kitchen. Archana launched Archana's Kitchen in 2007 as a way to keep track of her and family's recipes, and along the way grew it into one of the most popular cooking websites in the world. Archana is dedicated to helping home cooks be successful in the kitchen. Archana says "I hope you enjoy cooking recipes from my website where the sole effort is to make cooking simple for you. When you try out one of our recipes, we are longing to hear back from you. Do take your time to come back and share your comments, as your feedback means a lot to me"