Gujarati Meetha Pudla Recipe With Stuffed Caramelized Bananas
Gujarati Meetha Pudla Recipe is a delicious pancake, made Gujarati style using whole wheat flour and jaggery as a sweetener. A breakfast option that can be put together in a jiffy. The pudla tastes great when served along with masala chai as well.

Archana Doshi
On

Saturday, 21 January 2017 00:06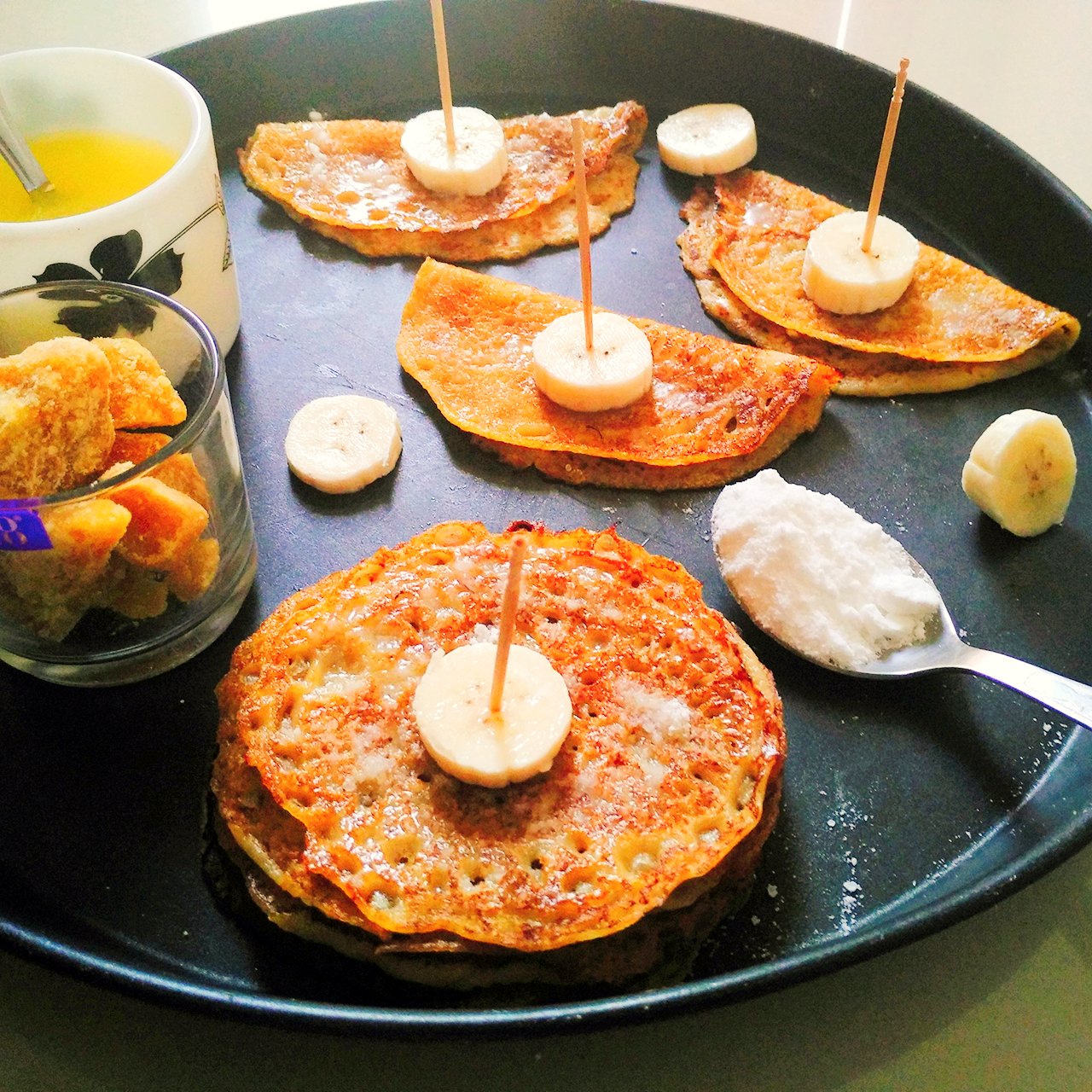 Gujarati Meetha Pudla Recipe is the Sweet Whole Wheat Pancake with jaggery. It consumes less oil and is egg free. It is heirloom recipe from my grandmother from whom I learnt the tricky part of making the batter with right consistency.
Serve Gujarati Meetha Pudla Recipe as a delicious sweet for parties or even festivals like diwali and dussehra.
Here are more Gujarati recipes to try
Ingredients
1/2 Cup

Jaggery

, grated
1/3 cup

Water

1 cup

Whole Wheat Flour

Nutralite Classic Spread

, as required
for the Caramelized Bananas

Nutralite Classic Spread

, as required
1

Ripe Bananas

, sliced into rounds (large banana)
2 tablespoons

Jaggery

, powdered
1 teaspoon

Cardamom (Elaichi) Powder

1/2 cup

Fresh coconut

1/4 cup

Cashew nuts
How to make Gujarati Meetha Pudla Recipe With Stuffed Caramelized Bananas
To prepare Gujarati Meetha Pudla Recipe, in a mixing bowl, soak jaggery in water for few minutes to be dissolved.

Add whole wheat flour into jaggery water and blend it using blender.

Keep it aside for 5 min. Pudla Batter should not be thin, but instead of a thick spreading consistency.

Heat a flat skillet. Spread a generous spoon of the pudla batter into a thin pancakes. Spread it quickly. Make sure that the flame is low.

Spread Nutralite Classic around the meetha pudla.

Flip once you see that the exposed surface of pudla looks dry and cooked.

Cook on the other side for about 2 minutes or till done. Repeat to make remaining meetha pudlas as needed.

To make the stuffing, heat a skillet and met the Nutralite classic and jaggery. Once melted, add the bananas and the cardamom powder. Gently caramelize the bananas in the jaggery until it gets well coated and sticky.

Once done, turn off the heat.

In another small pan, melt a little Nutralite Classic again, add the cashew nuts and roast on medium heat until light browned and crisp.

Place these bananas on one half the the Meetha Pudla, sprinkle some roasted cashew nuts, freshly grated coconut and serve the Meetha Pudla as a sweet for parties and festivals.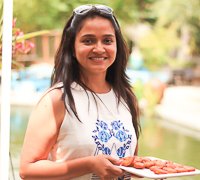 Archana Doshi is the founder of Archana's Kitchen. Archana launched Archana's Kitchen in 2007 as a way to keep track of her and family's recipes, and along the way grew it into one of the most popular cooking websites in the world. Archana is dedicated to helping home cooks be successful in the kitchen. Archana says "I hope you enjoy cooking recipes from my website where the sole effort is to make cooking simple for you. When you try out one of our recipes, we are longing to hear back from you. Do take your time to come back and share your comments, as your feedback means a lot to me"