Gujarati Patra | Alu Vadi | Steamed Colacasia Leaves Pinwheels

Archana Doshi
On

Friday, 08 November 2013 18:35
The Patras also known as Alu Vadi's is a delicious preparation using spinach or colocasia leaves that has a sweet and tangy gram flour mixture spread on them and rolled in a special way to form a pinwheel. Traditionally Patra is made from colocasia leaves and many a times they are seasonal and are not readily available in most parts of India or even parts of the world. I used to find it hard to make this delicacy during my stay in Boston and my mother in law gave me a brilliant idea of using large spinach leaves that were available in abundance in the market. I hope you enjoy making this delicacy as much as I have enjoyed sharing this family favourite.
Serve Gujarati Patra as a dish along with your gujarati meal of Gujarati Kadhi, Bhindi Aloo and Phulkas.
If you like this recipe, you can also try other Appetiser recipes such as
Ingredients
Main Ingredients
5

Spinach Leaves (Palak)

, large or colocasia leaves, cleaned and dried

For the Paste

1-1/2 cups

Gram flour (besan)

1/4 cup

Whole Wheat Flour

2 tablespoons

Curd (Dahi / Yogurt)

1/4 teaspoon

Turmeric powder (Haldi)

1 tablespoon

Jaggery

, powdered 

1 teaspoon

Amchur (Dry Mango Powder)

, or 1 teaspoon thick tamarind paste

1 teaspoon

Coriander (Dhania) Powder

1/4 teaspoon

Asafoetida (hing)

1/2 teaspoon

Garam masala powder

1/2 teaspoon

Red chilli powder

1 teaspoon

Ginger

, paste

1 tablespoon

Cooking oil

Salt

, to taste
For the Seasoning
1 teaspoon

Sesame seeds (Til seeds)

1 teaspoon

Cumin (Jeera) seeds

4

Curry leaves

1 tablespoon

Cooking oil

2 tablespoons

Fresh coconut

, grated
How to make Gujarati Patra | Alu Vadi | Steamed Colacasia Leaves Pinwheels
Combine all the ingredients for the paste adding very little water and make a smooth paste.

Place each spinach leaf on a flat surface with the greener side facing down, the pointer side facing towards you and the broader/heart side facing up.

Spread about a tablespoon of the gram flour paste evenly on the surface of the spinach. Fold the pointer side towards the inside half way through and press it gently to get stuck on the leaf. Gently fold the left and the right sides till towards their centre.

Now roll them into a log lengthwise and seal the edges together with the gram flour mixture. Keep aside.

Continue the same process with the other spinach leaves. Preheat a steamer with 3 cups of water at the bottom.

Grease the steamer plates with oil and place the spinach rolls into the steamer plates. Cover the steamer and steam for 15 minutes on high heat. Turn off heat; remove the steamer pates from the steamer and allow them to cool for ten minutes.

Once cooled, cut the spinach logs into sizes of half an inch and keep aside.

The patras will look like pinwheels with layers of green spinach and yellow gram flour.

Heat a tablespoon of oil in a wide sauté pan on medium heat; add the sesame seeds, cumin seeds and allow them to crackle.

Transfer the steamed patras into the pan and gently stir them into the seasoning. Turn off heat and arrange the patras back into the platter.

Garnish with freshly grated coconut and serve the delicious Gujarati Patra's | Alu Vadi's as an appetizer or along with your main course meal.
Handy Tip: Patras can be pre-made and frozen after they are steamed and cooled. When you are ready to use them; thaw them and then proceed with the seasoning process.
Serve Gujarati Patra as a dish along with your gujarati meal of Gujarati Kadhi, Bhindi Aloo and Phulkas.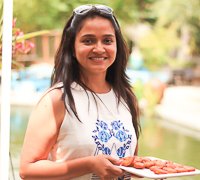 Archana Doshi is the founder of Archana's Kitchen. Archana launched Archana's Kitchen in 2007 as a way to keep track of her and family's recipes, and along the way grew it into one of the most popular cooking websites in the world. Archana is dedicated to helping home cooks be successful in the kitchen. Archana says "I hope you enjoy cooking recipes from my website where the sole effort is to make cooking simple for you. When you try out one of our recipes, we are longing to hear back from you. Do take your time to come back and share your comments, as your feedback means a lot to me"