Gul Poli Recipe (Maharashtrian Jaggery & Sesame Stuffed Flatbread)

Soni Khadilkar
On

Friday, 15 January 2016 00:28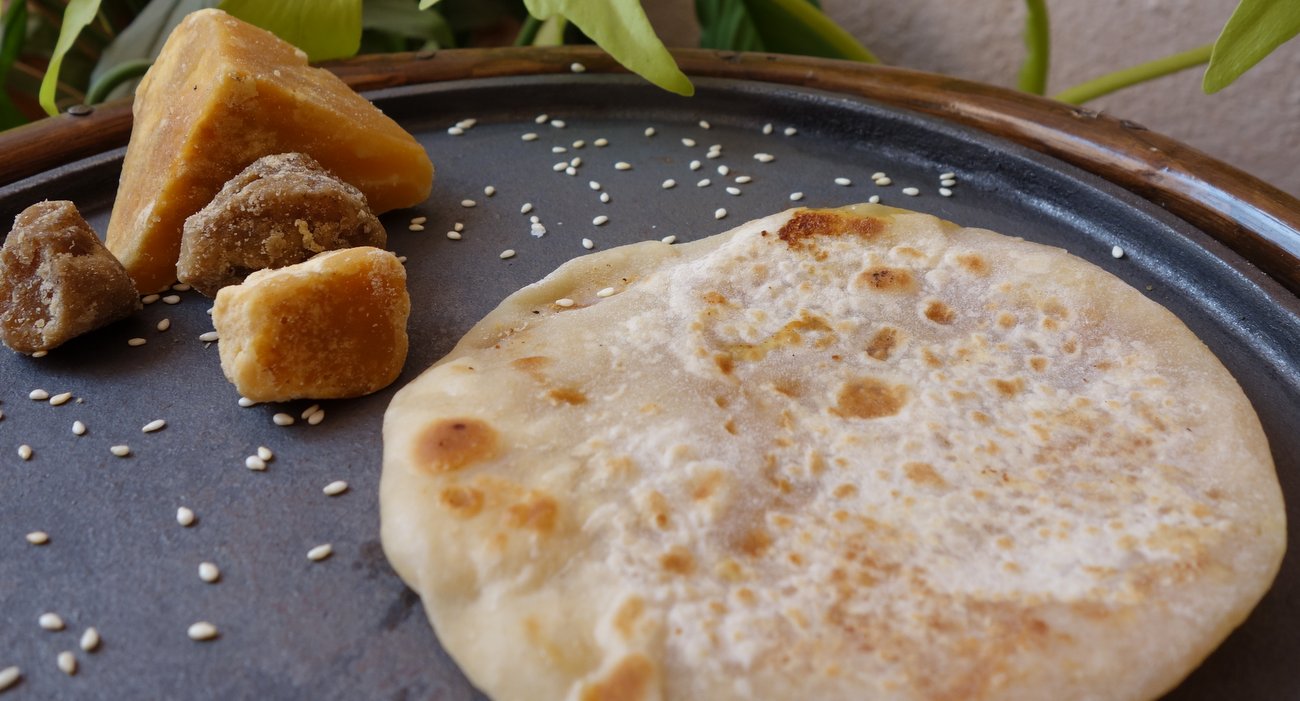 Gul Poli is prepared on the day of 'Makar Sankranti', the harvest festival. Maharashtrians prepare this traditional 'Gul Poli', Tilgul Vadi or Ladoo to celebrate this festival. The core ingredients are jaggery & sesame seeds which keeps the body warm, provide adequate nutrition required during cold winters. The combination of sesame seeds & jaggery is delectable and is used in various other sweet preparations.
Let's celebrate this 'Makar Sankranti' with Gul Poli and nature's best produce. Here's wishing all the viewers as they say in Maharashtra 'tilgul ghya goad goad bola'. It essentially means to gift sesame seeds and jaggery to forget the past ill-feelings and speak sweetly and remain friends.
Serve Gul Poli hot with some ghee for lunch/dinner.
Make your Sankranti special and chose delicacies from
18 Essential Pongal (Sankranti) Recipes From Across India
Did you know: Sesame seeds add a delicate and nutty taste to your preparations. Sesame seeds are packed with beneficial minerals which help maintain respiratory and bone health.
Ingredients
For making the dough
1 cup

Whole Wheat Flour

1 cup

All Purpose Flour (Maida)

1 tablespoon

Oil

, hot

Salt

, to taste

Lukewarm Water

, as required
For making the filling
3/4 cup

Jaggery

1-1/2 tablespoon

Gram flour (besan)

1-1/2 tablespoon

Ghee

2-1/2 tablespoon

Sesame seeds (Til seeds)

1 tablespoon

Poppy seeds

1 teaspoon

Cardamom Powder (Elaichi)

2 teaspoon

Water

Ghee

, to serve
How to make Gul Poli Recipe (Maharashtrian Jaggery & Sesame Stuffed Flatbread)
To begin making Gul Poli recipe, we will first make the dove to prepare the poli (flat bread). In a large mixing bowl, mix the wheat flour and the all purpose flour along with salt.

Heat 1 tablespoon oil in a tadka pan. Make a well in the middle of the flour mixture. Pour hot oil in it. Mix well. Add warm water to make a soft dough. Knead the dough well. Keep aside covered with a wet cloth. We will now proceed to make the filling for the Gul Poli.

Take a mixing bowl.Grate the jaggery in it. Add cardamon powder to it and mix well. Add 2 tablespoon warm water to the mixture and let the jiggery dissolve in water. The mixture should be thick and not watery.

Heat a pan on medium heat. Add sesame seeds and poppy one by one and dry roast them together for 1 minute. Let the seeds cool. Grind them to a smooth powder and keep aside.

Heat a pan on medium heat. Add 2 teaspoon ghee in the pan and add the gram flour. Let the gram flour roast on low heat till it changes its color to brown and roasted aroma comes out of it. Turn off the heat, transfer it to a plate and let it cool.

Add the sesame and poppy seed powder and the roasted gram flour to the jaggery mixture and mix all ingredients well, The stuffing for Gul Poli is now ready.

The dough is rested well by now. Make a lemon size ball of the dove at a time. sprinkle some flour on the rolling surface. Roll the dough to the size of a poori (3-4 inch diameter circular shape). Place 1 tablespoon filling in the center.Close it by covering the edges at top so that the filling does not come out. The procedure is exactly the same as a stuffed paratha.

Roll out the ball to a circular shape. The Gul Polis are usually thin and they crisp up after they cool down.

Meanwhile heat tawa on medium heat. Cook the Gul Poli on both sides till golden brown. Use ghee/oil for cooking both the sides.

Serve the Gul Poli in a serving plate, top it up with ghee and serve hot as a part of festive meal.