Habshi Halwa Recipe
A tasty spiced milk pudding

Divya Shivaraman
On

Friday, 11 September 2015 07:23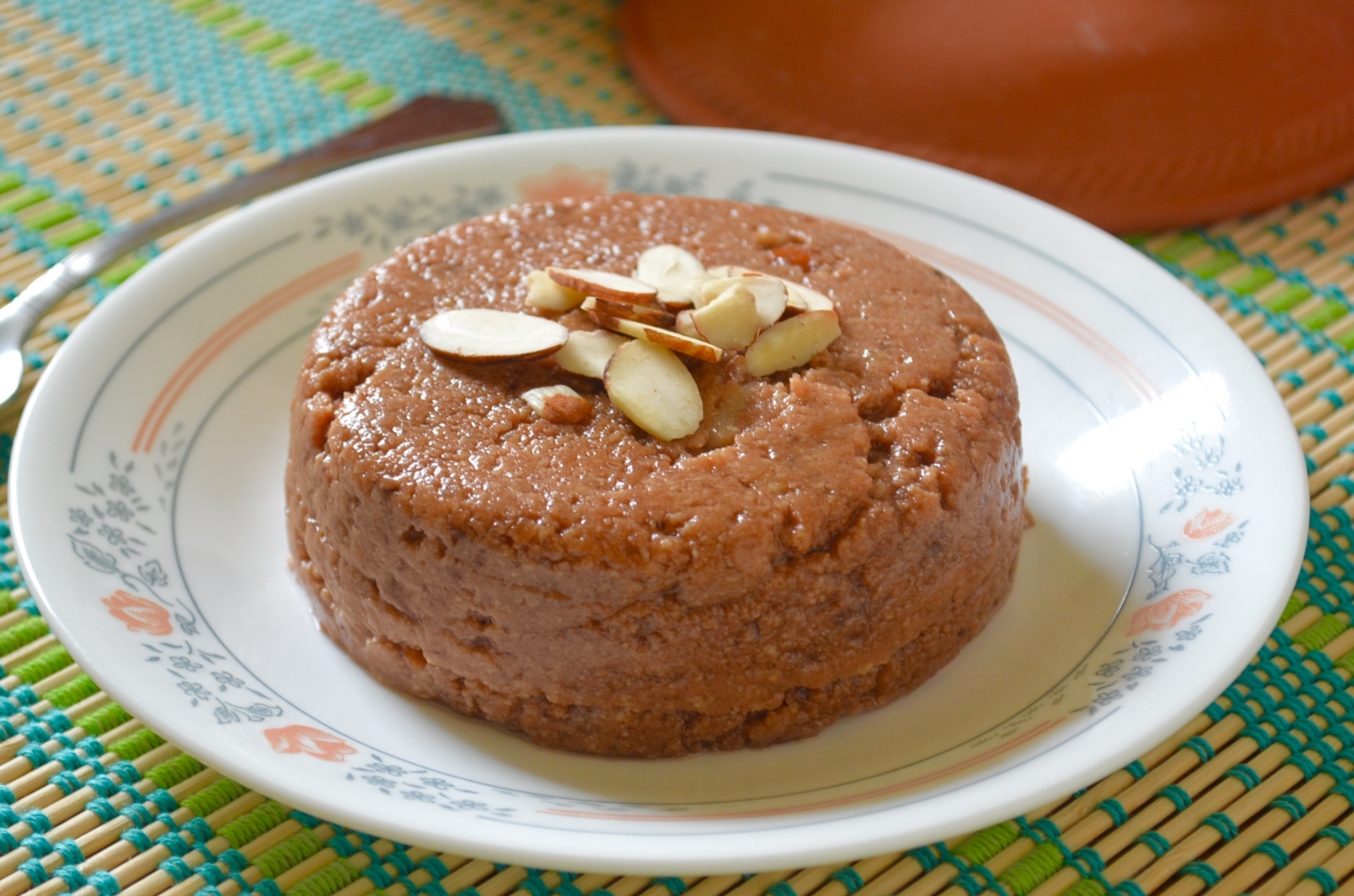 Habshi Halwa is a milk halwa that is made by curdling, sweetening and flavoring milk. It is a slightly tedious task to cook the halwa as it takes long to get it to the right consistency. But it is worth the effort because it brings together the best of milk solids, ghee and nuts, into a right Indian dessert.
Serve Habshi Halwa as a dessert along with Paal Payasam during a festive lunch.
Other recipes that you can try are:
Ingredients
1 liter

Milk

, with full cream
1/4 teaspoon

Lemon Salt

, mixed in 2 teaspoon water
1 tablespoon

White vinegar

3 tablespoons

All Purpose Flour (Maida)

4 tablespoon

Ghee

1/2 cup

Sugar

1/2 teaspoon

Cardamom Powder (Elaichi)

5

Saffron strands

1 tablespoon

Cocoa Powder

, unsweetened
1/2 cup

Slivered Almonds (Badam)
How to make Habshi Halwa Recipe
To begin making Habshi Halwa, first bring the milk to a boil in a heavy bottomed pan or kadhai.

Once boiled turn off the heat and add lemon salt mixed with water. Cover the milk and allow it to sit for 5 minutes. This is the time the milk will take to curdle.

When you open the lid, you should find the milk curdled. Now, put the pan back on the heat and cook the curdled mixture on medium-high heat for about 30-40 minutes until half of the whey (or the water that has separated) has evaporated.

Next add the sugar and stir well until it has dissolved completely. Add white vinegar and cook for 8 to 10 minutes.

Then, add the cocoa powder and maida along with ghee. This will make the mixture glossy. Continue to stir and once the halwa starts to leave the sides of the pan, sprinkle the Elaichi powder and saffron strands over it. Mix well till combined.

Lastly add the slivered almonds and mix well.

To set the Habshi Halwa, grease a large plate with a rim, with ghee. Transfer the cooked halwa to it and press it evenly into a slab, with your fingers. Allow it to cool down completely and turn firm. Slice it.

Serve Habshi Halwa as a dessert along with Paal Payasam during a festive lunch.