Egg Hakka Noodles Recipe
Make this yummy Hakka Noodle Recipe with eggs and vegetables for a weekend lunch or dinner and serve it with any gravy of your choice. It is simple to make and everyone would love these Egg hakka noodles.

Raksha Kamat
On

Friday, 03 June 2016 00:51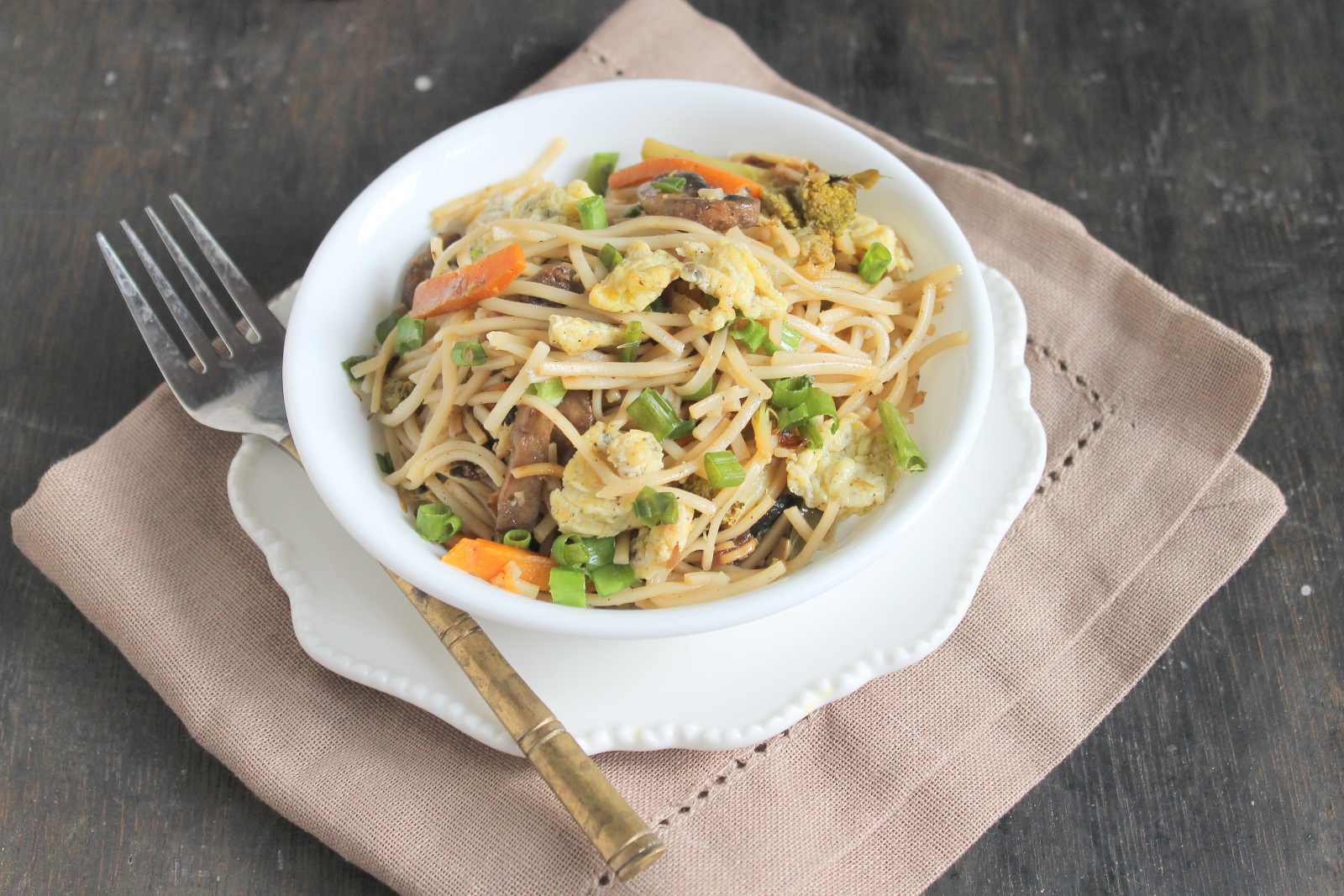 Egg Hakka Noodles is an Indo-Chinese dish that is enjoyed all over the country. A healthy dish that contains different vegetables which supply ample amount of nutrients to the body. A simple dish that can be made in limited time. A big advantage is that kids will not make a fuss to eat vegetables. In addition, you can also add shredded chicken or prawns as per your taste.
Serve Hakka Noodles With Egg recipe for lunch or dinner or an evening snack even. They taste good even on their own but to make a more wholesome meal serve it with any gravy or sauce of your choice.
Serve Egg Hakka Noodle Recipe with Vegetable Manchurian Balls In Hot And Spice Garlic Sauce for a complete meal.
You may also like to try other noodles recipes, try them at home and enjoy them with your family.
Ingredients
1/2 cup

Spring Onion (Bulb & Greens)

, chopped
1

Carrot (Gajjar)

, peeled and julienned
1/2

Green Bell Pepper (Capsicum)

, julienned
1/2 cup

Broccoli

, chopped into small florets
5

Button mushrooms

, chopped
1/2 tablespoon

Soy sauce

1 tablespoon

Green Chilli Sauce

6 cloves

Garlic

, finely chopped
1 tablespoon

Black pepper powder

1 tablespoon

Spring Onion Greens

, chopped for garnish

Salt

, to taste
For the Scrambled Eggs recipe
2

Whole Eggs

1/2 teaspoon

Black pepper powder

Salt

, as required
How to make Egg Hakka Noodles Recipe
To begin making the Egg Hakka Noodles first, boil 5-6 cups of water and add Hakka Noodles to the water when the water starts to boil.

Add 1 teaspoon oil and some salt to the noodles while boiling. Boil and cook the noodles according to the instructions given on the pack.

Once the noodles is cooked using a strainer, drain the water. Pass running water through the noodles to stop overcooking the noodles. Toss it with some oil to prevent sticking and keep aside.

Now for the scrambled eggs, crack and open 2 eggs one by one and add them to a mixing bowl. Add black pepper and salt and beat them well.

In a wok, add oil and once the oil is hot add the egg mixture and spread it around by moving the wok in a circular direction.

Cook it for 2 minutes and then scramble it till it is cooked properly. Remove to a plate and keep it aside.

In the same Kadai/wok, add 2 tablespoon oil and when it gets heated add finely chopped garlic.

Saute the garlic for few seconds and add the chopped spring onions, capsicum, broccoli, and carrot saute them till cooked.

After the vegetables are cooked add mushrooms and mix well. Cook the mushrooms and let the water evaporate from the mushrooms.

Once done add soya sauce and chili sauce and give it a toss, now add black pepper powder and mix well.

Add the boiled noodles. salt to taste and toss well to combine.

Finally, add the scrambled eggs to the Hakka Noodles and give it a stir. Turn off the heat.

Transfer Egg Hakka Noodles to a serving plate.Garnish with spring onion greens and serve them hot.

Serve Egg Hakka Noodle Recipe with Vegetable Manchurian Balls In Hot And Spice Garlic Sauce for a complete meal.