Handi Biryani Recipe With Chicken
Handi Biryani Recipe With Chicken is a lip smacking Indian class, that absolutely needs no introduction. Packed with flavours from the whole spices, the rice and chicken is cooked together, and served with some boiled eggs too.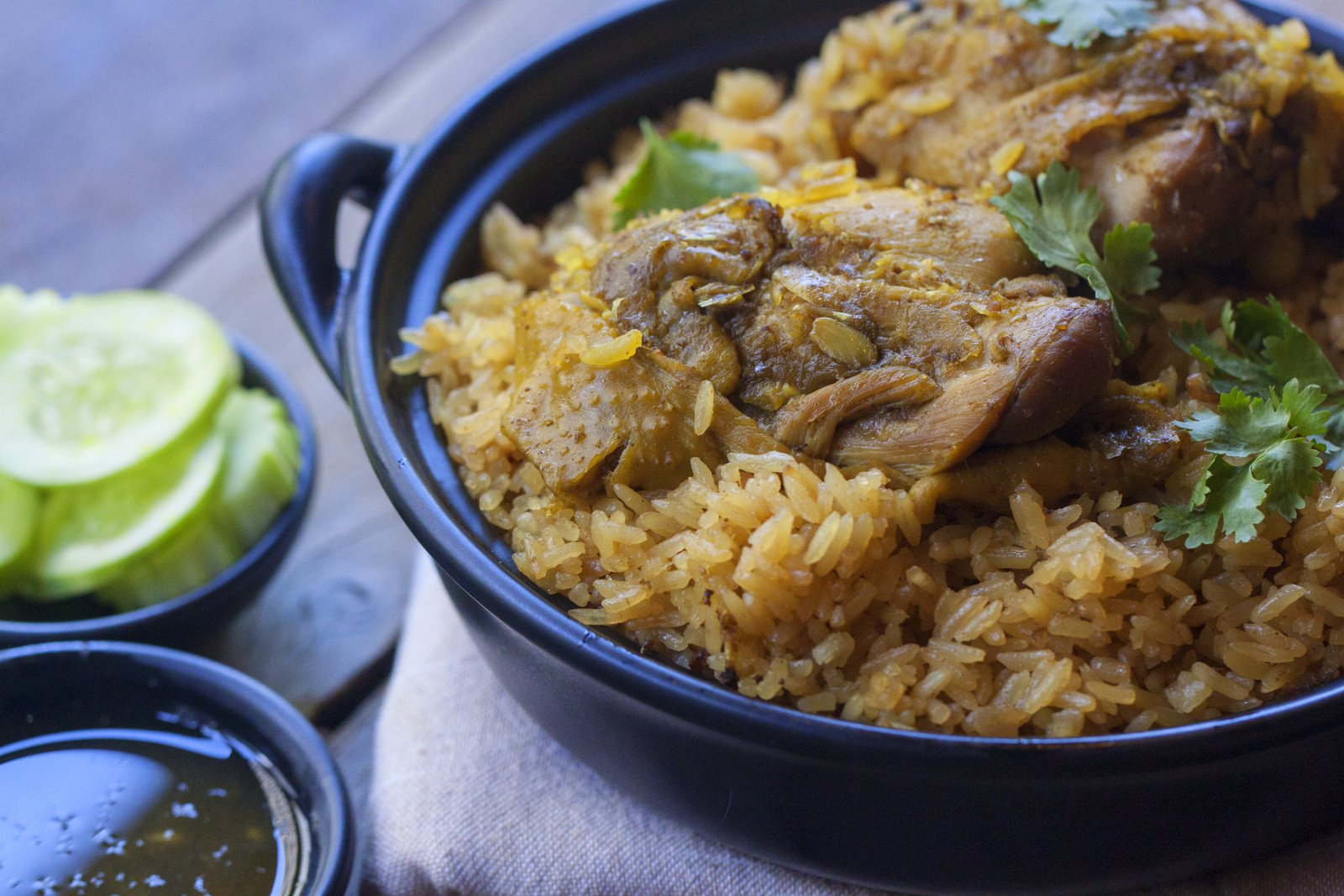 Handi Biryani Recipe With Chicken is a chicken variant of cooking Biryani amongst the Muslim community in North India .
Here, meat and rice are cooked together with generous amount to ginger garlic paste, coarsely ground red chillies and more. In Assam, this recipe in popularly made with sticky jasmine rice and local country chicken or mutton that is locally available. This handi biryani is slow cooked over wood fire or charcoal in clay pottery. This Biryani recipe can be cooked in the month of Ramadan and for Eid and other festivities. For those who have induction or gas stove, they can use metallic handi to prepare this dish.
Serve Handi Biryani Recipe With Chicken along with a side dish like Tomato Onion Cucumber Raita Recipe, and a side of Chicken Seekh Kebab Recipe.
If you like this recipe, try more recipes like
Ingredients
500 grams

Chicken

, chopped to bite sized
2 cups

Rice

, (Or jasmine rice as traditionally used)
1/2 cup

Onion

, finely chopped
2 teaspoons

Ginger Juice

1 tablespoons

Ginger Garlic Paste

Ghee

, to cook, as required
1/2 cup

Curd (Dahi / Yogurt)

1/2 teaspoon

Turmeric powder (Haldi)

3

Cloves (Laung)

2

Cardamom (Elaichi) Pods/Seeds

1

Black cardamom (Badi Elaichi)

1 inch

Cinnamon Stick (Dalchini)

1

Mace (Javitri)

1 pinch

Nutmeg powder

1/2 teaspoon

Whole Black Peppercorns

2 teaspoon

Red Chilli powder

1

Bay leaf (tej patta)

1 teaspoon

Black pepper powder

1

Dry Red Chilli

, coarsely pounded
5 cups

Hot water

Salt

, to taste
2

Whole Egg

, boiled
How to make Handi Biryani Recipe With Chicken
To begin making Handi Biryani Recipe With Chicken, first marinate the chopped chicken pieces in a large bowl with curd, salt, half of the pepper powder, half of ginger-garlic paste and red chilli powder for 30 minutes.

Also soak rice for 20 minutes and drain all the water once done with soaking them, and keep aside.

Meanwhile, you can cook the eggs till hardboiled. Once the egg is boiled, peel the shell.

Heat a shallow frying pan with a little oil or ghee. Once hot, slice each egg to four pieces, and fry them on all sides till browned. Reserve these boiled and fried eggs for serving the handi biryani.

Once the eggs are prepared, the rice is soaked, and the chicken is marinated, proceed with making the biryani.

In a handi, heat a tablespoon of ghee and on a medium heat, add the marinated chicken pieces along with the leftover marinade. Cook for 5-7 minutes or till the chicken is softer and at least half-cooked. Once done, take them out and keep them aside.

Add some more ghee into the handi and add ginger juice, cover the handi for a minute to temper the ghee.

Add bay leaves, and rest of the whole masalas like clove, cardamom, cinnamon, mace, nutmeg, black pepper, and bay leaves and cook for a minute or till amazingly fragrant.

Now add the chopped onions and cook until it is golden brown. Now add the rest of the ginger garlic paste, corsely pounded red chillies, remaining black pepper powder and turmeric powder and cook for about 2 minutes or till the raw smell goes away.

Now add the half done chicken pieces and cook for a few more minutes. Be prepared with the hot water to add to the recipe by this time as well. Amount of hot water also depends on the rice that you are using. We want this to be on the fluffier side and hence, adjust the water accordingly.

Check the salt and adjust if required. Bring the biryani to a boil and close the lid, stirring occasionally.

Once the mixture has come to a rolling boil, add the drained rice and cook for 15-20 minutes or till the rice is cooked well.

While serving, add the boiled and fried eggs that were kept reserved, such that each serving gets at least 2 pieces of the egg too.

Serve Handi Biryani Recipe With Chicken along with a side dish like Tomato Onion Cucumber Raita Recipe, and a side of Chicken Seekh Kebab Recipe.