Healthy Whole Wheat Brown Butter Banana Bread Recipe

Richa Gupta
On

Thursday, 25 June 2015 00:14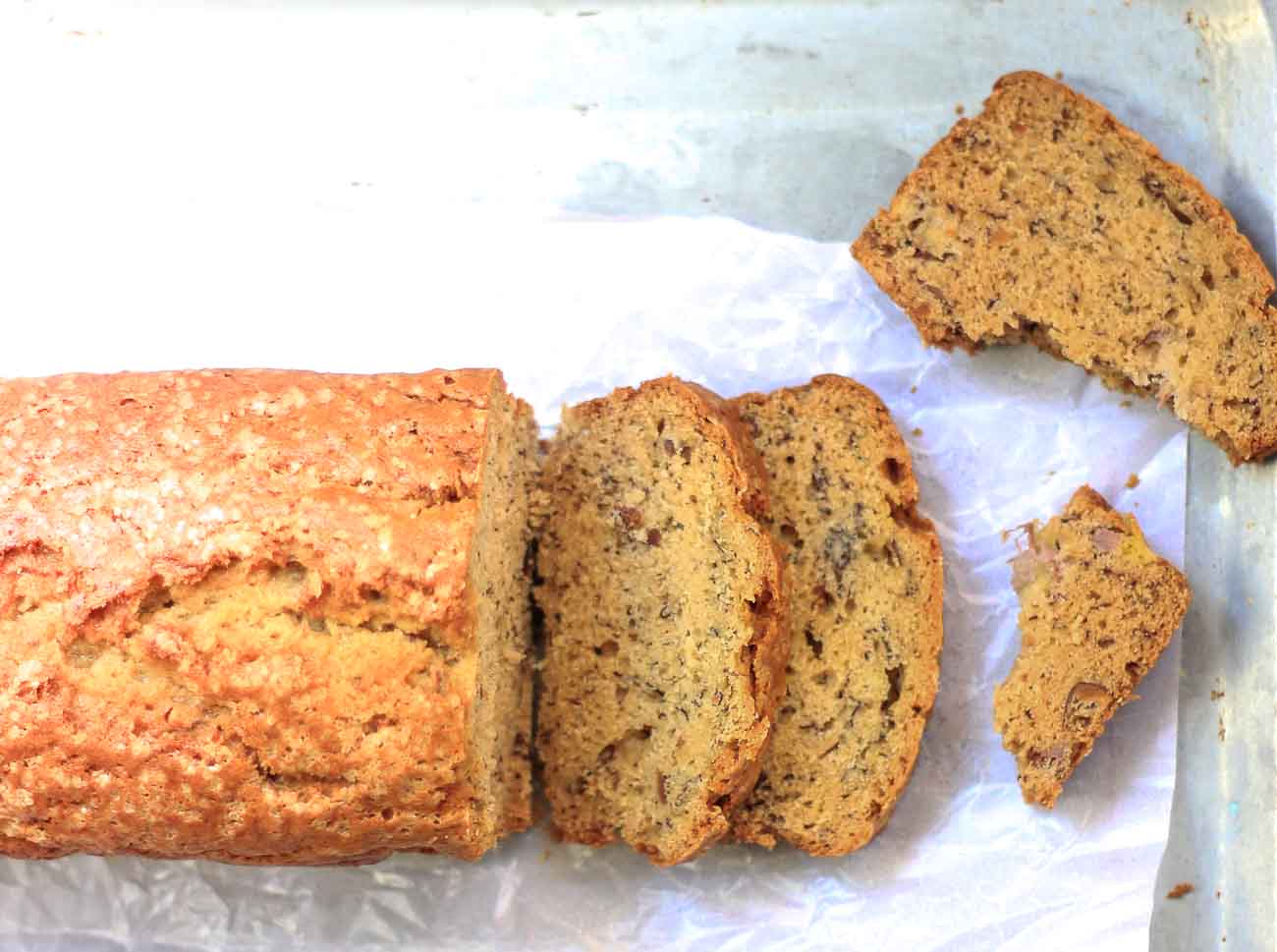 The Healthy Whole Wheat Brown Butter Banana Bread Recipe is a moist, nutty and healthy banana bread which uses whole-wheat flour and is makes great tea time snack. This banana bread can also be packed as a wholesome healthy snack for the school kids lunch boxes. The Whole Wheat Brown Butter Banana Bread recipe is a perfect way to use the leftover bananas in the kitchen. For making this bread eggless (egg free) use the flax meal egg replacer, as mentioned in the ingredients.
Here are more homemade bread recipes to try
Note: This recipe works best if you use bananas which are over-ripe. It doesn't require a hand blender like most cake recipes, and a simple whisk or fork will do the trick.
Ingredients
1/2 cup

Butter (Unsalted)

3/4 cup

Caster Sugar

, or brown sugar
2

Whole Eggs

, or (flax meal egg replacer)
1/4 cup

Milk

, at room temperature
1 teaspoon

Vanilla Extract

3

Ripe Bananas

, (over ripe is great for the recipe)
1-1/2 cups

All Purpose Flour (Maida)

1/2 cup

Whole Wheat Flour

1 teaspoon

Baking soda

1 pinch

Salt

1/2 cup

Whole Almonds (Badam)

, roasted & chopped (Can be substituted with other nuts)
How to make Healthy Whole Wheat Brown Butter Banana Bread Recipe
To begin making the Healthy Whole Wheat Brown Butter Banana Bread Recipe, melt the butter in a pan on medium heat. Butter will start foaming and crackling. Swirl the pan as the crackling subsides.

At this stage the butter will start to change its colour to brown and will begin to start smelling nutty. Turn off the flame and transfer butter to a large mixing bowl. Allow the butter it cool.

Pre-heat oven to 175 degree Celsius. Grease an 8X5 inch loaf tin with butter and line with parchment paper in such a way that the parchment paper hangs over the edges. This will help you lift out the banana bread easily once it's baked.

Place some almonds on a baking sheet and put it into the oven while it is preheating, so the nuts get roasted in the preheating process. Keep it for about 7 to 8 minutes. Once the nuts are roasted, chop them up and keep aside.

Once the butter has cooled, add sugar and mix well. Add the eggs (or flax meal egg replacer) one at a time, mixing after each egg till everything has combined. Add the milk and vanilla extract to this mixture, and give it another whisk.

Peel the bananas and mash them into the mixture.

In another bowl, combine the flours, baking soda and salt. Sift this into the bowl with the banana mixture, and fold until everything is combined. There is no need to blend or over mix at this stage. Add the nuts and fold again.

Pour the banana bread cake batter into the prepared loaf pan. Sprinkle with a little sugar on the top, this gives an amazing crunchy crust to the bread.

Tap once to get rid of air bubbles, and place the banana bread loaf pan in the oven. Bake for about 50 to 60 minutes. Start checking for done-ness around 50 minutes. A skewer or fork inserted into the middle should come out clean when it done.

Once baked, let the bread cool in the pan for 8-10 minutes. Lift the bread using parchment paper and let it cool on a wire rack for another 10 minutes before serving.

Serve the Healthy Whole Wheat Brown Butter Banana Bread as a tea time snack or pack into the lunch boxes for the kids school.