Homemade Canape Papdi Chaat Recipe
Homemade Canape Papdi Chaat Recipe is a delicious and exciting chaat recipe made from home made canapes filled with healthy sprouts tossed in chaat masala powder. Make these for your next chaat party and wow your guests.

Jyothi Rajesh
On

Tuesday, 10 November 2015 00:26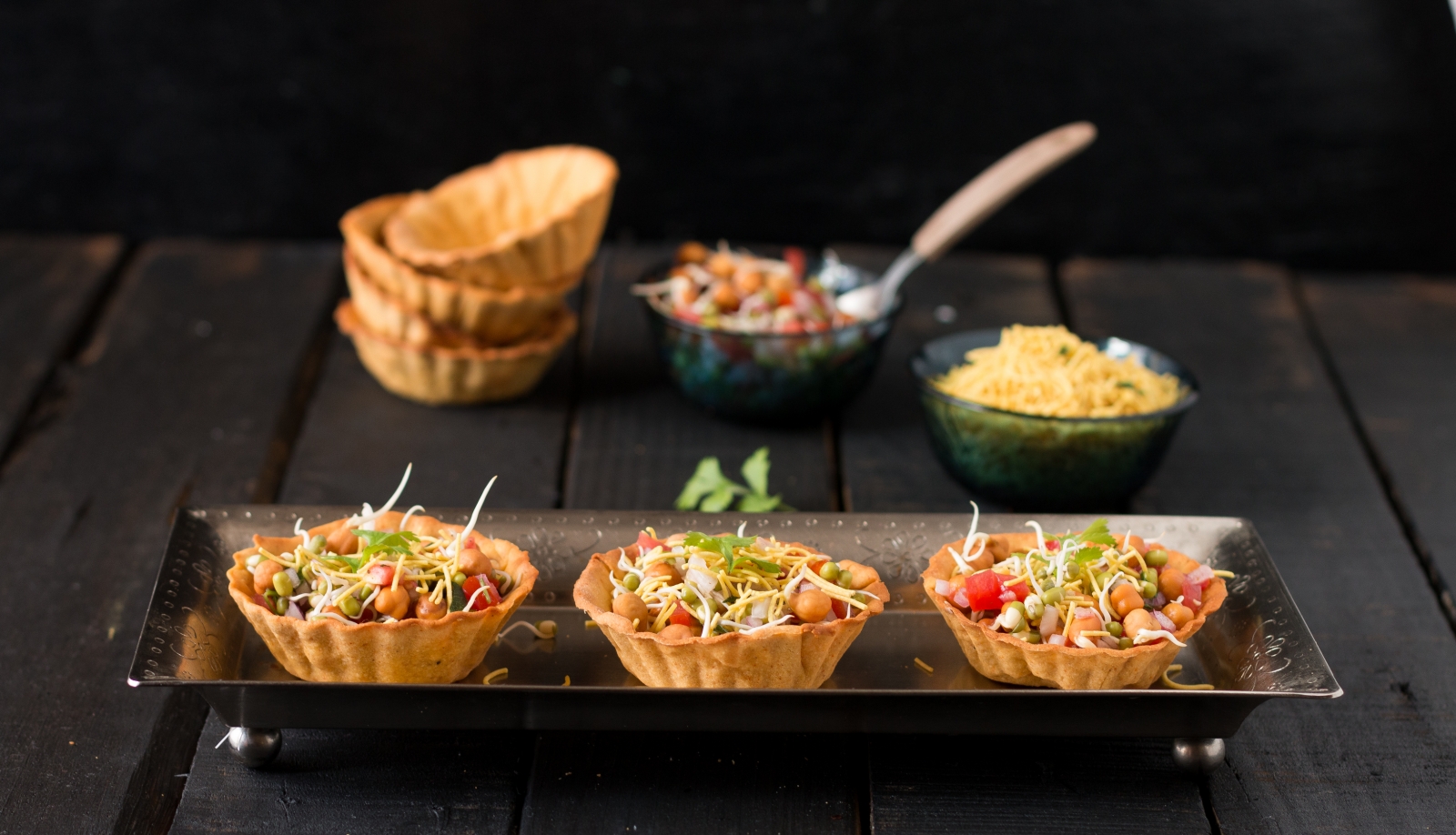 The Homemade Canape Papdi Chaat Recipe is a very exciting and fun way to eat chaat that is loaded with all the healthy ingredients like sprouts. The canape chaat makes a great inclusion in your late evening "chaat party". The canapes are not just easy to handle and pop into mouth, they can also be made ahead and stored. Impress your guests of all ages with this delicious Homemade Canape Papdi Chaat Recipe.
Chaats are best enjoyed when eaten on the road side stall which is also believed as a traditional way to eat it! But with the taste that is finger licking good comes a question of hygiene and food safety! That should never stop us from savoring our most craved street food, right! When you can make it at home with the prize of 100% hygiene and safe there is also a benefit of making it healthy by adapting the recipe as per your personal choice.
Chaats are not part of the meal, they are eaten as mid meal snacks, mostly after school or in the evenings before the dinner! It can also be served as a appetizer. For a party or get together, chaats always are welcomed and most liked dish among youngsters and adults.
Serve Homemade Canape Papdi Chaat as an appetizer to your party meal of Nawabi Kofta Curry Recipe, Methi Matar Pulao Recipe - Fenugreek And Green Peas Pulao and Khubani Ka Meetha Recipe
The road side foods are specialty of Indian cities and reflection of India's culture and tradition,stall vendors of street offers different kinds of delicious and tasty food such as famous:
Parathas,
Ingredients
For the canape
1 cup

Gram flour (besan)

1 1/2 tablespoons

Instant Oats (Oatmeal)

, ground to a fine flour
1 1/2 tablespoons

Whole Wheat Flour

1 tablespoon

Kashmiri Red Chilli Powder

1 tablespoon

Oil

1/2 teaspoon

Cooking soda

Salt

, to taste

Water

, as required
For making chaat
1/2 cup

Green Moong Sprouts

1/2 cup

Chickpea Sprouts

1

Onion

, finely chopped
1

Tomato

, finely chopped
2 sprig

Coriander (Dhania) Leaves

, finely chopped
2 tablespoon

Lemon juice

1 teaspoon

Chaat Masala Powder

1

Green Chilli

, finely chopped
1/4 cup

Sev
How to make Homemade Canape Papdi Chaat Recipe
To begin making the Homemade Canape Papdi Chaat Recipe, we will first make the canape papdi. In a bowl sieve to gather besan, oats flour, wheat flour. Add red chili powder, salt, oil, cooking soda and mix until the flour turn to form crumble.

Add water little by little to the canape papdi mixture until you get a soft and stiff dough. Cover the dough with damp cloth and let it rest for 30 minutes.

Once well rested, knead for a few minutes again. Pinch a small portion of the dough, roll it into a ball.

Sprinkle wheat flour on a clean surface. Place the ball on the surface and roll it as thin as possible. Cut out smaller round shapes and place them over a greased tart pans pressing them to the edges. Scrap out the extra dough from the edges of the tart pans. Repeat this step for rest of the dough.

Preheat the oven at 150 degree centigrade. Place the tart pans in oven and bake the canape papdis until they start to turn golden brown. Remove from oven, let it cool for some time. Then gently pull the canapes out of the tart pan.

These canape papdi cups can be stored in airtight containers for about a week.

To make canape papdi chaat, mix all the ingredients mentioned except sev under the list 'for making chaat' in a bowl. Check the salt and seasoning and adjust to suit your taste.

When you are ready to serve, spoon in the chaat mixture into canape papdi cups. Sprinkle some sev over top and serve the Homemade Canape Papdi Chaat immediately. If you prefer you could add some yogurt, green chutney and sweet chutney to give it an added taste and flavor.

Khubani Ka Meetha Recipe (A Rich Hyderabadi Nawabi Dessert)