Homemade Kit Kat Bars Recipe
Give these irresistibly simple bars of wafers dipped in molten chocolate a try and serve them to your kids as a after school treat with a smoothie of your choice.

Vanitha
On

Monday, 13 February 2017 00:16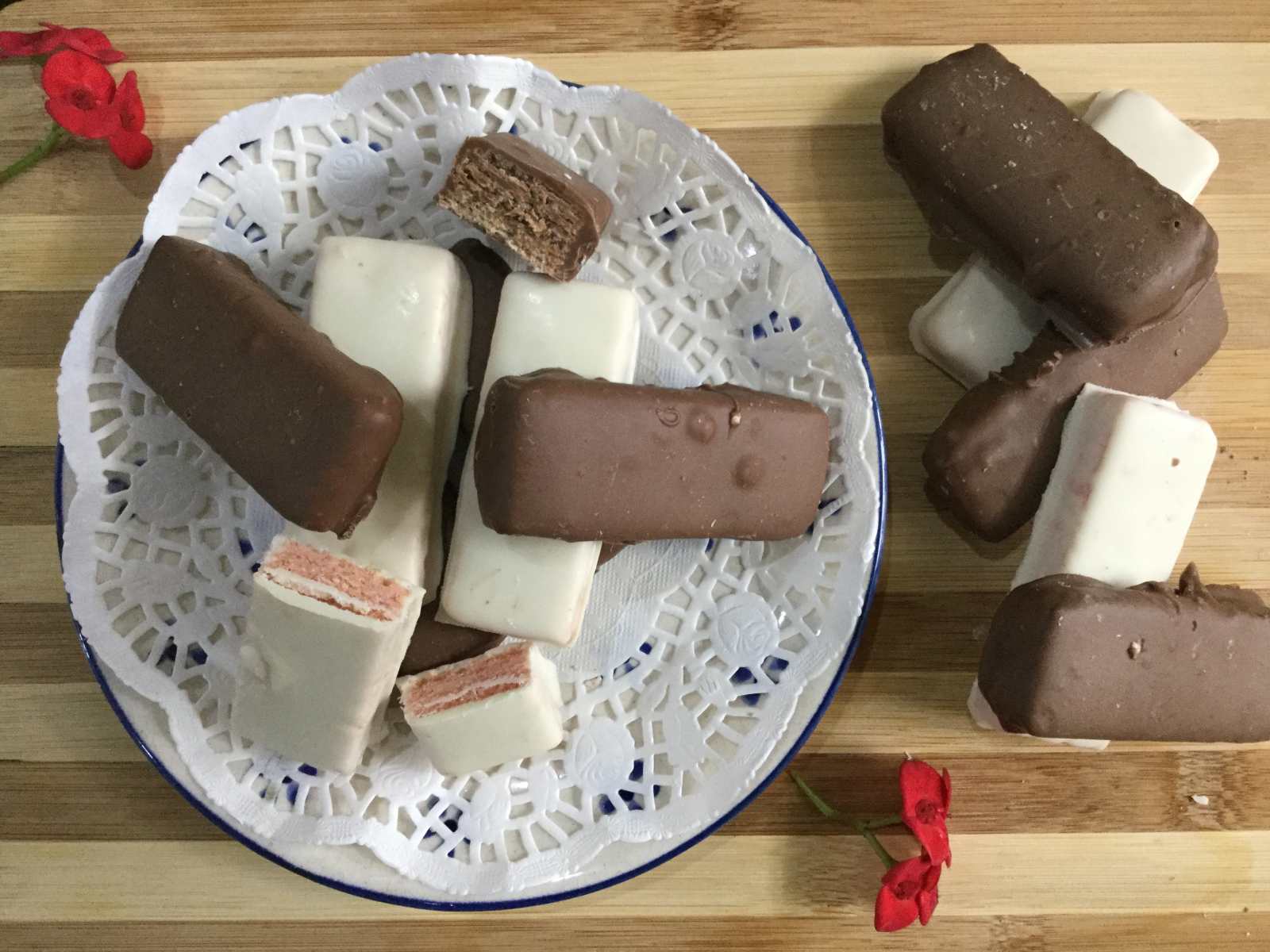 Homemade Kit Kat bars recipe is a very easy recipe to make especially when you have sudden cravings for something chocolatey. Kids are sure to like this recipe and might not stop with one bar to snack on. You can also serve Homemade Kit Kat bars as a dessert at a house party or birthday party.
These simple Kit Kat bars do not need much time to set and you can store them in an airtight container in the refrigerator for a couple of days. These Kit kat bars are fun to make and you can involve your kids into making these Kit Kat bars.
Serve Homemade Kit Kat bars recipe with a glass of Chickoo Banana Date Smoothie Recipe to kids as an after school snack.
If you like this recipe, try more chocolate recipes like
Ingredients
200 grams

Milk chocolate

200 grams

White Chocolate

3

Chocolate wafers

3

Strawberry wafers
How to make Homemade Kit Kat Bars Recipe
To begin maling the Homemade Kit Kat Bars Recipe, take a large baking or metal sheet pan and line with aluminium foil or parchment paper.

Chop the chocolates into small pieces ,to facilitate the melting process and keep them in separate bowls.

First let us make the milk chocolate kit kat bars.

Set up a double boiler (a small pan with boiling simmering water on which to place the bowl of chopped chocolates). As the bottom of the bowl heats up, the chocolate will start melting. Keep stirring till completely melted.Remove from heat and mix well till chocolate is smooth and without lumps.

Take one chocolate wafer and dip in the melted chocolate. Pour chocolate on the wafer with a spoon to coat completely, turning it often with the spoon. Gently lift the coated wafer with a fork and tap the fork on the edge of the bowl so that excess chocolate drips and then gently place the chocolate coated wafer on foil-lined pan.

Continue with all the chocolate wafers the same way.

Do the same process with strawberry wafers and white chocolate.Once you have dipped all your wafers, allow the bars to set completely in the foil-lined pan. You can place the kit kat bars in the refrigerator as well to set quickly.

Once it has set completely, gently slide it out from the foil and serve these crunchy, chocolaty homemade Kit Kat bars or take a bite yourself!!

Serve Homemade Kit Kat bars recipe with a glass of Chickoo Banana Date Smoothie Recipe to kids as an after school snack.
If edges are uneven, trim with a sharp knife.
You can make these with any flavor of wafers and any type of chocolate (milk, dark or white).
Chocolate can be melted easily in the microwave too. Place in microwave for 30 second bursts, stirring in between till completely melted.
If you have leftover chocolate, you can use it to coat fruits, other cookies, nuts etc.