Homemade Low Fat Strawberry Frozen Yogurt Recipe
If you are looking for a healthy and low fat dessert you must try this Strawberry Frozen Yogurt Recipe which is a simple to make at the comfort of your kitchen.

Archana's Kitchen
On

Sunday, 29 March 2015 00:33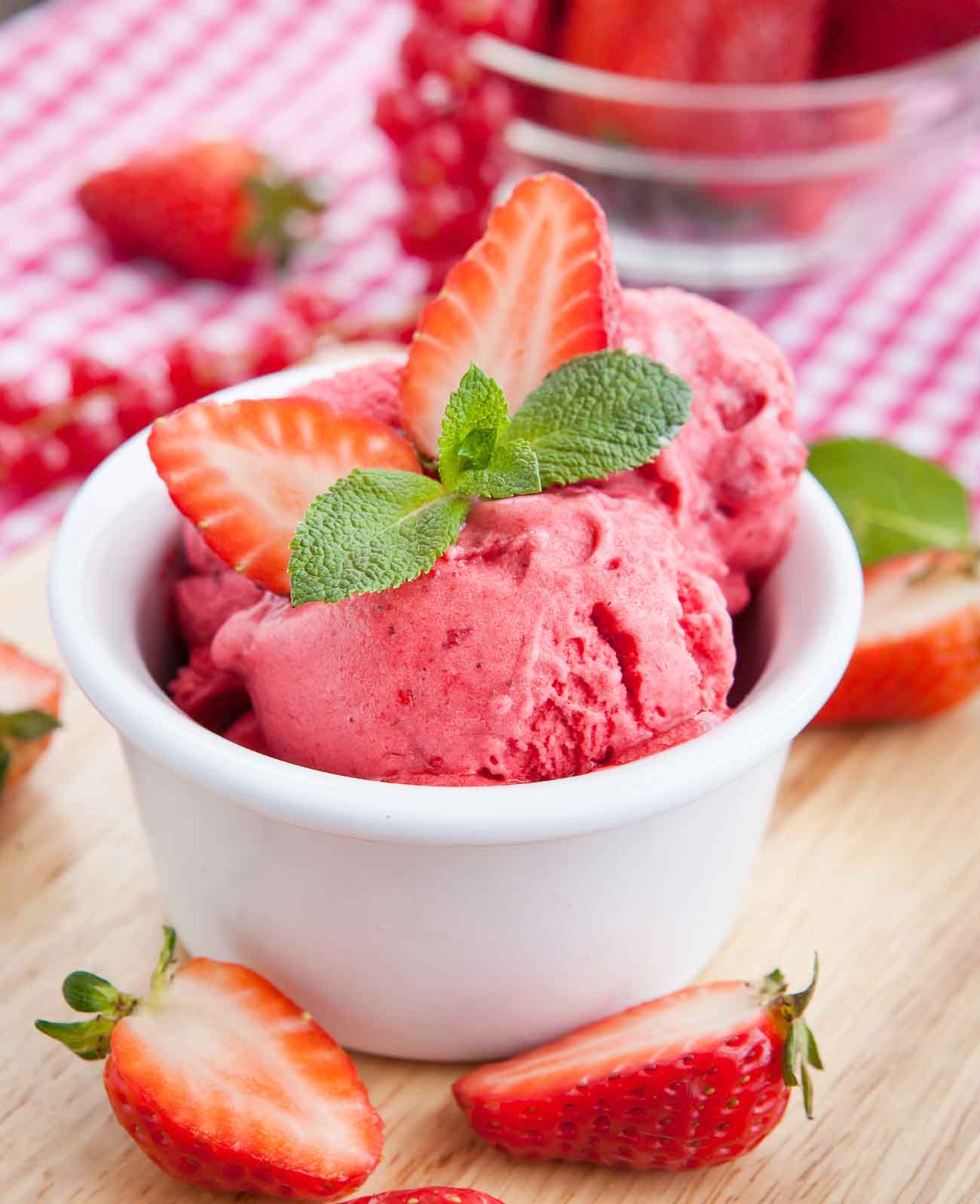 Strawberry Frozen Yogurt Recipe is a simple to make low-fat dessert that you can make at the comfort of your kitchen. The recipe is made from fresh strawberries, hung curd (greek yogurt), honey and mint to give the fresh bursting flavors of this summery dessert. When strawberries are in season, you must give this recipe a try. The Strawberry Frozen Yogurt is preservative free and you can indulge in its goodness right away.
Here are more party desserts to try
Note: You can store the Strawberry Frozen Yogurt in the freezer for upto a month.
Did you know: Strawberries are rich in the essential nutrients vitamin C, potassium, folic acid and fiber. One cup of fresh strawberries contains daily requirement of vitamin C. This nutritional powerhouse also contain the mighty antioxidants anthocyanins, ellagic acid, quercetin and kaempferol, which all have been shown to have protective effects against certain types of cancer.
Ingredients
750 grams

Strawberries

500 grams

Hung Curd (Greek Yogurt)

, (low fat)
1/2 cup

Honey

Basil leaves

, few sprigs
How to make Homemade Low Fat Strawberry Frozen Yogurt Recipe
To begin making the Homemade Low Fat Strawberry Frozen Yogurt Recipe, remove the stem of the berries. Blend the strawberries along with the honey and basil into the blender to a smooth puree. You can optionally have chunks in the strawberry as well.

Into a large bowl, add the pureed strawberries and the hung curd (greek yogurt). Using a whisk fold the yogurt into the strawberries until just about combined.

Our next step is to freeze the strawberry yogurt mixture. To do that, line a loaf tin with parchment paper. Pour the mixture into the lined tin.

Cover the loaf tin with a cling film and freeze the Strawberry Yogurt mixture overnight or until solid. Freezing the yogurt can take anywhere between 12 to 18 hours.

Once the yogurt is frozen, place the Strawberry Frozen Yogurt outside at room temperature for about 5 to 10 minutes to thaw a bit and then scoop it out using an ice cream scoop and serve along with fresh strawberries and mint.