Homemade Plum Jam Recipe - Plum Preserve
When plum are in season you must try this super simple plum jam made with just three ingredients. It has no preservatives and no artificial colours. The best part it stays for 3 to 4 months when refrigerated.

Archana Doshi
On

Friday, 03 September 2021 19:24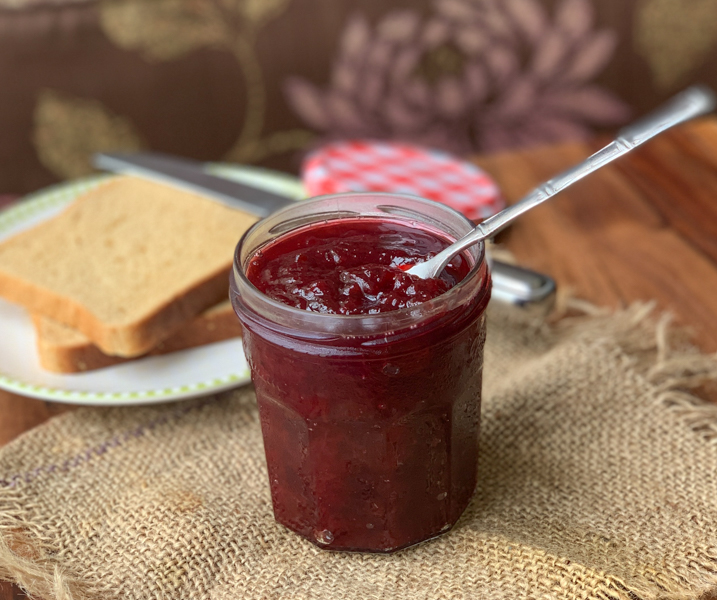 Jams made fresh from fruits have their own unique flavor than the store bought ones. They can be made from pulpy fruits like apple, mango, guava, plums, pineapple, peaches etc. These fruits can be used individually or in combination. The Plum Jam recipe is from my mother's recipe file, they were always delicious when she used to make them.
Look at more of the strawberry recipes that you might find interesting-
Ingredients
1 kg

Plums

, de-seeded and cut into pieces
450 grams

Sugar

1 tablespoons

Lemon juice
How to make Homemade Plum Jam Recipe - Plum Preserve
To begin making the Plum Jam recipe, wash and cut the strawberries into small pieces. Prep all the ingredients and keep ready. You can also add dry ginger or in inch cinnamon stick for taste

Place all the ingredients into a large pot on low heat. Keep stirring till sugar melts.

Once the sugar melts, turn the heat to low and simmer with occasional stirring for 2.5 hours approximately until the sugar feels little sticky. Ensure you do this process on the lowest possible heat.

It takes a slow simmer for the entire mixture to get a jam like consistency.

Mash lightly at this stage and simmer for another 10 minutes and you will notice the plum jam has thickened and the sugar is very sticky too.

Turn off at this stage. The plum jam will thicken while it cools down.

Allow the Plum jam to cool completely. Bottle up and refrigerate for 3 to 4 months.

Use over Toasts, Khakra, Parathas, Bagels and more.