Coal Smoking Method For Tandoori Recipes - Smoke Food Using Charcoal
Here is a brilliant cooking technique you can use to get Tandoori Taste to your dishes. Watch the video and learn how to coal smoke your dishes to get a tandoori taste and flavour.

Archana Doshi
On

Wednesday, 18 June 2008 14:33
Smoking food at home, using hot charcoal is a super easy method to achieve the tandoori effect right in your own kitchen. This method lends that smoky flavour usually obtained by cooking in a tandoor, with as little as a piece of coal. Using this technique of coal smoking, you will get the taste and aroma that the food has just come out of the barbecue grill or a tandoor, without the hassle of firing up a tandoor or barbecue at home. You can do this right on your stove top.
Here are a few recipes where we can use coal smoking method:
Ingredients
4 inch

Coal

1 teaspoon

Ghee
How to make Coal Smoking Method For Tandoori Recipes - Smoke Food Using Charcoal
To begin, first take a piece of coal (about 3 inches big) and hold it over a gas flame with the help of tongs.

The coal will begin to turn red hot and grey in about 5 minutes. This indicates that the coal is ready to be used for smoking.

At this point heat a frying pan to medium heat and pour in the contents of the dish that you want to get the smoked flavor.

Make a well in the centre of the pan, by pushing a glass or steel cup into it. Place the hot coal inside the cup. Pour a spoon of ghee on the coal.

It will begin to smoke. Immediately cover the pan and reduce the heat to low and allow it to rest for about a minute. Open the lid and remove the coal cup. You dish will now have a smoked tandoori flavor.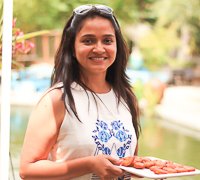 Archana Doshi is the founder of Archana's Kitchen. Archana launched Archana's Kitchen in 2007 as a way to keep track of her and family's recipes, and along the way grew it into one of the most popular cooking websites in the world. Archana is dedicated to helping home cooks be successful in the kitchen. Archana says "I hope you enjoy cooking recipes from my website where the sole effort is to make cooking simple for you. When you try out one of our recipes, we are longing to hear back from you. Do take your time to come back and share your comments, as your feedback means a lot to me"