Homemade Pita Bread Recipe - Quick and Simple Recipe
Pitta or Pita Bread or Khubz is a round pocket bread that is predominant in the Mediterranean and Middle Eastern Cuisines Make the homemade pita bread and serve it along with Tabbouleh, Falafel and Hummus for a wholesome dinner.

Archana Doshi
On

Thursday, 08 December 2011 20:15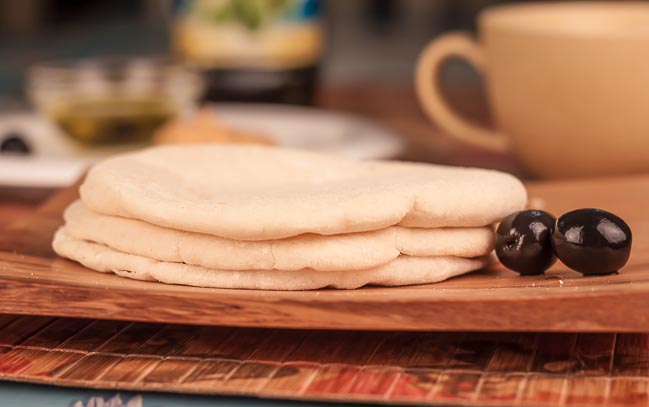 Pitta or Pita Bread is a round pocket bread that is predominant in the Mediterranean and Middle Eastern Cuisines. Traditionally called as khubz (ordinary bread) it is similar to the Indian flat puffed flatbread (Phulkas ) which is also a bread of the common man. It can be made in various shapes and sizes, although if you are going to use it as a pocket for filling then the circular shape is preferred.
Traditionally and even now in most middle eastern countries, the bread is prepared in the tannur which is similar to the brick oven or the modern tandoor. Pita bread is baked in the oven at very high temperatures (450F / 250C) causing the flattened bread to puff quickly, retaining moisture and softness. Different countries use the bread differently, some along with dips, some use it to fill in with pockets and others bake such that there are no pockets.
Serve the delicious Pita Bread along with Tabbouleh, Falafel and Hummus for lunch or dinner.
Here are few more homemade bread recipes for you to try:
Makes:

15 medium size pita bread
Ingredients
3 cups

All Purpose Flour (Maida)

2 teaspoons

Active dry yeast

1-1/2 teaspoons

Salt

1-1/2 teaspoons

Sugar

1-1/4 cups

Water

, luke warm
2 tablespoons

Extra Virgin Olive Oil
How to make Homemade Pita Bread Recipe - Quick and Simple Recipe
To begin making the Homemade Pita Bread recipe, first prepare all the ingredients and keep them ready. Read the entire recipe before you begin, so you know the steps that follow.

If you are using active dry yeast (look like small round balls) - follow the instructions given in the packet. Fast action yeast looks more like fine semolina and you can use this too to make the pita bread.

In a large bowl combine the flour, salt and sugar and gradually add in the yeast and knead the dough until smooth and elastic, adding little flour if it tends to get sticky. Once all of the ingredients form a ball; add the olive oil and place the ball on a work surface and knead the dough for approximately 10 minutes. Repeated kneading combines all the ingredients well and will help the bread rise well in the oven.

Once you have finished kneading and gained enough arm muscle; place the dough in a large bowl coated with olive oil and cover it with cling wrap/plastic wrap and allow it to rise for about 2 hours. After two hours you will notice that the dough has doubled. At this point punch the dough down and kneaded gently. Divide the dough into 10 portions and roll each portion into a ball. Place the balls on a baking sheet and cover them with a damp cloth and let them sit for another 30 minutes.

While the dough is resting, preheat the oven to 250 C. The oven should be preheated for at least half an hour before you can bake the pitas in them. Now it should be time to work your dough into flat bread. Take one ball, dust it with a little flour and dust the work surface as well. Using a rolling pin, roll the pita into an oval or a circle. Make sure the pitas are thin; about 1/8th inch or 1/4 inch thick. Continue the same with the remaining dough balls.

Place the rolled portion of pita bread on dusted baking sheets and place it inside the oven. Bake the pita dough until they puff - you will see them rising forming bubbles, to slowly puffing and fully puffing up.

The whole process takes a maximum or 3-5 minutes and not more than 5 minutes. If the pita bread does not rise in 5 minutes, then take them out. The Pita Bread will still be cooked, but just wont have pockets and will still taste just as good.