Instant Garlic Pickle Recipe
Easy accompaniment recipe with spicy seasoning

Sowpernica
On

Monday, 26 December 2016 00:00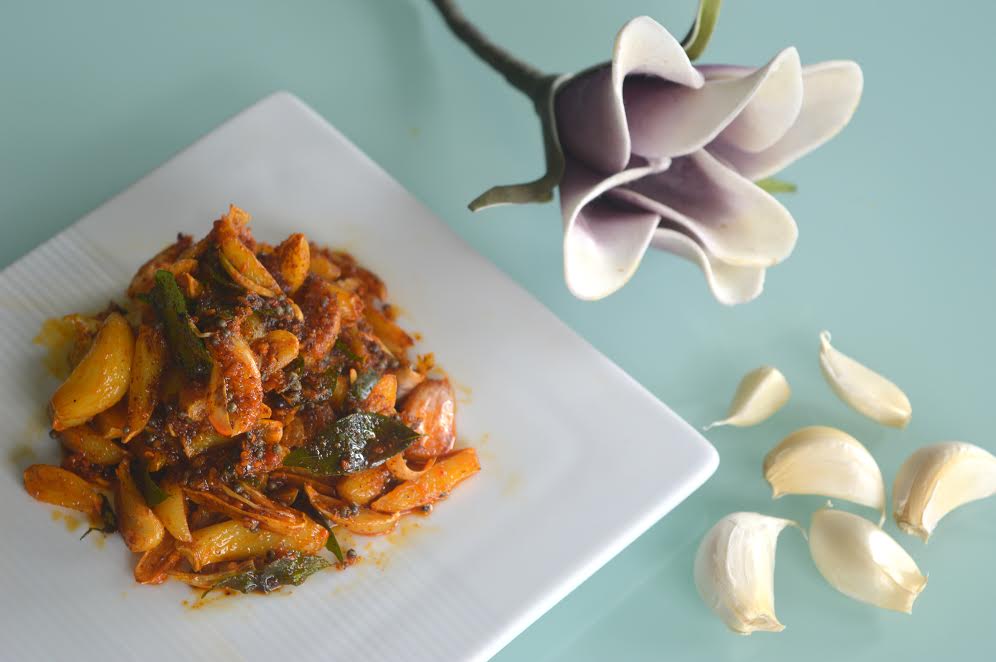 The saying "Let food be thy medicine, and medicine be thy food, applies perfectly for Garlic. Made with a combination of powders and minimal ingredients this Garlic Pickle is sure to tickle the food palates of your tongue. A great accompaniment with curd rice, this crunchy Garlic Pickle can be made almost instantly if you have all the powders and peeled garlic handy.
Other pickle recipes that you can try are:
Garlic – 2 whole ones
Salt – ¾ teaspoon (flat)
Sesame oil – 5 tablespoons
Chilli powder – 1 teaspoon (flat)
Fenugreek powder – ¼ teaspoon
Turmeric powder – ¼ teaspoon
Curry leaves - 20
Ingredients
2

Garlic

, (whole garlic pods)
5 tablespoons

Sesame (Gingelly) Oil

1 teaspoon

Red Chilli powder

1/4 teaspoon

Methi Powder (Fenugreek Powder)

1/4 teaspoon

Turmeric powder (Haldi)

Salt

, to taste
20

Curry leaves
How to make Instant Garlic Pickle Recipe
To begin the preparation of Instant Garlic Pickle, first peel the skin of garlic and cut into slices/ coarsely pound them.

Heat sesame oil in a deep pan, add mustard seeds & allow spluttering.

Add garlic pieces, chilli powder, turmeric powder and fry till golden brown.

Add fenugreek powder, salt, curry leaves and mix well.

Once cooled, serve the Garlic Pickle fresh with curd rice or keep it keep it in a dry, airtight container.