Instant Kalakand Recipe -Indian Festive Sweet Recipe
You can resist these freshly made sweet Instant Kalakand. One of the popular Indian dessert,make these Instant Kalakand recipe for your festivities and wow your family and friends.

Jyothi Rajesh
On

Friday, 18 September 2015 00:51
Kalakand is a delicious milk fudge cake that is popularly made in India during the festive season. Kalakand is a popular Indian sweet made out of solidified, sweetened milk and cottage cheese. It is a rich sweet made from concentrated milk called Khoya and homemade Paneer called Chena. This is a quick and instant recipe of Kalakand that you can make for the festivities or any other special occasion in the family.
Serve Kalakand along with other festival recipes like Saffron Pilaf and Churma Ladoo.
Other recipes that you can try are:
Ingredients
400 grams

Condensed Milk

500 grams

Paneer (Homemade Cottage Cheese)

, crumbled
1 teaspoon

Cardamom Powder (Elaichi)

Rose water

, few drops

Ghee

, to grease the pan
handful

Mixed nuts

, chopped (optional)
How to make Instant Kalakand Recipe -Indian Festive Sweet Recipe
To begin making the Instant Kalakand, place the paneer and condensed milk in a non stick pan. Place the pan on low heat and cook . We have to keep stirring this mixture until it becomes thick.

Once you notice the kalakand mixture is beginning to turn thick, add the cardamom powder and a few drops of rose water. Keep stirring until you notice the mixture begins to leave the sides of the pan.

Once the kalakand mixture leaves the sides of the pan, turn off the heat.

Grease a square pan with ghee. Add this hot kalakand mixture and spread it evenly with your fingers or with the back of a spoon. Sprinkle some chopped nuts like almonds or pistachios.

Set the Instant Kalakand and cool completely. Once it cools down, refrigerate the Kalakand for 30 minutes just before cutting them into desired shape.

Once fully set cut them into desired shapes and serve. You can refrigerate the Kalakand for up to 2-3 days.

Serve Kalakand along with other festival recipes like Saffron Pilaf and Churma Ladoo.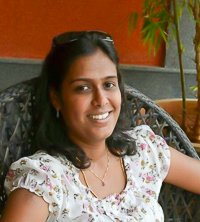 Jyothi Rajesh is an engineer by profession. Food and any thing related to food is her passion. She loves to cook, style and photograph food. She spends half of my week teaching Robotics to children and the rest of my week she get lost in cooking and photography. She cook for two reasons. First, cooking is, in all honesty, a way to show that she cares about people. It gives her great pleasure to make something that someone enjoys! Second, "I love the quest … the quest for great ingredient combinations, for unexpected flavors, for those "wow" recipes."