Jackfruit Seed Modak Recipe
The classic Maharashtrian Modak, made differently by stuffing the rice pockets with a filling made of jackfruit seeds. Make sure to try this Jackfruit Seed Modak Recipe during the festive season.

Neeru Srikanth
On

Sunday, 25 September 2016 00:22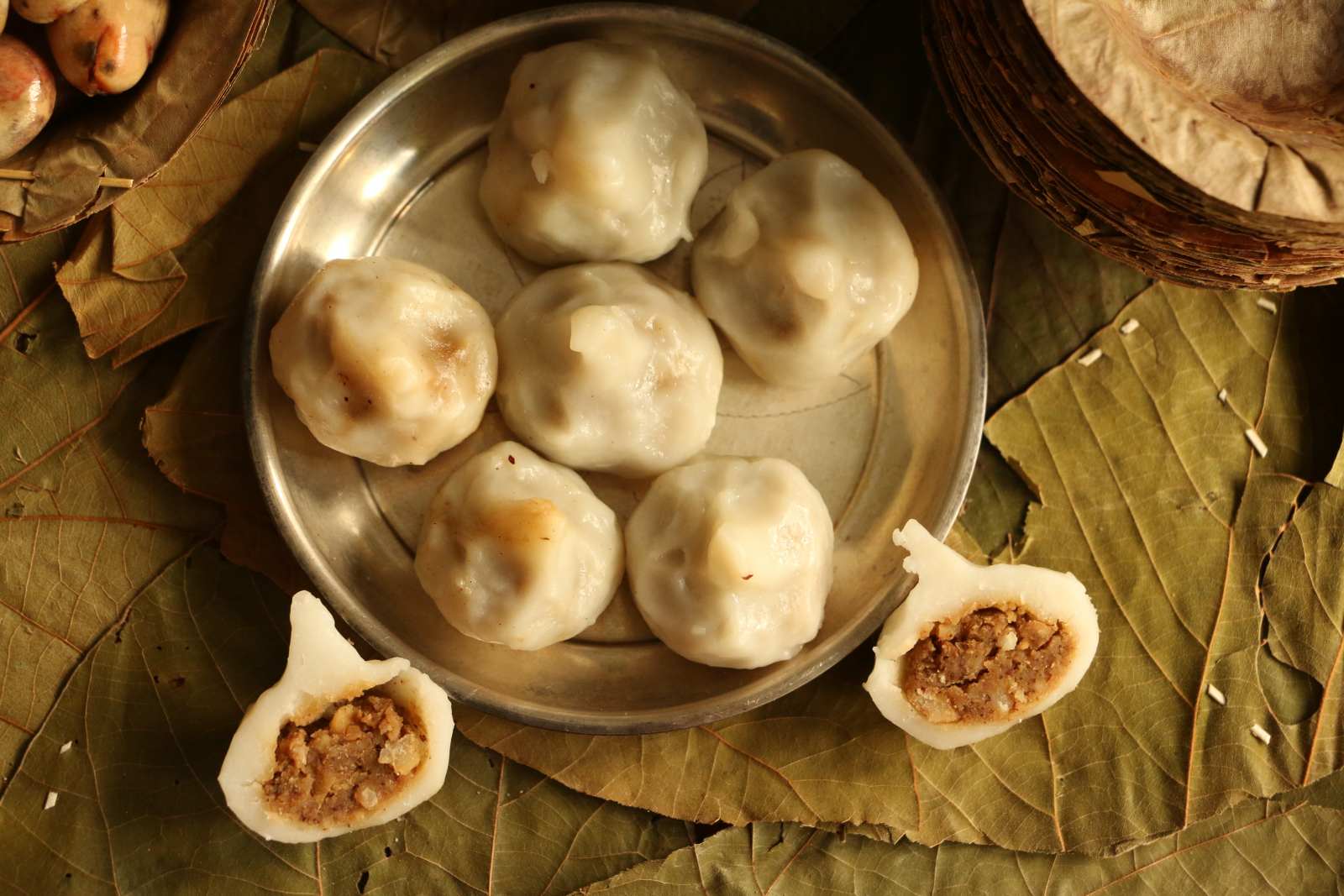 A twist to the classic Modak, this Jackfruit Seed Modak Recipe, is stuffed with a sweet mixture made of healthy jackfruit seeds, stuffed in a rice pocket.
Cooked Jackfruit seeds are combined with palm sugar to make modak stuffing. It is then stuffed in the rice flour dough and steamed in thonnai leaves (dried biodegradable leaves) to get a flavourful Jackfruit seed modak.
Did you know: Jackfruit seeds have a lot of nutrients which helps in comforting from indigestion, high in protein etc. The taste of this is almost similar to chana dal.
Palm sugar is used mainly due to its health benefits and also the powdered version does not require us to spend time in diluting in hot water and removing the impurities.
Serve Jackfruit Seed Modak on festivals or as a dessert after your festive meal of Matki Chi Rassa Bhaji Recipe and Rice Flour Bhakri Recipe and Maharashtrian Bharleli Vaangi Recipe.

If you like this recipe, you can also try other Modak recipes such as
Ingredients
For the stuffing
1 cup

Jackfruit Seeds (Kathal)

1/3 cup

Palm sugar

, powdered
1/2 teaspoon

Cardamom Powder (Elaichi)

For the outer layer
1 cup

Rice flour

Water

, as needed
1 teaspoon

Sesame (Gingelly) Oil

pinch

Salt

Others

Ghee

, as required, for rubbing the hands

Thonnai (dried leaves)

, as needed, to cover the pan
How to make Jackfruit Seed Modak Recipe
To begin making the Jackfruit Seed Modak recipe, we will first prepare the jackfruit seed stuffing.

Take a pressure cooker and add the jackfruit seeds with enough water. Pressure cook for 4 whistles.

Allow the pressure release naturally, drain the water and remove the outer thick white skin. The brown skin is fine. Allow it to cool completely.

In a mixer grinder, add the cooked jackfruit seeds, powdered palm sugar and cardamom powder. Blend well. Do not add water.

Transfer into a bowl and divide them into 14 equal balls. You need to rub your palm with ghee before shaping them so that they will not stick on to your hands.

The next step is to make the outer layer of the Jackfruit Seed Modak.

Take one cup of rice flour, add salt and half a teaspoon of sesame oil. Boil 2 cups of water, you may not need all of it.

Pour the water little by little on the rice flour and make it as a pliable dough. Add sesame oil to this and cover with a wet cloth. Open it only when needed.

Rub your hands with ghee. Take a small portion of rice flour and shape it into a round ball.

Later start making as a cup by starting to press from outer side. Place the stuffing and cover it.

In a pressure cooker and place the dried thonnai leaves, now place the modaks over the leaves and steam for 15 minutes and your Jackfruit seed modak is ready.

Serve Jackfruit Seed Modak on festivals or as a dessert after your festive meal of Matki Chi Rassa Bhaji Recipe and Rice Flour Bhakri Recipe and Maharashtrian Bharleli Vaangi Recipe. `