Kakka Orotti Recipe - Steamed Mini Rice Balls in Chicken Gravy
Kakka Orotti Recipe is a dish from the Kerala cuisine. Spicy chicken curry with steamed rice balls, making it an entire meal all by itself. This dish can be served for a delicious Sunday brunch.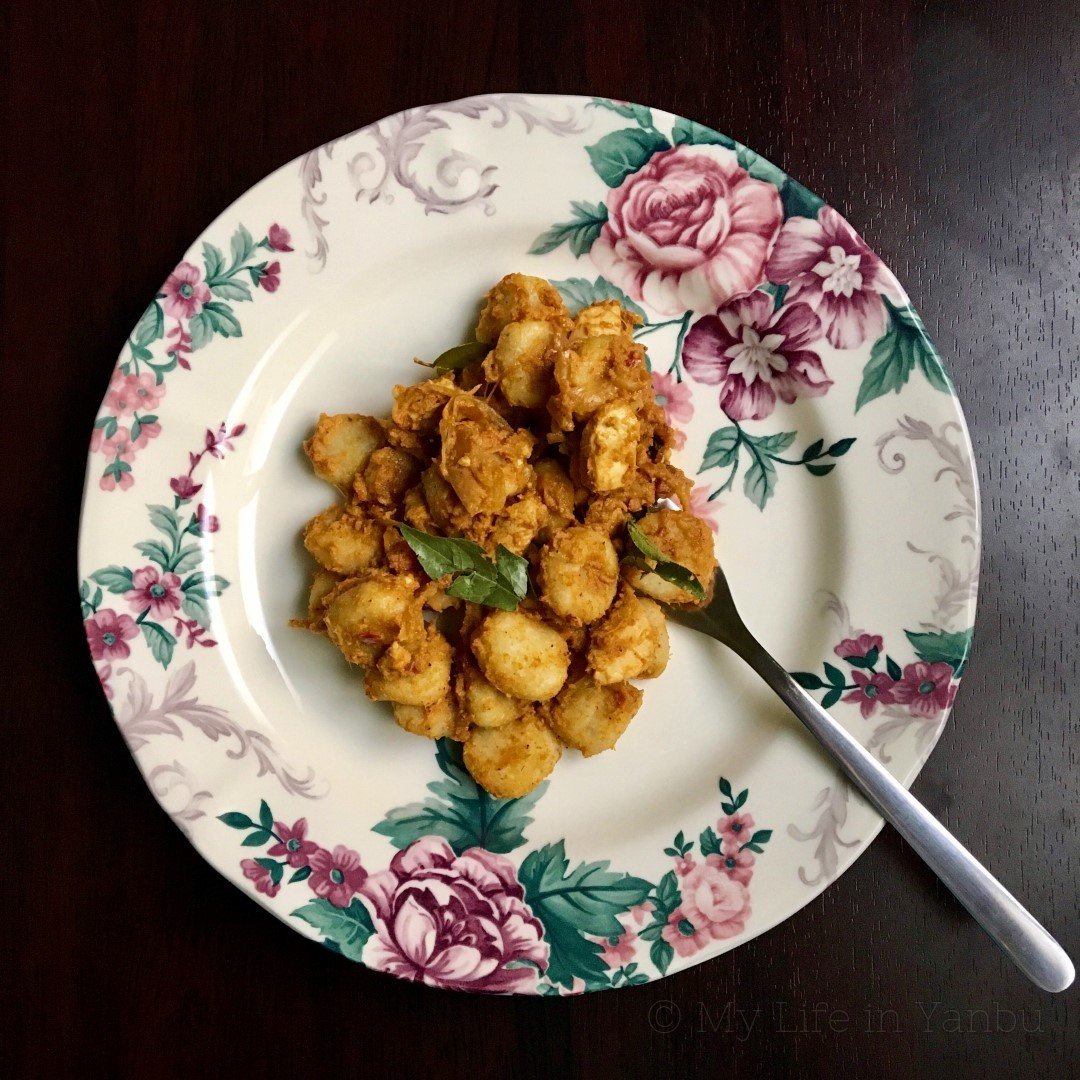 Kakka Orotti is a Malabar dish known by many other names like Aanapathal, pidi, aanaorotti, kunjipathal, undio, pinde, etc. The difference in name is largely depending on the region of origin in the southern state of India - mostly Kerala and coastal Karnataka.
They are known differently and also are made differently except that all of it uses rice for the balls, are steam cooked and are folded into a prepared chicken or meat curry with coconut base.
Kakka Orotti recipe I have shared is closest to our family recipe except that here I have used basmati rice to prepare the dough. Traditionally, it is done with Pachari or pacharsi or raw rice.
Kakka Orotti are small coin sized balls with a dent made of rice dunked in a chicken curry making it a meal all by itself.
Serve Kakka Orotti as a meal by itself for Sunday breakfast.
If you like this recipe, you can also try other Malabar recipes such as
Diet:
High Protein Non Vegetarian
Ingredients
For the mini steamed rice balls
1-1/2 cup

Basmati rice

, (or any long grain should work)
1 cup

Fresh coconut

, grated
1-1/4 teaspoon

Fennel seeds (Saunf)

1

Onion

, diced roughly
1/4 cup

Water

, adjustable
3 tablespoons

Rice flour

, adjustable

Salt

, to taste
For the ground coconut paste
2 tablespoons

Oil

1 teaspoon

Rice

, (same as you used for the dough)
1 teaspoon

Fennel seeds (Saunf)

3

Cardamom (Elaichi) Pods/Seeds

3

Cloves (Laung)

1/2 inch

Cinnamon Stick (Dalchini)

3/4 cup

Fresh coconut

, grated
2 cups

Water

For the chicken gravy
2 tablespoons

Oil

, or coconut oil
1

Onion

, finely chopped
1 tablespoon

Ginger Garlic Paste

1

Tomato

, chopped
2 teaspoons

Kashmiri Red Chilli Powder

1 tablespoon

Coriander Powder (Dhania)

1/4 teaspoon

Turmeric powder (Haldi)

500 grams

Chicken breasts

, cut into cubes
1 cup

Water

Fresh coconut

, paste (as required)
1/2 teaspoon

Garam masala powder

8

Curry leaves
How to make Kakka Orotti Recipe - Steamed Mini Rice Balls in Chicken Gravy
To begin making the Kakka Orotti recipe, we will firstly prepare the dough.

Wash, rinse and soak the rice in water for 3 to 4 hours.

Drain and add the rice into the large jar of a mixer-grinder, and grind it along with minimal water to a coarse and grainy mixture.

Now, open and add fresh grated coconut, fennel seeds and roughly chopped onions and grind for few more seconds (the mixture is not smooth, we just need to bring all together in a coarse texture).

Transfer the mixture into a bowl and add salt and start adding rice flour little by little until you are able to make the mixture into a non-sticky dough.

You should be able to pinch a little and make balls that don't fall apart or too sticky. Cover and keep it until needed

Make Kaka Orottis and steam them. Grease your steamer vessels lightly with oil.

When you are ready to prepare the kaka orottis, rub both your palms and fingers with oil and take a handful of the dough, roll it between your hands into a log shape.

Keep the log shaped dough on your left hand and pinch a small portion and roll in into a ball on the left-hand palm. Press it lightly in the middle to make a dent and keep them on the pan.

Repeat this until the steamer pan is filled with these balls.

Steam cook for 10 minutes until done. You will notice that they become hard when done.

Transfer them to a container and repeat until all of the dough is used up.

The next step is to prepare the coconut paste.

Heat oil in a heavy bottomed pan on medium flame.

Add raw rice, green cardamom, cloves and cinnamon and sauté until rice puffs up and you get the rich aroma of the spices.

Add fennel seeds, grated coconut and sauté again until the coconut starts turning golden.

Let it cool and then grind with water to make it into a smooth paste.

Next, we will prepare the chicken gravy.

Heat oil in a heavy bottomed pan. (this will be the pot where you will add the steamed kaka orotti)

Add the chopped onions and sauté until golden. Adding salt at this stage will help cook the onion faster.

Add ginger garlic paste and saute for couple more minutes or until the raw smell fades.

Now, add the chopped tomatoes and cook for few minutes until everything comes together. You can cover and cook at this point if it is too dry.

Add all the spice powders including red chilli powder, coriander powder and turmeric powder and sauté for few seconds.

Now, add the washed and drained chicken pieces and stir well.

Add about a cup of water and cover and cook until chicken is cooked completely.

Add the prepared coconut paste, garam masala and bring to boil while stirring well.

Now, add some curry leaves and gently fold in the kakka orotti.

Fold until all the coins are coated with the gravy. Cover and cook on very low flame for 5 minutes. Switch off and serve hot for lunch or dinner.

Serve Kakka Orotti as a meal by itself for Sunday breakfast.