Karjikai (Karnataka Style Deep Fried Sweet Pastry Recipe)

Karthika Gopalakrishnan
On

Sunday, 06 November 2016 00:24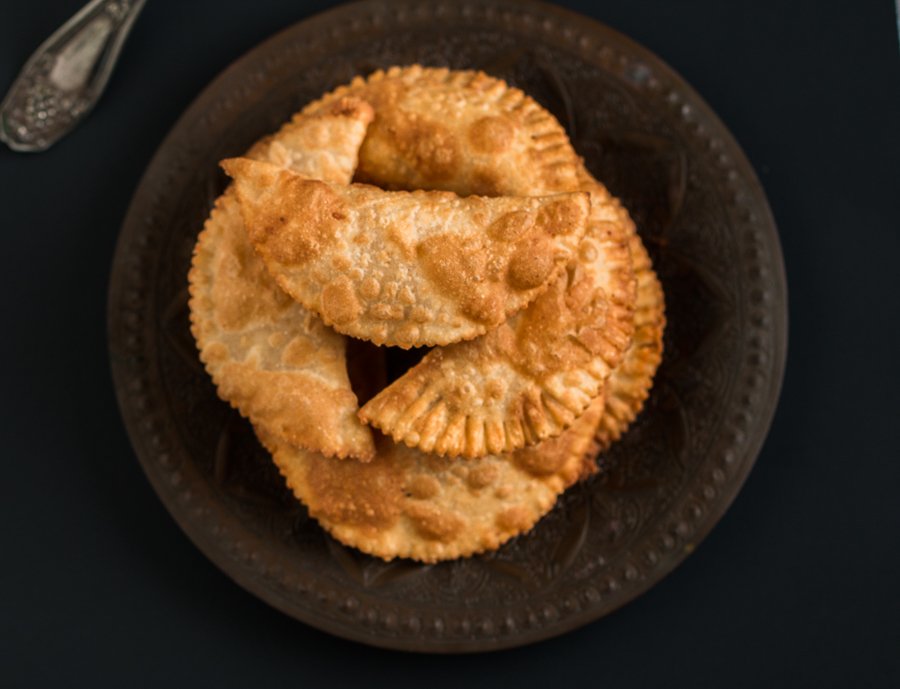 Karijikai/Karanji is a deep fried pastry filled with sweet filling. If you are wondering as what Gujiya is, well, it is similar to Karanji and referred as Gujiya in northern parts of India while it is called karanji in the southern part of India. Karjikai is deep fried crescent shaped pastry sheets prepared with all-purpose flour/wheat flour and filled with sweet stuffing prepared using jaggery, dal, and coconut. The filling can be prepared according to your culinary imagination and gastronomical preferences. Karjikai (Karnataka Style Deep Fried Sweet Pastry Recipe) are prepared during the festive time as an offering to God (Naivedyam) along with other festive recipes and later distributed to kith and kin.
Here are a few more festive recipes for you to try
Ingredients
1 cup

All Purpose Flour (Maida)

1/4 cup

Sooji (Semolina/ Rava)

3 tablespoon

Rice flour

2 tablespoon

Ghee

Water

, for the dough

Oil

, to fry
For Stuffing
1/2 cup

Roasted Gram Dal (Pottukadalai)

1/4 cup

Fresh coconut

, grated
1/2 cup

Jaggery

, grated
1/2 teaspoon

Cardamom Powder (Elaichi)
How to make Karjikai (Karnataka Style Deep Fried Sweet Pastry Recipe)
To prepare Karjikai (Karnataka Style Deep Fried Sweet Pastry Recipe), make the pastry dough. To make the dough, In a small pan, heat ghee.

In a mixing bowl, add all-purpose flour, rava, and rice flour. Combine them together. Add the heated ghee to the flour mixture. The ghee should be really hot, such that once added to the flour, the flour bubbles up.

Combine them together with hand. The mixture resembles breadcrumbs. The ghee should be added hot to the flour for the crispy flaky outer layer.

Add water and knead the dough. Ensure the dough is not too soft.

Cover the kneaded dough with a damp cloth until they are fried. This prevents the dough from losing its moisture and avoid cracks while frying.

Let's prepare the filling now. In a mixer, add roasted chana dal and coconut. Grind them into a coarse powder in a mixer grinder. Add grated jaggery to the mixture and combine them well.

To prepare karjikai, take a lemon sized dough and make a small ball out of it.

Roll them into a small circle of 2mm thickness. Ensure to cover the remaining dough with a damp cloth.

Now, you can shape Karjikai with molds if you have. Else, cut the rolled dough into circles using a cookie cutter or with a simple jar lid.

Place a spoon of stuffing on one side of the rolled dough. Brush the edges of the circle with water.

Fold the pastry to form a semicircle. Ensure the edges are sealed completely and there is no gap left.

Now, mark the edges with a fork to give them shapes and stick them together. Else, you can just fold the edges a bit to seal them together.

Cover the filled pastries with a damp cloth.

Repeat the same procedure for all the balls.

Heat oil in a kadai. Once the oil is hot, drop a small ball of flour into the oil. If the flour raises up steadily, then the oil is perfect for frying.

Fry karjikai one by one on medium heat until they turn golden in color. Flip the karjikai through the half way.

Serve the Karjikai warm or allow them to cool down completely to store them in an airtight container.