Kerala Style Rice Halwa Recipe
Kerala Style Rice Halwa is made with rice, jaggery and coconut milk and is usually made during festivals.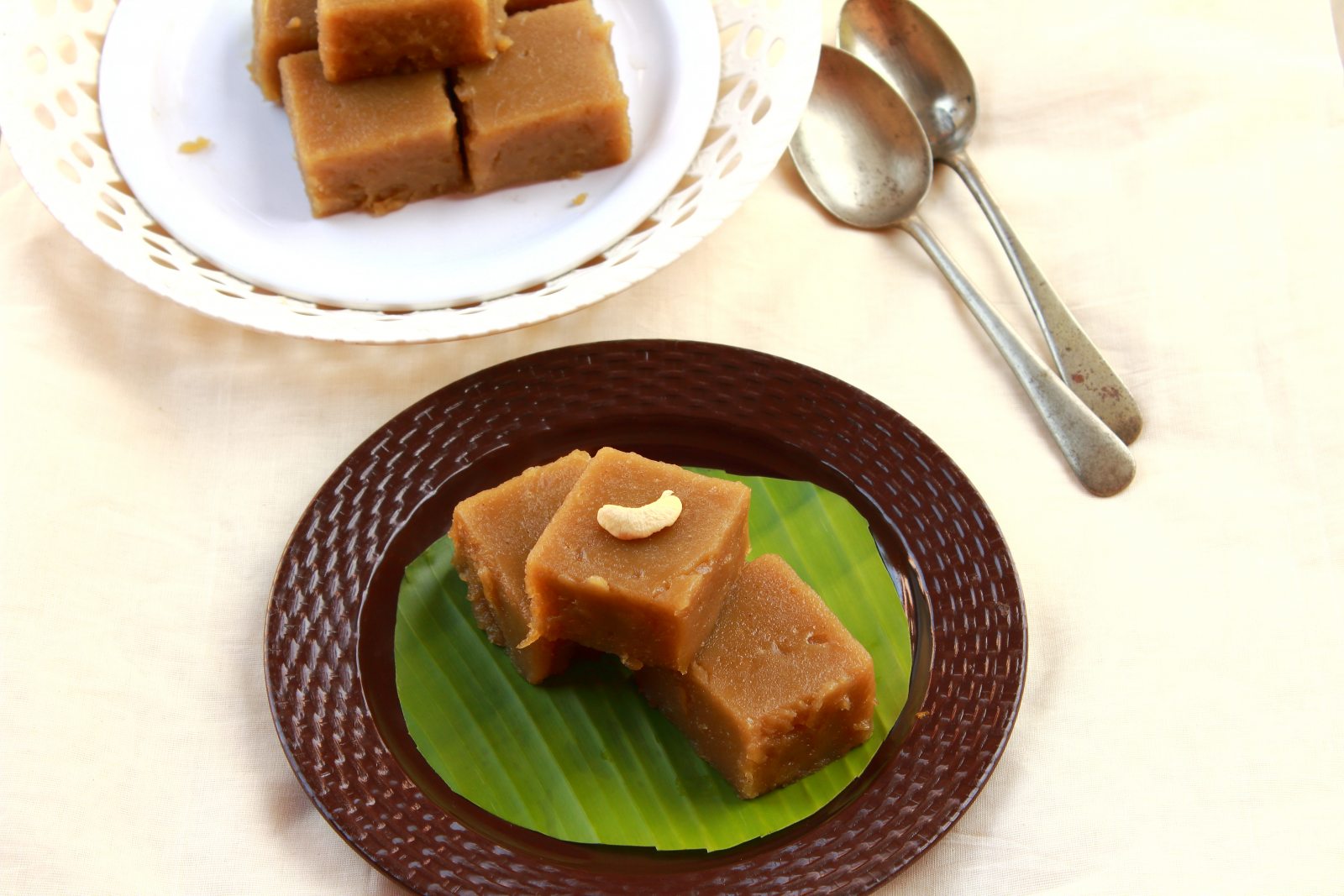 Kerala Style Rice Halwa is a special halwa made with raw rice. This rice halwa is my grandmother's special recipe. She used to prepare it very often. This black halwa is very famous and made on all special occasions. It can be made at home with very few ingredients: raw rice, jaggery, coconut milk, and ghee. The colour of the halwa depends on the type of jaggery used.
Serve Kerala Style Rice Halwa as a dessert after your weekday meal of Kerala Kadala Curry and Steamed Rice.
If you like this recipe, you can also try other Halwa recipes such as
Ingredients
1 cup

Rice flour

2 cups

Jaggery

, grated
1 cup

Coconut milk

, thick
3 cups

Coconut milk

, thin
1 teaspoon

Cardamom Powder (Elaichi)

2 tablespoons

Ghee

Cashew nuts

, few
How to make Kerala Style Rice Halwa Recipe
To begin making the Kerala Style Rice Halwa recipe, heat 1 tablespoon ghee in a pan. Add broken cashew nuts and fry till they start changing colour. Transfer them to a plate and keep aside.

Extract thick and thin coconut milk and keep them in different bowls.

Add grated jaggery, coconut milk, to a thick bottomed pan or uruli. Heat this mixture until the jaggery melts completely. Strain it to remove impurities.

Clean the pan and add the mixture back to the pan. To this add rice flour, little at a time and mix well without lumps.

Cook this mixture on a medium flame, until it starts thickening. Keep stirring in order to avoid sticking to the bottom of the pan.

Once you find that the mixture starts thickening, reduce the flame to low, and add the thick coconut milk. Mix well.

Keep stirring continuously. When it starts thickening, add 1 tablespoon of ghee.

Keep stirring and cook for another 30 - 35 minutes. Whenever you find the halwa sticking to the sides of the pan, add 1 tablespoon of ghee to the sides of the pan.

Cook until the mixture gets a halwa consistency and starts leaving the sides of the pan. Add roasted cashew nuts at this stage and mix well.

Spread the halwa onto a greased plate and allow it to cool. Once cool, cut it into desired shapes and serve.