Kerala Style Varutharacha Sambar Recipe - Tangy Coconut Sambar Recipe
Easy to make and delicious, Kerala Style Varutharacha Sambar gets its flavour from the freshly grounded masalas. Serve it with Thoran and Steamed Rice.

Archana's Kitchen
On

Tuesday, 08 October 2013 10:39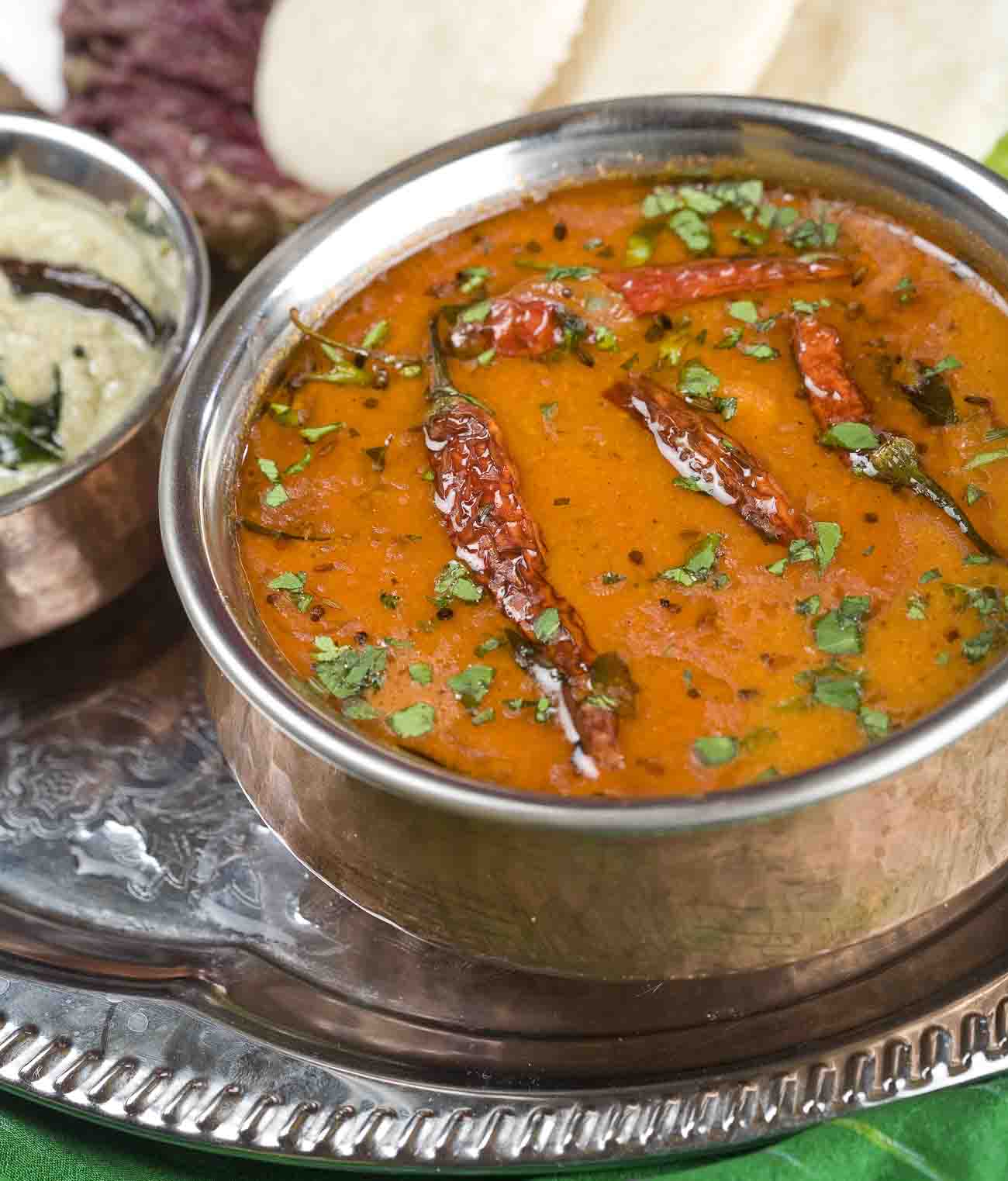 Varutharacha Sambar is a delicious Kerala Style Sambar Recipe that is made from roasted coconut homemade sambar powder that adds to the authenticity and flavor of the sambar. The aromas from the ground spices when combined along with tamarind water and cooked lentils, make this sambar very delicious and festive. An Onam sadya is incomplete without the freshly prepared spicy Varutharacha Sambar. It gives the whole meal a definition and lifts the Sadya to a new dimension.
Did you know ? Drumstick pods helps to build strong bones, it is very good for pregnant women also. Drumstick pods which are known as moringa in local language is rich in calcium, Iron and vitamins. They are also have properties such purifying the blood, improves digestion and protects against infection.
Serve Varutharacha Sambar along with Carrot and Beans Thoran, Steamed Rice and Elai Vadam for a weekday meal.
If you like this recipe, you can also try other Sambar recipes for your vegetarian lunch/dinner:
Diet:
High Protein Vegetarian
Ingredients
Ingredients for the Sambar Curry
1/2 cup

Arhar dal (Split Toor Dal)

2

Potato (Aloo)

, peel the skin and cut into large cubes
1

Drumstick

, cut into 2 inch pieces
2 cups

Vellai Poosanikai (Ash gourd/White Pumpkin)

, cut into medium sized cubes
2

Carrots (Gajjar)

, cubed
6

Bhindi (Lady Finger/Okra)

, cut into 1 and ½ inch pieces
1

Tomato

, diced
10

Shallots

, whole or cut into half
1-1/2 cup

Tamarind Water

1 teaspoon

Turmeric powder (Haldi)

2

Green Chillies

, slit lengthwise
1 sprig

Curry leaves

5 sprig

Coriander (Dhania) Leaves

, freshly chopped

Salt

, to taste
Ingredients for Homemade Roasted Coconut Sambar Powder
1/2 cup

Fresh coconut

, grated
3 teaspoon

Coriander (Dhania) Seeds

4

Dry Red Chillies

1 teaspoon

Black Urad Dal (Split)

1 teaspoon

Chana dal (Bengal Gram Dal)

1/4 teaspoon

Methi Seeds (Fenugreek Seeds)

1/4 teaspoon

Asafoetida (hing)

1

Curry leaves

, few
1 teaspoon

Coconut Oil

Ingredients for Seasoning
2 teaspoons

Coconut Oil

1/2 teaspoon

Mustard seeds (Rai/ Kadugu)

2

Shallots

, finely sliced (optional)
2

Dry Red Chillies

1 sprig

Curry leaves
How to make Kerala Style Varutharacha Sambar Recipe - Tangy Coconut Sambar Recipe
To begin making the Kerala Style Varutharacha Sambar recipe, we will first prepare the Homemade Roasted Coconut Sambar Powder.

Heat oil in a heavy bottomed pan and add fenugreek seeds. Roast till lightly browned. Add in the split urad dal and chana dal. Roast until they turn golden brown.

Once the dals turn brown add the asafoetida and fry for a few seconds till aroma comes through. Transfer this to a bowl and leave to cool.

In the same pan, roast the coriander seeds and dry red chillies. Roast until till they give out a nice aroma and and the red chillies are lightly browned and roasted. Now add in the curry leaves and grated coconut and fry till the coconut turns brown (take care not to burn the coconut). Keep aside to cool.

Once cooled grind all the ingredients in a spice grinder until all the dals and spices are ground into a coarse powder like texture. You can optionally add some water to grind to a fine paste.

Once the powder is ready, the next step is to prepare the Varutharacha Sambar.

In a pressure cooker add in the tamarind water, turmeric powder, salt and all the vegetables. Add a cup of water and cook until you hear two whistles. Turn off the heat and allow the pressure to release naturally.

In a large sauce pan, combine the lentils, the cooked vegetables in tamarind water and the sambar powder. Stir to combine all the ingredients well. Check for the salt and spice levels and adjust according to taste. You can also adjust the consistency of the sambar by adding water if you like it thinner.

Turn the heat on medium and begin to simmer the Varutharacha Sambar for about 5 to 6 minutes. While the sambar is simmering, we will now get the seasoning ready.

Heat coconut oil in a small pan; add in the mustard seeds and allow it to crackle.

Add finely sliced pearl onions and saute until they turn soft and light brown in colour.

Add the dry red chillies and curry leaves and fry for a few seconds until the red chillies are roasted. This will take about 20 seconds.

Pour the seasoning over the simmering Varutharacha Sambar and garnish with chopped coriander leaves.Turn off the heat and keep the sambar covered for about 10 to 15 minutes before you serve.

Serve Varutharacha Sambar along with Carrot and Beans Thoran, Steamed Rice and Elai Vadam for a weekday meal.

Note:

1. Coconut oil enhances the flavour of the curry and lifts it to a whole new level. For health benefits, I tend to use a lesser quantity of coconut oil in my cooking. I avoided using coconut oil while frying the spices and grated coconut for the ground mixture. I only added it while preparing the seasoning/tempering. Please feel free to add more if you like the flavor.

2. Don't limit your use of veggies to those I have mentioned in the recipe. You can add whichever vegetables are available in your refrigerator.