Kheer Puli Pitha | Bengali Pitha Recipe
It is the rice dumplings filled with coconut and palm jaggery.

Shaheen Ali
On

Saturday, 30 April 2016 00:46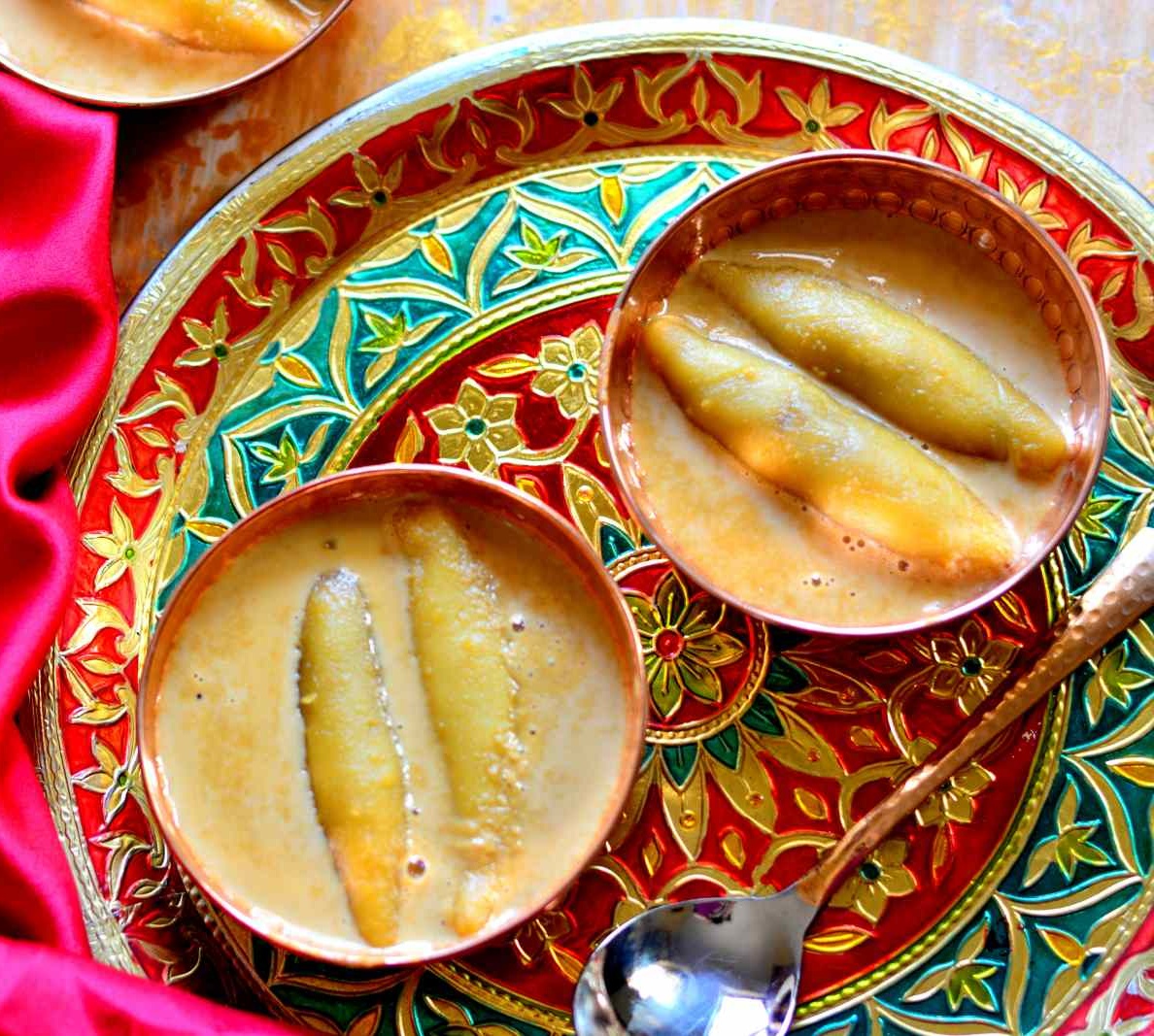 Kheer Puli Pitha | Bengali Pitha Recipe is the rice dumplings filled with coconut and palm jaggery filling which is cooked in milk, either plain or flavored with palm jaggery. Nolen Gur or fresh palm jaggery is a very loved jaggery in Bengal and Orissa which only comes to market only during winter months. I have grown up witnessing my mom preparing amazing delicacies with Nolen Gur/ Patali Gur. One such recipe which I got from her is Kheer Puli Pitha.
Here are a few more Sweets worth trying:
Ingredients
1 liter

Milk

200 grams

Palm jaggery

, crushed
1-1/2 teaspoons

Cardamom Powder (Elaichi)

100 grams

Rice flour

1 cup

Hot water

2 tablespoons

Ghee

1 cup

Fresh coconut

, grated
1 pinch

Salt

1 tablespoon

Cashew nuts

, chopped (optional)
How to make Kheer Puli Pitha | Bengali Pitha Recipe
For making Kheer Puli Pitha | Bengali Pitha Recipe, gather all the ingredients handy.
Instruction for Making Puli
Sift rice flour, add a pinch of salt, ghee and hot water and knead to make a soft and supple dough. Keep it covered with a clean kitchen towel.

Heat a non-stick pan, add in crushed palm jaggery and allow jaggery to melt on medium heat. Keep stirring to avoid charring.

Once melted, add grated coconut, chopped cashews and half a teaspoon of cardamom powder. Mix well. Keep stirring for a few minutes until well-mixed. Keep aside to cool

Inch out a lemon sized ball from the prepared dough and flatten between your palm and fingers to make a flat disk. Scoop a tsp of cooled jaggery-coconut filling and place in between the disk.

Fold the dough from one end and cover it up completely till all the filling is secured in. This should take a crescent shape now. Press between fingers gently to close openings in the dumpling if any. Fold in the protruded edge inwards to secure the folds further. These folded edges appear like braids.

Repeat the process till all the dough is done and keep aside all Puli.
Instruction for Making Kheer/ Dudh Puli
Boil milk in a thick bottomed pan at medium flame to reduce it to half.

Add 1 teaspoon of cardamom powder and crushed palm jaggery(optional). Now here you have to add jaggery as per your choice, if you want the dudh kheer to be mild, then add very little jaggery, else more.

Drop in the handmade puli, one by one carefully into the pan while the milk boils.

After adding all the pulis in milk, reduce the flame and allow them to cook with milk for about 10-15 minutes.

Keep checking the pulis during regular intervals and make sure you boil them along until they get properly cooked.

Turn off the flame and allow Kheer Puli Pitha | Bengali Pitha Recipe to cool.

Serve this creamy jaggery flavoured milk and puli either warm or you may refrigerate it before serving.