Maharashtrian Kalanyachi Bhakri Recipe With Groundnut Chutney

Madhuli Ajay
On

Friday, 10 February 2017 00:06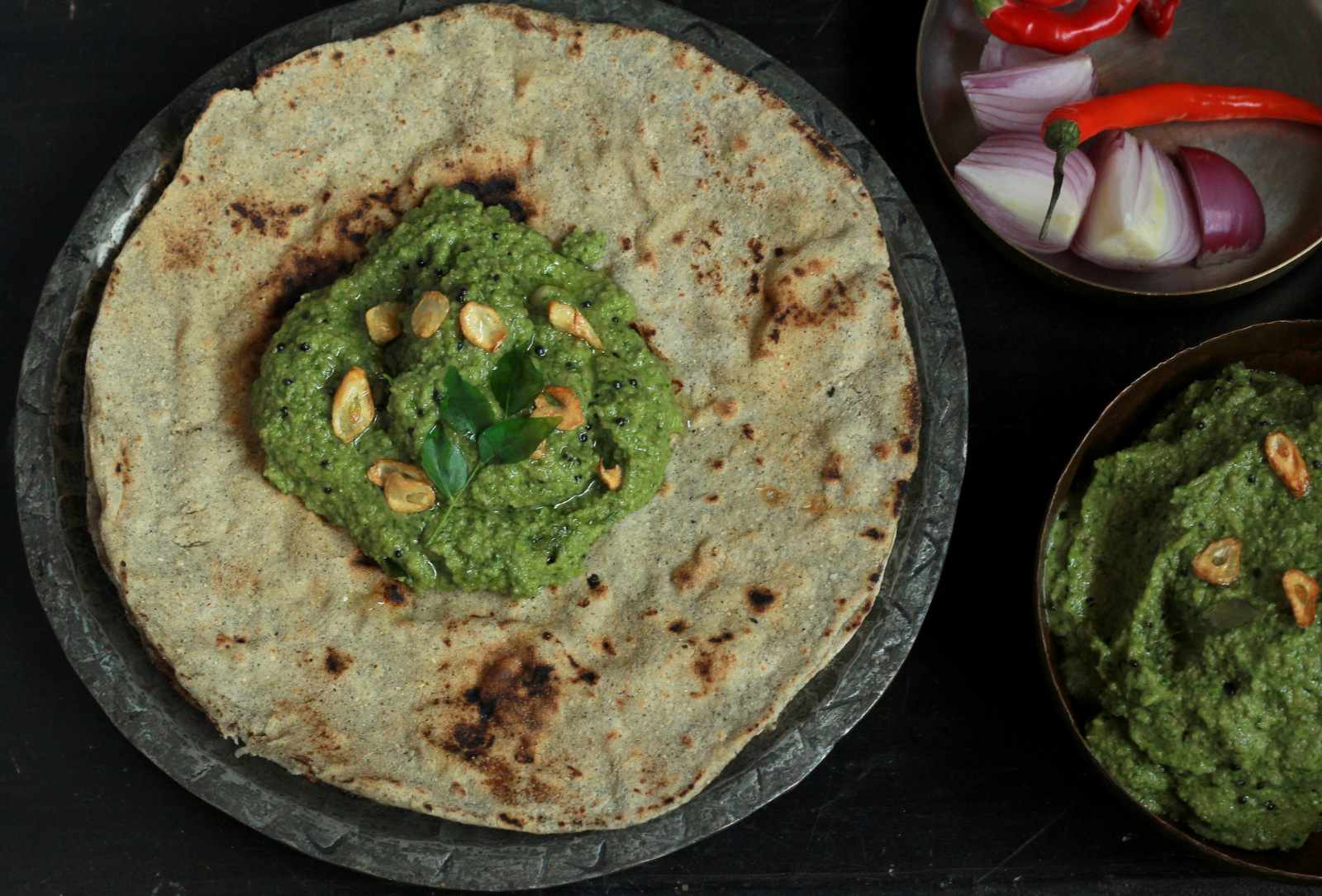 Kalanyachi Bhakri Recipe With Groundnut Chutney is a Maharashtrian meal typically originated in Khandesh region.The Kalna bhakri is usually made during winters but is just as good all year round. You can make a stock of the flour and keep it for about a month.
Serve Kalanyachi Bhakri Recipe With Groundnut Chutney for a comforting weekday meal along with some chopped onion and green chillies.
If you like this recipe, here are more bhakri recipes to try
Ingredients
For the Kalna Bhakri flour:
1 kg

Jowar Seeds

250 grams

Black Urad Dal (Whole)

1 teaspoon

Salt

For the chutney
1 cup

Roasted Peanuts (Moongphali)

, roasted
3

Green Chillies

, chopped

Coriander (Dhania) Leaves

, handful, chopped
8 cloves

Garlic

Salt

, to taste
2 tablespoon

Oil

1 teaspoon

Mustard seeds (Rai/ Kadugu)

1 teaspoon

Cumin seeds (Jeera)

6

Curry leaves
How to make Maharashtrian Kalanyachi Bhakri Recipe With Groundnut Chutney
To begin making the Kalanyachi Bhakri- Chutney first, make the flour stock.

Grind the jowar ,urad and salt to a fine powder. This is usually done in the flour mill.
To make the Kalna Bhakri
Take about 2 cups of the above flour. Add water and knead to make a stiff pliable doug ball.

Divide the dough into 4-5 parts and roll them into balls.

Dust a working surface with some flour.

Take 1 dough ball and flatten itin your palm. Keep the rest covered with a kitchen towel.

Pat the dough ball into a circle on the work surface to about 6-7 inches round (you should get a thin circle)

Heat a heavy iron griddle.

Carefully lift the bhakri and place on the hot griddle.

Apply some water over the entire upper side of bahkri.

Use a flat spatula and flip it. Cook till brown spots appear on the bottom side of the bhakri (about 1 minute on high flame)

Flip again and cook it directly on the flame till it ballons up or till it is well cooked.

Repeat this for the rest of the dough balls.

Serve hot with green groundnut chutney.
For the green groundnut chutney:
Grind together groundnuts,3-4 garlic cloves,coriander,green chillies and salt to a paste using some water.

Heat oil in a pan

Add the mustard seeds and once they splutter add the cumin seeds.

Slice the rest of the garlic cloves and add them to the oil.

Add the curry leaves and then the ground paste.

Stir and fry it for about 3-4 minutes.

Serve hot or cold with the Kalanyachi Bhakri Recipe.