Maharashtrian Karanji Recipe (Gujiya) - A Delicious Diwali Sweet
A delicious sweet pastry crust filled with coconut served during festivals especially during Holi and Diwali.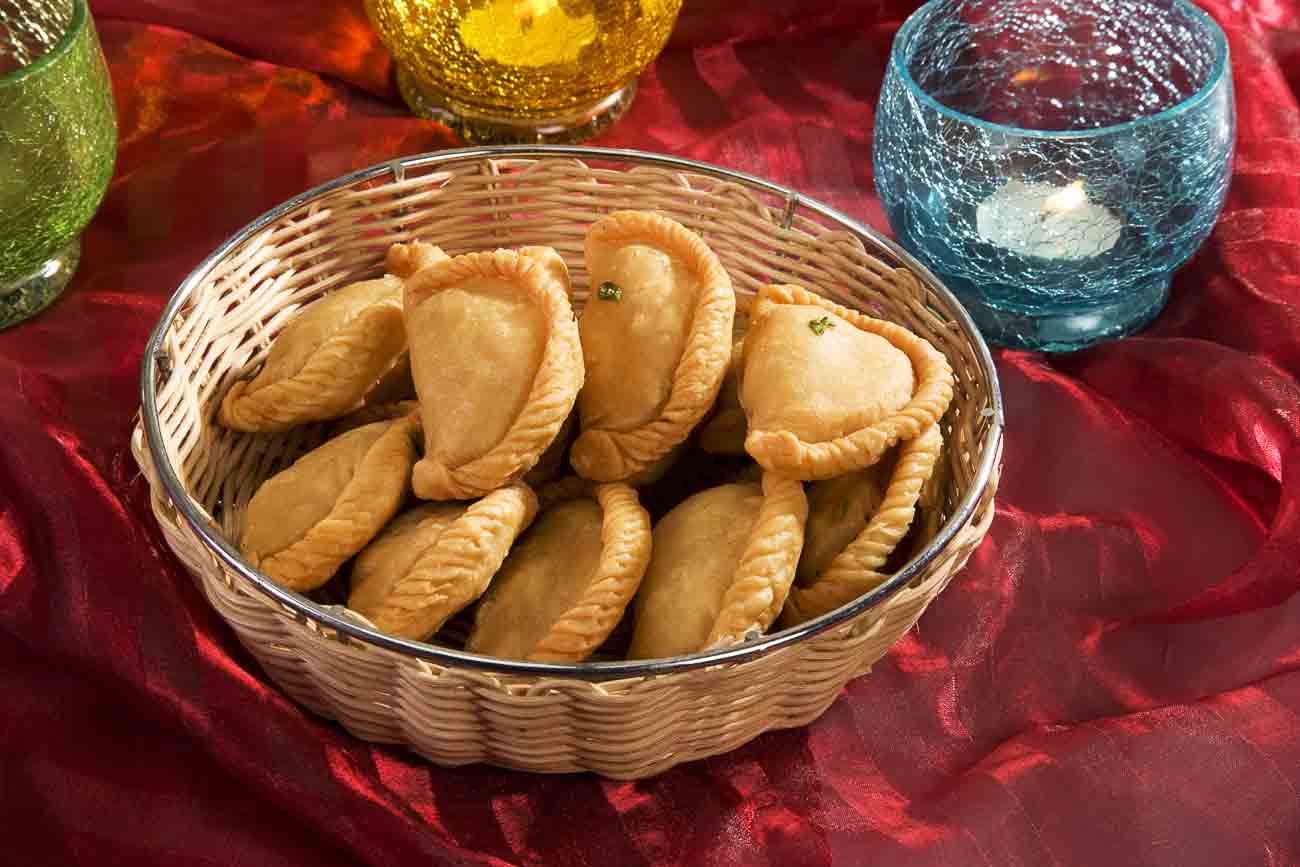 Maharashtrian Karanji also known as Gujiya or Ghugra is a traditional sweet, commonly prepared by Maharashtrians during the festival of Diwali. The Karanji is a must have crunchy delicacy that is filled with oodles of delicious soft goodness of coconut, jaggery, semolina and spices. Learn how to make Karanji the way it is prepared in most households of Maharashtra, by following the recipe below. Karanji or Gujiyas are typical dishes that are served during Holi. Holi, the festival of colours in India is also a festival of great food. Holi food traditions involves people going to their neighbours and friends houses and enjoy this spring festival with a lot of snacks being passed around. The most popular savoury snacks during Holi snacks are Gujiyas, Kachoris, Samosas, Dahi Vada etc. Among the sweet snacks are sweet Gujiyas, Kulfis, Thandais and Malpuas.
Serve Maharashtrian Karanji Recipe (Gujiya) - A Delicious Diwali Sweet along with Masala Chai Recipe and Omapodi Diwali Mixture Recipe during evenings when there are guests and family at home.
If you like this recipe, try more recipes like
Note: Instead of the karanji cutter, a fork can be used to shape the karanjis.
Ingredients
Ingredients for the filling
2 cups

Jaggery

, grated fine
1 cup

Whole Wheat Flour

1 cup

Dessicated Coconut

, (either grated or flakes)
1/2 cup

Sooji (Semolina/ Rava)

1/2 cup

Sesame seeds (Til seeds)

1/4 cup

Poppy seeds

3 tablespoon

Cooking oil

, (I used edible almond oil)
1 teaspoon

Cardamom Powder (Elaichi)

1 pinch

Nutmeg powder

Ingredients for the outer crust
1/2 cup

Sooji (Semolina/ Rava)

1/2 cup

All Purpose Flour (Maida)

1 teaspoon

Salt

1 tablespoon

Sugar

3 tablespoon

Ghee

, or cooking oil
1 cup

Milk

, (or half milk and water) or as required

Cooking oil

, for deep frying
How to make Maharashtrian Karanji Recipe (Gujiya) - A Delicious Diwali Sweet
To begin making the Maharashtrian Karanji Recipe (Gujiya), we will first make the make the filling.

Begin by dry-roasting the coconut, sesame seeds and poppy seeds in a pan separately, until they turn golden brown.

Make sure that they are roasted and kept separately, and never together once done. After they cool down, grind them separately in a mixer (poppy seeds, sesame seeds and coconut- in that order) till you get a coarse texture.

Next, roast the semolina on medium heat in a shallow bottom pan with 1 tablespoon ghee or oil till it turns golden brown. Set this aside as well once done.

Roast the whole wheat flour with the remaining ghee/oil in the same pan, until golden brown and keep aside.

Now, put all the filling ingredients including the flour, semolina, coarse powders, jaggery, cardamom and nutmeg in a food processor, and blend them well for 2-3 minutes till they form a fine powder. The delicious coconut filling for the Karanji is now ready and can be set aside to be used later.

The next step is to prepare the crust for the Karanji.

Heat 3 tablespoons of ghee or in a small pan. Once ghee is melted or when the oil is hot, turn off the heat and keep aside.

Add in the all-purpose flour, rava, sugar and salt into a large deep bowl. Make a depression in the centre of the flours and pour the hot ghee into it mixing it into the flour thoroughly with your fingers. Knead the flour and other ingredients slowly by pouring the water and milk mixture a little at a time.

Once the dough is pliable yet firm, cover it with a damp cloth and set it aside to rest for at least an hour or two.

Once the dough is well rested, divide it into 4 equal sized balls. Roll each of these balls into a flat circular shape, apply a thin layer of oil evenly and mould them into tight elongated rolls.

Once done, cut each of these 4 elongated rolls into 10 one inch pieces each, having about 40 pieces in total once all the rolling is done. Cover all these pieces with a damp cloth to keep the dough softened until they are ready to be made into the Karanji.

Take one of the small dough pieces and with the help of a rolling pin, shape it into a small circular poori, 3-4 inch in diameter. Divide the poori into half, pour in 1-2 tablespoon of the filling on one side, and carefully fold the other half, closing the poori-shaped dough completely.

In order to shape these pooris, press them on the cutting board, and carefully remove the extra dough using a karanji cutter. Once done, keep it aside to be fried.

Repeat the same procedure for the remaining dough balls and cover the prepared karanjis with cloth when done.

Finally, deep-fry all the prepared karanjis in hot oil, turning them continuously till they turn golden brown.

Your lip-smacking, hot and crunchy Maharastrian Karanjis are now ready to be served for the festival of Dilwai.

Serve Maharashtrian Karanji Recipe (Gujiya) - A Delicious Diwali Sweet along with Masala Chai Recipe and Omapodi Diwali Mixture Recipe during evenings when there are guests and family at home or as a delicious snack during Holi