Maharashtrian Narali Bhaat Recipe (Sweetened Coconut Rice)

Madhuli Ajay
On

Saturday, 12 September 2015 00:58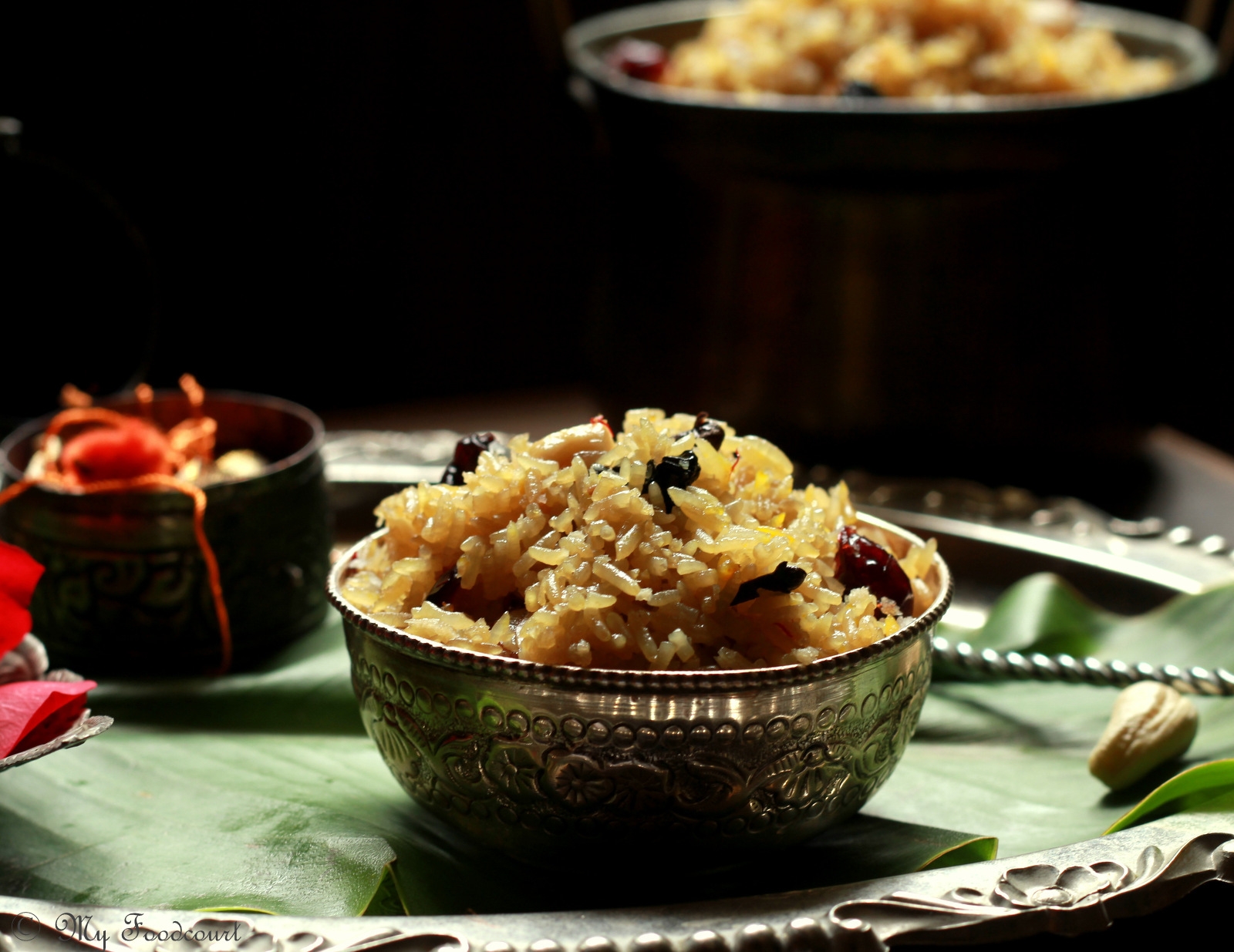 Narali Bhaat Recipe is a delicious sweetened coconut rice that is typically prepared in Maharashtra on the occasion of Narali Poornima - a full moon day during the auspicious month of Shravan, when coconuts are offered to the sea. This Coconut Rice is sweetened with jaggery, is made to celebrate the day that marks the end of the monsoon and the beginning of the fishing season once again.
The fisherfolk offer prayers and honour Varuna, the Lord of the Sea, invoking good luck and prosperity as they journey into the seas again. The day usually coincides with Raksha Bandhan, but you don't need a special occasion to make this delicious Indian sweet!
Note: This dish is best made one day ahead as the rice tastes better once the flavours have permeated, blended and matured a bit.
Ingredients
1 cup

Basmati rice

3/4 cup

Fresh coconut

, grated
3/4 cup

Jaggery

, grated
1/2 teaspoon

Saffron strands

9-10

Cloves (Laung)

4 tablespoons

Ghee

2 cups

Water

1/4 cup

Mixed nuts

, chopped (raisins, cashewnuts, almonds, chironji and any other nuts of your choice)
How to make Maharashtrian Narali Bhaat Recipe (Sweetened Coconut Rice)
To begin making the Maharashtrian Narali Bhaat Recipe, first wash the rice thoroughly, drain the water and keep it aside for 45 minutes.

In a small pan, warm 1 tablespoon ghee and saute the dry fruits and nuts for 2-3 minutes on low heat until they turn golden and are roasted. Remove the roasted nuts from hot ghee and set aside until later use.

In a nonstick pan or heavy-bottomed pan melt 3 tablespoons of ghee on a low heat. Add the cloves and saute for 3-4 minutes.

When they puff up and get aromatic, add the washed rice and toss it well until the grains are well coated with ghee.

Next, pour in the water, the saffron strands and bring the rice to a brisk boil. Once the rice comes to a brisk boil, turn the heat to low and cover the pan. Cook the rice until all the water is absorbed.

Meanwhile, add the jaggery and coconut to a small saucepan and place it on low to medium heat. Allow the jaggery to melt.

Once the jaggery melts, pour the jaggery and coconut mixture to the cooked rice and mix thoroughly, taking care not to break the grains. You can use a fork and gently mix at this stage, to fluff up the grains.

Cover the pan and cook once again on a low heat for 4-5 minutes more. Transfer the Narali Bhaat to a serving bowl and garnish it with the roasted nuts.

The Maharashtrian Narali Bhaat is now ready to be served as a festive dish.